The significance of community cannot be overlooked in the cryptocurrency industry; it plays a pivotal role in driving adoption and establishing trust. This comparative article examines and analyzes the communities surrounding three cryptocurrencies: Caged Beasts, Binance, and Dogecoin.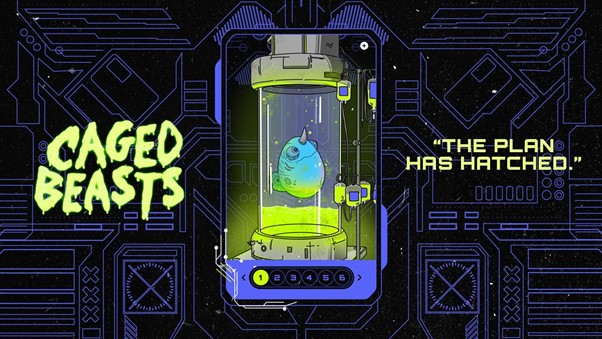 While Dogecoin gained widespread popularity through its vibrant community, Caged Beasts aim to empower its community through a unique referral scheme that allows users to earn passive income. Binance exclusively caters to crypto traders and speculators. By exploring these three distinct communities, we can gain insights into the role of community in the success of cryptocurrencies.
Caged Beasts: Empowering the Community through Passive Income
Caged Beasts operates in a manner similar to meme coins like Dogecoin and Shiba Inu. However, it distinguishes itself by offering a unique referral scheme that empowers its community members to earn passive income. Once you've connected your wallet, you can generate a unique referral code that helps to track how many new investors you get to sign up, giving you 20% on the total investment made. The referral rewards are given out in the form of ETH, BNB, or USDT.
Through this scheme, users can refer new participants to the platform and earn a percentage of their transactions. This approach encourages community engagement and provides an avenue for individuals to generate additional income.
The community surrounding Caged Beasts thrives on the idea of collective success. By incentivizing referrals, the project creates a sense of camaraderie among its participants. This sense of belonging and the opportunity to earn passive income are significant factors that attract individuals looking to invest in cryptocurrencies with utility.
Binance: The Largest Marketplace For Cryptocurrency Trading
One of the world's leading cryptocurrency exchanges, Binance, has created one of the largest communities of crypto traders who frequently buy, sell, and move some of the world's most premium altcoins.
Binance keeps its focus on providing traders and speculators with access to some of the best cryptocurrencies out there such as BTC, ETH, USDT, and much more. The BNB coin – Binance's native cryptocurrency – is also featured on the crypto exchange's listing.
Dogecoin: The Power of a Meme Coin Community
In contrast to Caged Beasts, Dogecoin gained popularity primarily due to its vibrant and dedicated community. Initially introduced as a meme coin, Dogecoin captured the attention of social media users who saw its potential beyond a mere joke.
The Dogecoin community harnessed the power of social media platforms, such as Reddit and Twitter, to drive awareness and establish a strong network of supporters. The Dogecoin community's unique appeal lies in its lighthearted and inclusive nature.
Unlike many other cryptocurrencies, Dogecoin's community is known for its humorous memes, charitable initiatives, and welcoming atmosphere. This approach not only attracts cryptocurrency enthusiasts but also appeals to individuals who are looking to be part of a fun and supportive community.
Comparing the Crypto Communities
Binance, Caged Beasts, and Dogecoin have successfully built communities around their respective projects, albeit through different strategies. Caged Beasts focus on empowering its community members through passive income opportunities, while Dogecoin leverages its meme coin status and fosters a lighthearted community spirit.
In terms of utility, Caged Beasts offer its community a platform to invest in a cryptocurrency that operates similarly to meme coins like Dogecoin and Shiba Inu. However, its unique referral scheme sets it apart, providing users with the opportunity to earn passive income through the engagement of their network.
On the other hand, Dogecoin has established itself as a household name within the cryptocurrency space, primarily due to its strong community. The community's dedication, combined with the coin's unique brand identity, has propelled Dogecoin into the mainstream. While Dogecoin lacks the passive income opportunity of Caged Beasts, its community compensates for this with its active participation and support.
Binance's community is focused on its decentralized exchange and is suitable for crypto traders, speculators, and crypto enthusiasts. The DEX is one of the largest crypto markets and is known for its ability to provide liquidity to some of the largest whales in the industry.
Buy Your BEASTS Tokens Today
Register your email and buy the presale to become part of the next big crypto investment. Remember, the best investment is not only in the currency but also in the community that supports it.
Caged Beasts
Website: https://cagedbeasts.com
Twitter: https://twitter.com/CAGED_BEASTS
Telegram: https://t.me/CAGEDBEASTS
Disclaimer: The views and opinions expressed by the author should not be considered as financial advice. We do not give advice on financial products.