In a previous article, 5 indicators for smarter NFT trading, we looked at 5 general indicators for analysing sentiment and performance in the NFT market. This time,  we're analysing NFT collectibles in terms of price behaviour, holder patterns, rarity characteristics, and leader boards to understand supply and demand. 
Indicators are not fixed rules for trading. They are a set of tools to build a comprehensive picture of projects and trends. 
Price is one of the most basic indicators for evaluating NFTs. There are 5 metrics one could look at. 
Sale prices allow you to track the behaviour of whales and see median, average, and floor prices.
Most NFT buyers focus on the highest, average and floor price of a collection before buying. These metrics allow you to see at what price an item is likely to experience upside resistance. For example, the chart below shows that many users are getting into Azuki at prices concentrated between 10 and 25 ETH.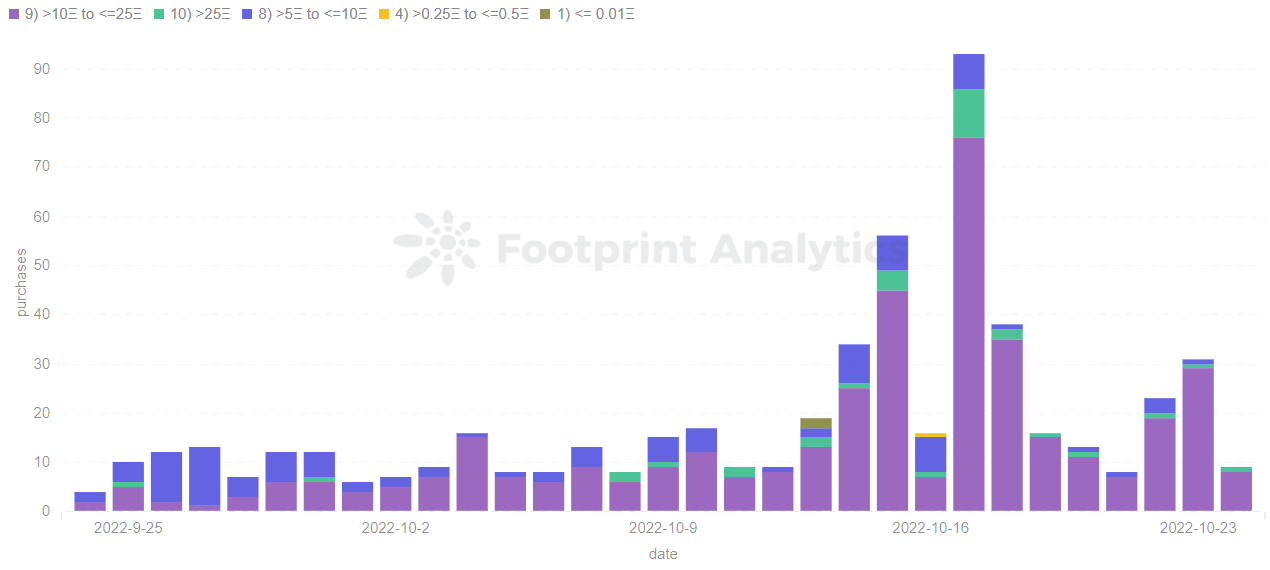 Footprint Analytics –  Azuki Bucketed Sales, Last 30 Days
The floor price is the lowest price listed for the entire series of NFTs. Footprint Analytics shows that the BAYC series NFT has a floor price of 71 ETH, which is the lowest price listed for a BAYC NFT in the market.

Footprint Analytics – BAYC Floor Price
The breakeven price for an NFT includes all the fees that must be paid, such as floor price, gas, creator fee, and platform fee, to recuperate the original cost. By determining this, you can set a reasonable and profitable sales price. 
The mint price of an NFT allows you to calculate the total revenue earned by a collection. 
The royalty amount is the amount of royalties earned per transaction, and not every NFT will have royalties. This price indicator is also primarily a calculation of the total revenue earned by the NFT.
The rarity of an NFT collection refers to how scarce a collectible or NFT is based on certain characteristics. These features include the physical characteristics of the NFT, such as colour and design. To analyse an NFT collection for this indicator, a trader needs to look at the NFT's rarity score along with other useful information such as price, volume, and liquidity. This indicator is tied to the intrinsic supply and demand of an asset. 
An example of an extremely rare collection is Azuki, there is only 1 collectible with 5 traits. Conversely, a "common" set has 6 to 11 features, with a total of 9,999 NFTs. Note that rarity is also an important indicator within collections, with rare traits increasing relative value compared to the rest of the collection.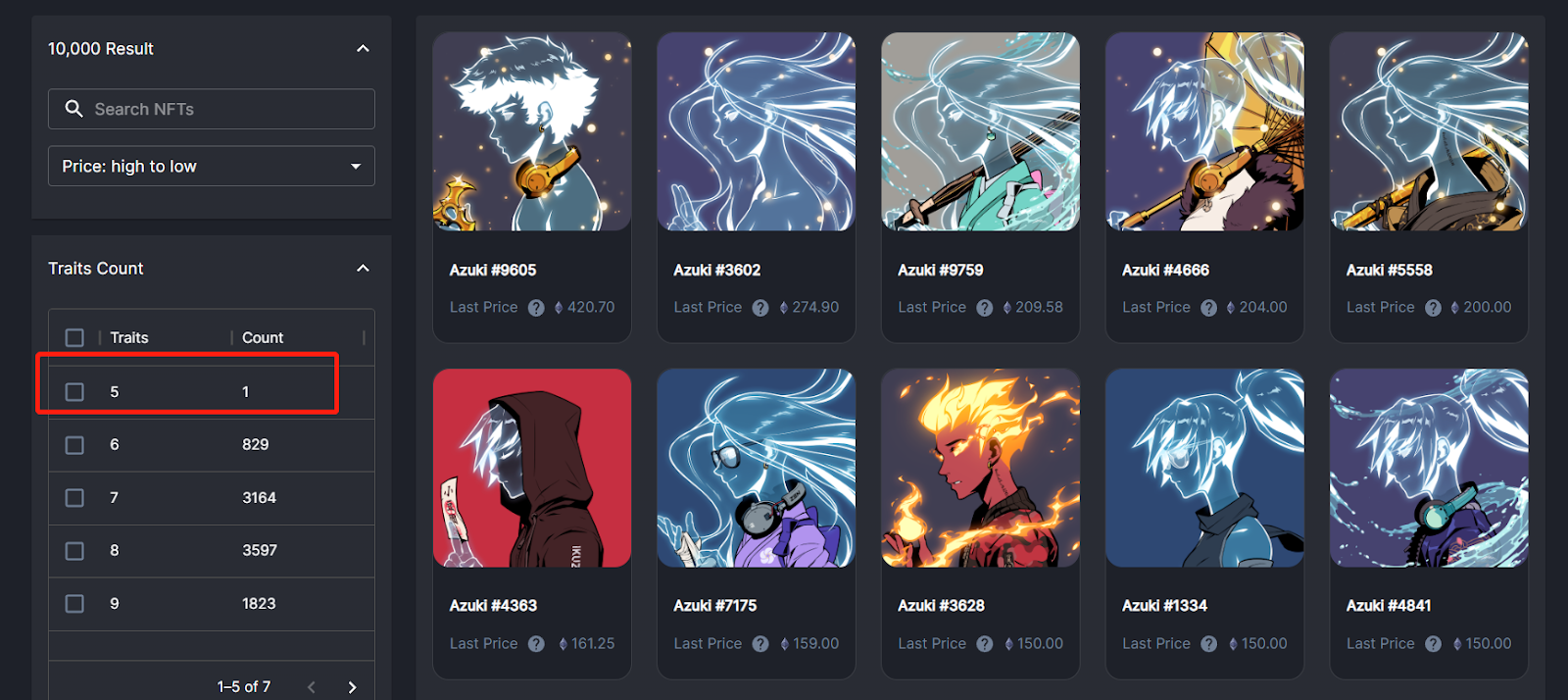 Footprint Analytics – Azuki Collection
However, rarity is far from being a 1-to-1 comparison. BAYC and CryptoPunks have the same rarity, but there are significant differences in their utility and vision.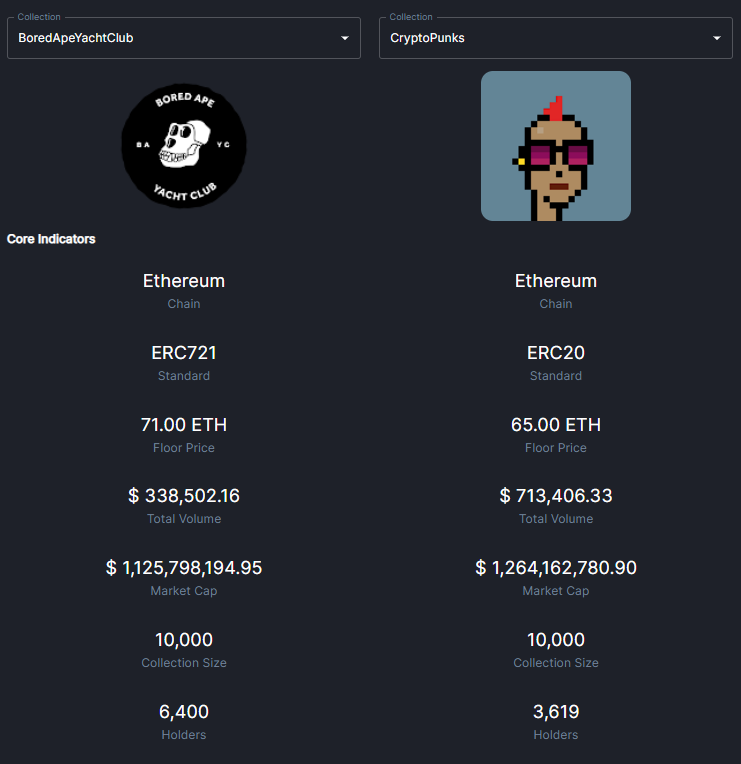 Footprint Analytics – Collection Compare
An important parameter used to determine the value of the NFT is the number of addresses holding it, a metric used to determine the size of the community surrounding the project. This helps to sell the project to a larger number of potential purchasers.
Indicators such as which addresses are blue chip holders and whale holders can be assessed through the indicators of holders.
Holders of at least one other blue-chip NFT, assess whether the NFT is popular with blue-chip holders, a higher percentage of blue-chip holders indicates a strong holder base.
Addresses with more than $1 million in assets are marked as whales. As shown in the figure below, different whale NFT holders can own 1 or more NFTs, and their transaction volume will not increase because of the number of NFTs they own.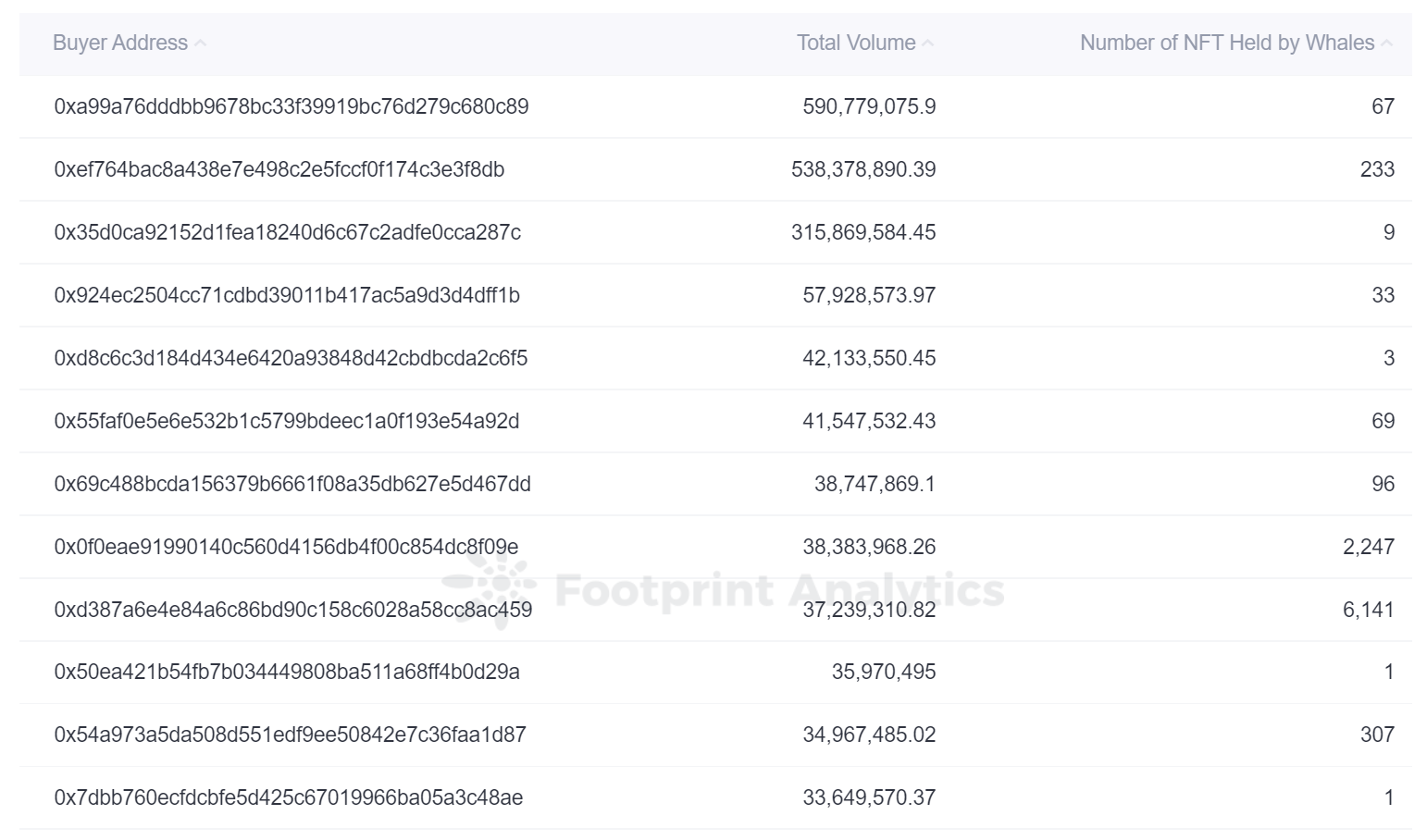 Footprint Analytics –  Top 100 Whales Holding NFT Transactions and Volume
Use the leader board to find the best performing wallet addresses and track their behaviour. The metrics analysed are as follows: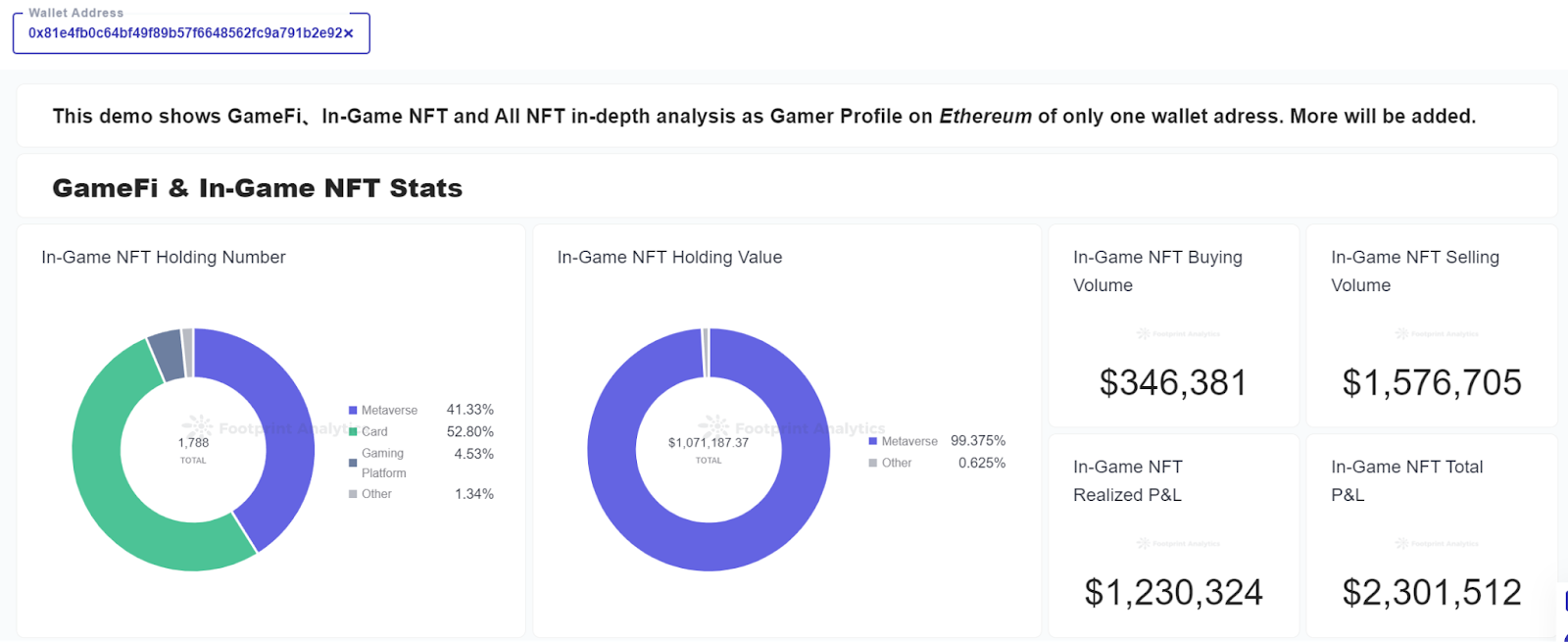 Footprint Analytics –  Wallet Tracking
Profits and Losses: Ranking of addresses with the highest profits

Number of NFTs held: Ranking of addresses with the most NFTs

Value of NFTs held: Ranking of addresses with the most valuable NFTs held

Volume of buys and sells: Ranking of addresses with the highest volume of buys and sells
Summary
Supply and demand is a core part of analysing the value of any asset. Luckily, by being on-chain, NFTs give us a transparent picture of the supply, while other metrics can be used to infer demand. 
This piece is contributed by Footprint Analytics community.
The Footprint Community is a place where data and crypto enthusiasts worldwide help each other understand and gain insights about Web3, the metaverse, DeFi, GameFi, or any other area of the fledgling world of blockchain. Here you'll find active, diverse voices supporting each other and driving the community forward.
Footprint Website:  https://www.footprint.network
Discord: https://discord.gg/3HYaR6USM7
Twitter: https://twitter.com/Footprint_Data
Disclaimer: The views and opinions expressed by the author should not be considered as financial advice. We do not give advice on financial products.