NFTs are incredibly volatile. Most people lose money trying to trade them in good conditions, never mind in a bear market. 
However, NFTs are quickly becoming an alternative asset class as their transaction volume grows, household names enter the market, and VCs fund more projects. 
While the value and sustainability of the NFT market is a divisive topic, the big-name players do believe there is a science to choosing promising collections and projects. 
Is the key picking the one that looks coolest? Far from it. Even if a collection catches your eye, here are some indicators to help you evaluate a project's potential. 
 5 Indicators for Analyzing NFTs
The team's background and experience are crucial to determining an NFT project's value.
What exactly should you keep an eye out for?
Look no further than the team behind Bored Ape Yacht Club and Otherdeed as a perfect example—Yuga Labs. The team was founded in February 2021 and created BAYC, acquired CryptoPunks and Meebits in March 2022, issued ApeCoin to pave the way for the Otherside project, then drove the development of the Otherside project.
Even as we entered the bear market, the team closed a $450 million round in March with a $4 billion valuation. 
As a shortlist of qualities, look for: 
a history of successful projects

a clear long-term growth plans

the ability to maintain valuation and VC funding in the bear market
These are important drivers that impact the value of an NFT project.
Another team that meets the above criteria is Chiru Labs, which created Azuki. They also have a background in large traditional tech firms, like Google and Facebook, another criteria to look for.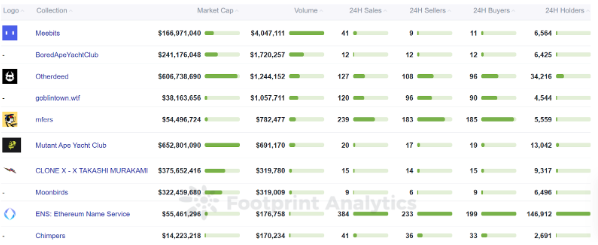 Footprint Analytics – Ranking of NFT Collections
Rarity is one of the most basic data metrics, and is completely separate from the inherent quality, utility or aesthetics of the project. 
Basically, supply and demand indicates that the rarer the NFT, the higher its value.
In the NFT world, a supply of around 8,500 NFTs in a collection is considered very small, whereas there are some major projects, such as Meebits, that have up to 20,000. 
CryptoPunks is the earliest NFT project on Ethereum and, as of June 17, the floor price was 48.9 ETH. There are only 9,999 punks in total. To create an easier entry point into NFTs, Larva Labs—the team behind the project—launched Meebits, a 3d voxel collection with 20,000 NFTs. Meebits' floor price was 15 times lower than CryptoPunks. 
Rarity is also important within a collection and includes unique characteristics, properties and combinations. While there is no hard-and-fast rule to evaluate an NFT project based on rarity, it is important to learn about and understand this dynamic.
 Trading Volume and Liquidity
Trading volume in the NFT market is an important indicator of market demand. Lower trading volumes usually signal a bear market, while higher sales volumes mean there is less liquidity risk.
With the rapid growth of NFTs, numerous projects are popping up. While many have amazing, unique designs, the market is saturated and not every new collection can be the next CryptoPunks or CryptoKitties. 
Many NFTs issued on Ethereum are in a no-transaction state. This means that these NFTs lack liquidity, which will  hinder their growth.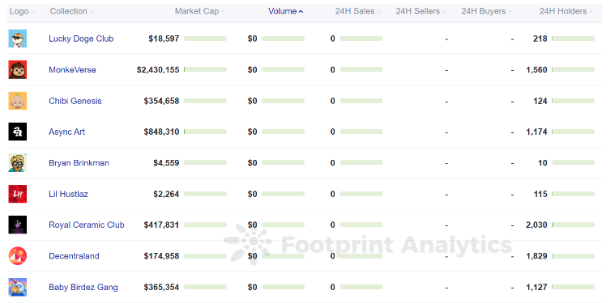 Footprint Analytics – Ranking of NFT Collections
Of the top 10 NFTs by transaction volume, the highest cumulative transaction volume is MAYC with $1.068 billion, followed by Otherdeed with $897 million. These NFTs will be easier to sell in the future, assuming they can maintain this liquidity.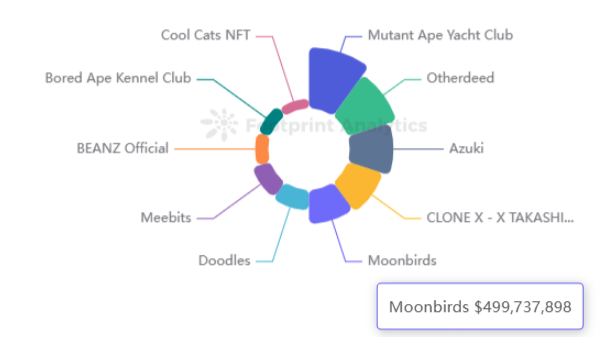 Footprint Analytics – Top 10 by Volume
The price wall allows you to see at what price there may be resistance to the upside of a project, and also to judge the upside from the NFT price of the series.
If the user is unable to judge the price at which NFTs are bought and sold, they can check the price of the project's NFT set in the secondary market. For example, Azuki has 10,000 units in circulation, with only 5 units below the 10 ETH mark and the highest NFT at 9999 ETH. This indicates that Azuki's price has a large premium upside.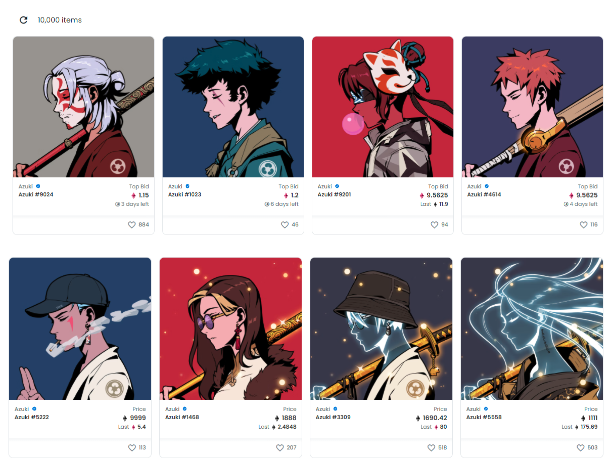 Screenshot Source – OpenSea/Collection/Azuki
The power of the community is one of the most critical factors in determining the success of a project.
In short, active social media channels are the best way to gauge the popularity of a project. 
For example, let's compare two large, trending NFT projects by social media activity.  The first places to look are Discord and Twitter, which are the most common communications channels in the NFT sector. When you land on the project's page,  Discord and Twitter, you should look at the number of followers of the program, the engagement/follower ratio, whether engagement is artificially increased through tactics such as giveaways, the interaction between the official and the user, etc.
Below is an analysis of the community activity of Otherside and Goblins using their official Twitter data.
In terms of the number of followers, Otherside has 11 times more followers than Goblins. This means that Otherside is more popular and followed by users than Goblins.

In terms of official interaction with users, Otherside is still more active than Goblins in terms of posting topics.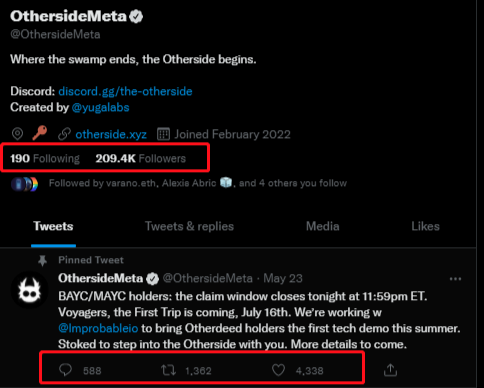 Screenshot from -Otherside official Twitter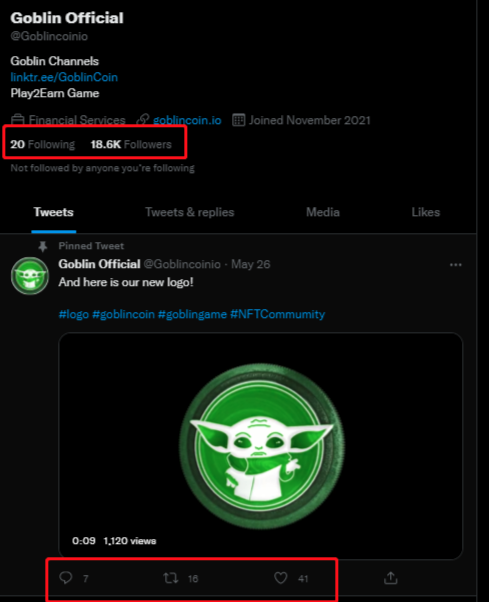 Screenshot from – Goblins official Twitter
This piece is contributed by Footprint Analytics community.
The Footprint Community is a place where data and crypto enthusiasts worldwide help each other understand and gain insights about Web3, the metaverse, DeFi, GameFi, or any other area of the fledgling world of blockchain. Here you'll find active, diverse voices supporting each other and driving the community forward.
Data Source: Footprint Analytics – NFT Market Overview
Disclaimer: The views and opinions expressed by the author should not be considered as financial advice. We do not give advice on financial products.