OK. Let's have a quick rundown of the crypto charts.
The general story is not far off what is was seven days, except a little worse. It's been a bad, painful week, with a little bit of downward bias. Most coins are sitting on or close to support, but they haven't broken through. Yet. As long as they don't fall any further we can make the claim that they are still in consolidation mode. If they fall through, the bear has taken over once again.
Bitcoin currently sits at $6,260, down from around $6,400 a week ago.
It remains in the range set out by that long-term triangular pattern, and that range is narrowing all the time. Since around early September Bitcoin's been like the range has been so height. $6,700 marks the top of the range, $6,000 the bottom.
The case I have been making remains: as long as the $5,800 to $6,000 area holds, we are all right.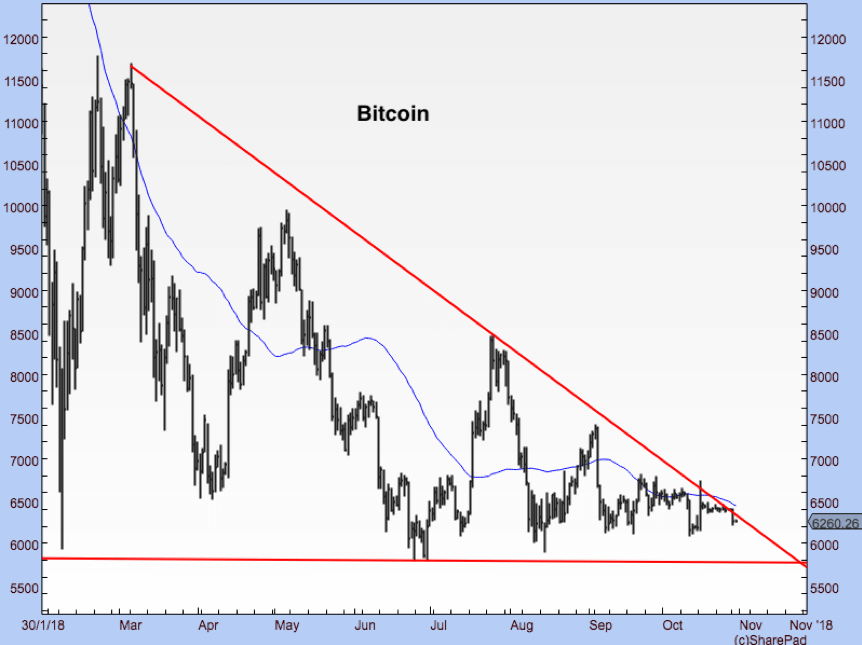 Of slight concern to trend-followers is the sloping blue line, the 55-day moving average. It is sloping down and the Bitcoin price is below it. That is indicative of a medium trend that is down.
We are going to see more of the 55DMA in this article. I'm not so worried about it as far as Bitcoin is concerned, as it is less effective in a range-trading environment, but elsewhere it is telling us problems are afoot.
There is just one other thing I want to alert you to as far as Bitcoin is concerned, and that is the Bollinger Bands. When these narrow, it is known as the "squeeze" and it can be indicative that a big move and much greater volatility is coming.
Look how Bitcoin's Bollinger Bands have narrowed over the last month or so.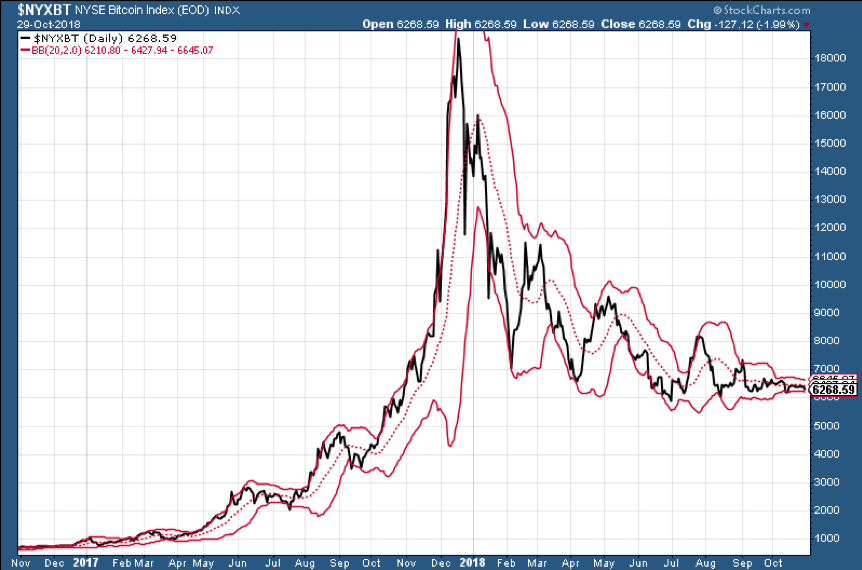 They haven't been this narrow since the beginning of 2017.
I don't think a big move is imminent tomorrow. My outlook is for consolidation and sideways action to continue, probably for at least another month or two, maybe linger. But the narrowing of those Bollinger Bands is indicative of a market that is slowly getting set for a large and volatile move. We will have to hope that it is up.
Next we turn out attention to the ongoing shit show that is Ethereum. Having been as high as $1,420, it now sits at $196, some 85% off its highs.
If there was a chart that quantified Prime Minister, Theresa May's handling of the UK's exit from the European Union, it might look something like this.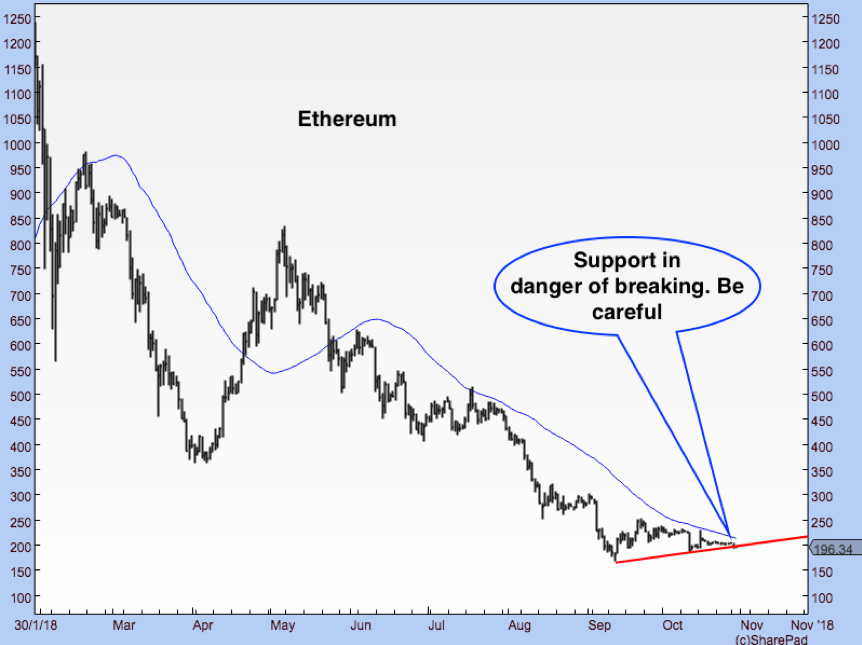 I've kept it very simple. The sloping blue line is the 55DMA. From that you can define your trend. The blue line is sloping down. Ethereum's price is below it. The trend is down. Do not buy into falling trends unless you have good reason.
Ethereum is on the verge of violating support (red line). A simple trade from a risk-reward point of view might to be to buy with a stop just below that red line, but the likelihood is your stop will get taken out.
Ethereum's September lows were $170. The question is will they be re-tested? And will they hold, if they are? I rather suspect the answer to those questions will be yes and no, in that order.
That Ethereum chart, by the way, is a proxy for many of the altcoins. They're all on virtual life support. Another leg lower and the bear is back in charge.
Here's Bitcoin Cash. It's sitting on its September lows now.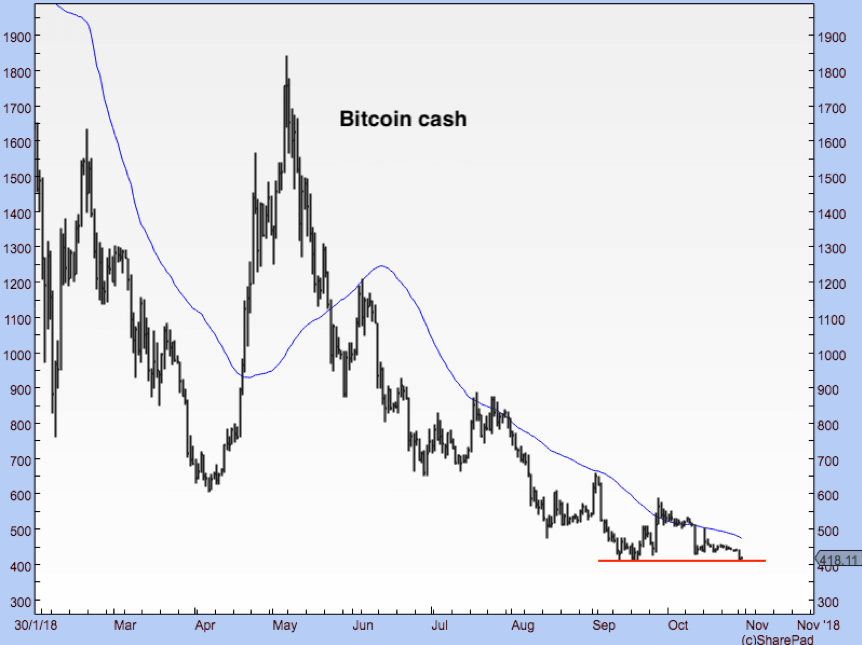 Here's EOS.
This is a slightly better chart in that 55DMA has flattened out. The red support line has broken, however, and the September lows now beckon.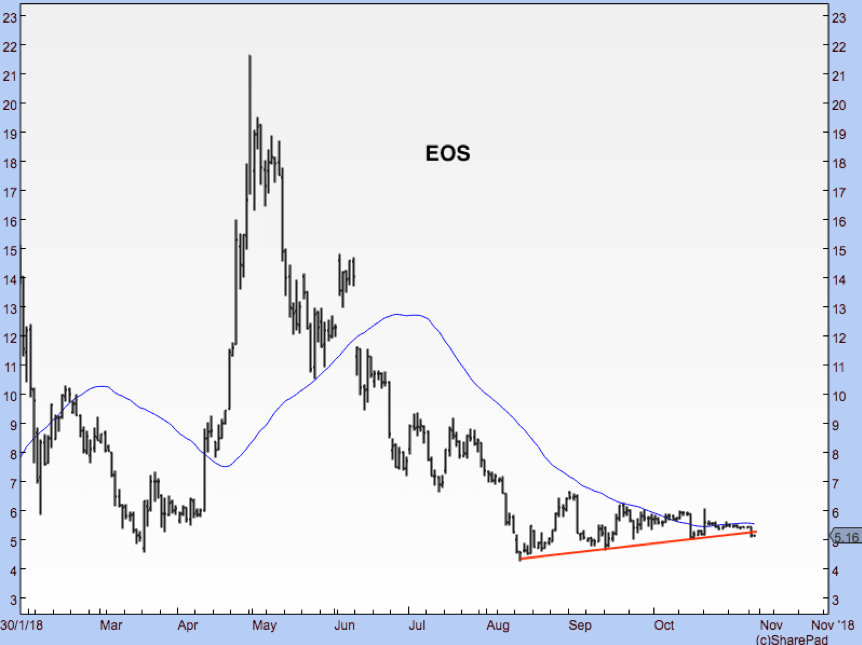 The likes of Litecoin, NEO, Tron, IOTA, Monero, Zcash and Dash have all got the same charts, pretty much, some worse than others.
The two exceptions are Stellar and Ripple. Of all the altcoins this has the chart most similar to Bitcoin. It has that same triangular trading range with lower highs, but a long line of support in the lows going all the way back to the spring.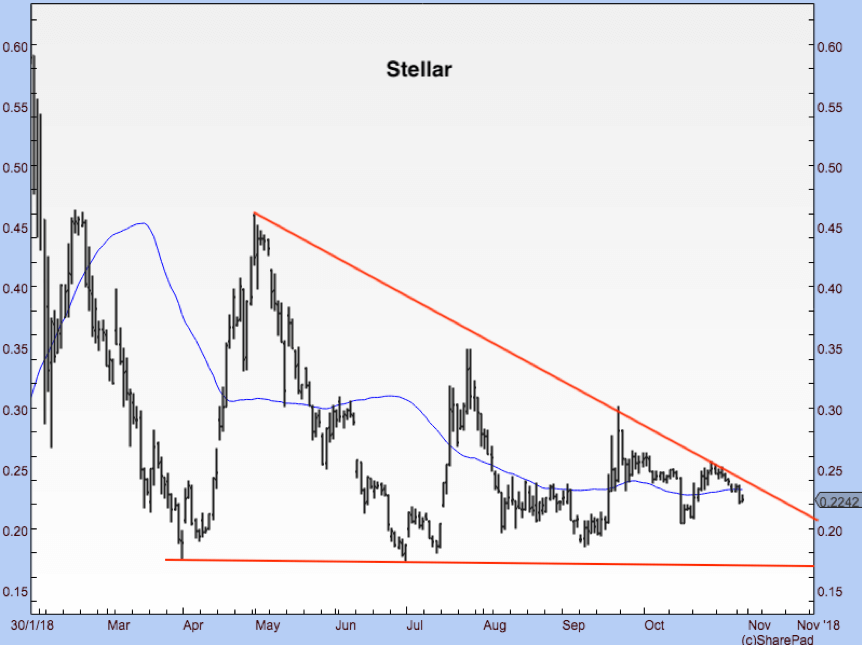 Finally, here's Ripple. At 44c it is still almost 90% off its highs at $3.85 made in early January. But it has got above its 55dma, which has turned up and we actually have that rarest of things in crypto – an uptrend.
I'm not a buyer because I still don't understand the fundamental case for Ripple. But there are plenty that do – hence this current uptrend.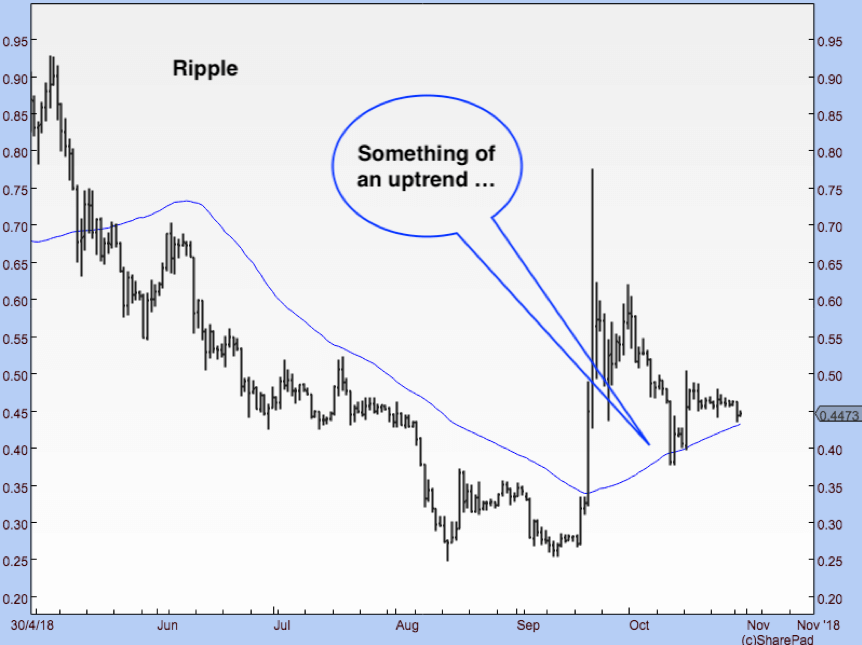 There's a case to buy this one here, with a stop just below 55DMA, if you like your stops light. If you like them looser, perhaps just below 35c.
So that's the state of play, folks, as I see it. We are still in a bear market/period of consolidation.
Disclaimer: The views and opinions expressed by the author should not be considered as financial advice. We do not give advice on financial products.