Despite a bullish week of news for Charles Hoskinson's Cardano (ADA) – the markets have been unenthused, with price action remaining stagnant as price action bleeds out 40%.
ADA begun trading this week at a high of $2.27 with investors excited by the announcements coming out of the Cardano conference – and anticipation that the 40% downtrend could be broken.
But in a surprise twist ADA value has effectively fallen down the stairs this week to a low of $2.02 (-11.6%), with price still ranging at around $2.08 at the time of writing.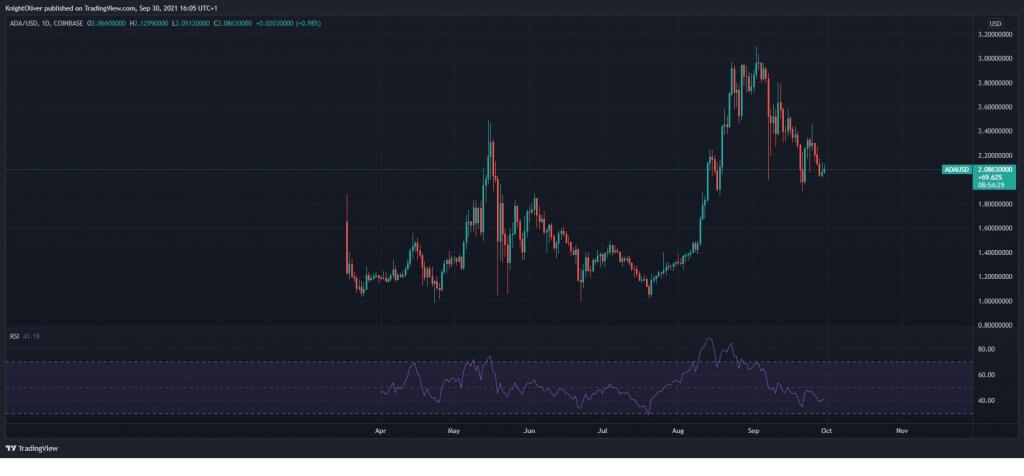 Many are now expecting a sub-$2.00 test as ADA hasn't retested $2.00 support since August following the epic rally to $3.00 in the aftershock of the Alonzo hard fork.
What does a $2.00 re-test mean for ADA?
A strong bounce off $2.00 would be a bullish signal for ADA. It would reassure investors that the current price isn't overvalued as some spectators suggest. This would mark the 40% decline simply as a price correction following an impressive rally to a new all time high.
More bearish investors have different expectations considering the price to be overvalued, and allege the project to be largely driven by a moonboy cult of personality around Charles Hoskinson.
These views are cemented by the debate surrounding the extent to which Cardano actually has a working product as ADA has a very long project roadmap which is far from finished.
And with smart contracts only just deployed onto the mainnet – the project clearly has catching up to do with rival proof-of-stake chains.
However,  Cardano holders remain steadfast – emboldened by news of Chainlink integrations and cutting edge partnerships with Veritree (#CardanoForest), Dish telecoms, and Rival video games. Alongside a just announced $100m investment from EMURGO.
Disclaimer: The views and opinions expressed by the author should not be considered as financial advice. We do not give advice on financial products.