Although Bitcoin has been trading sideways for the past week, the same cannot be said for some of the major altcoins. Stellar, Cardano, Dash, and others have been making some serious gains over the past seven days.
I cannot state with certainty that the altcoin bull season has started. However, some analysts suggest there's a strong likelihood we may experience an early altcoin bull season as investors and hodlers aim to increase their ROI to later convert into BTC.
On the other hand, a sudden drop in the price of Bitcoin to previous support levels around $3,500 could ruin any hope of a serious run before spring.
Altcoins pumping
Crypto Twitter right now: pic.twitter.com/8myzpRempV

— Murad Mahmudov ? (@MustStopMurad) March 3, 2019
The price of Stellar Lumens (XLM) has been storming higher over the past week. XLM has gained a whopping 35%, pushing to the highest levels seen since late January 2019. The price was contained within a descending wedge pattern formation for around 13 weeks going back to early December 2018. Given the amount of time that XLM was forced to trade within that range, the explosive breakout wasn't too much of a surprise.
XLM/USD has been rallying for the past six weeks after price hit a low of $0.07355000. This current run is the best seen since June-July 2018. The run has been very aggressive within a short space of time. As such, some caution must be taken into consideration. In cases such as this, the price tends to be vulnerable to downside risks. A correction or a small pullback could come into play before further stronger moves north.
Stellar's price increase could be linked to the fact Coinbase Pro has recently announced its support for Stellar Lumens.
Cardano and Dash have also made some interesting gains in the past seven days. While Cardano's rise may be linked to the fact Shelley, the new milestone and update for Cardano, is supposed to be released this month, Dash's move upwards is surely connected to the recent news of increased adoption in countries like Venezuela.
What markets will altcoins dominate?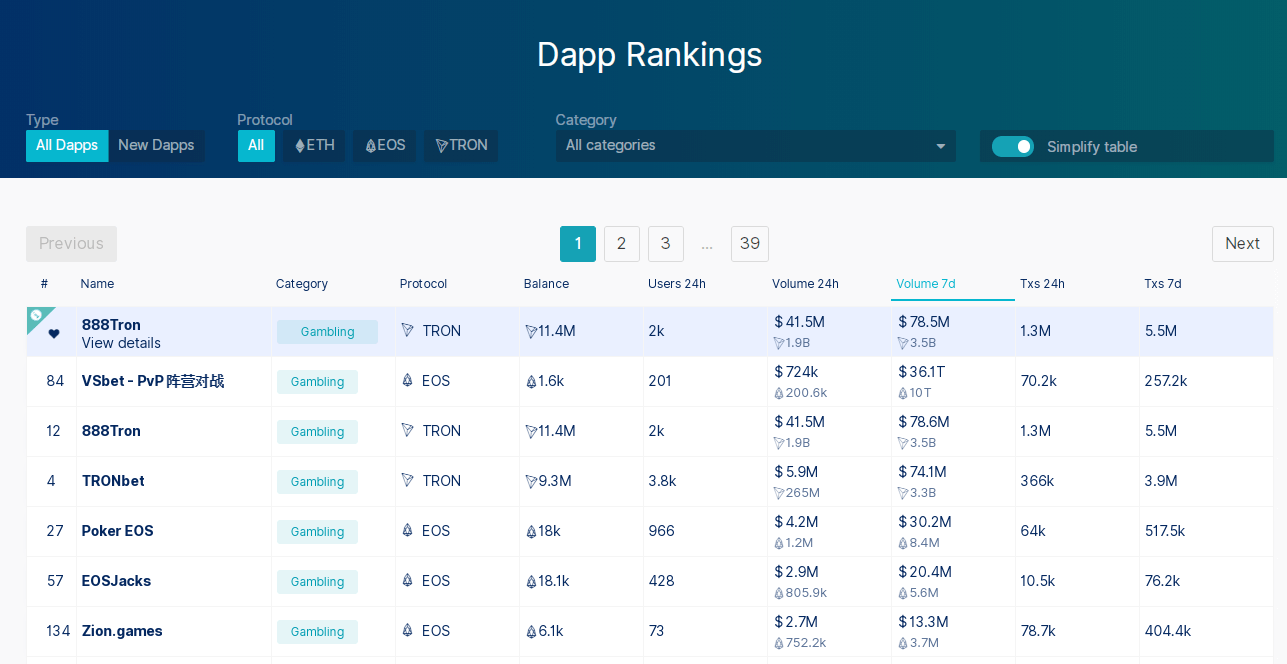 At the time of writing, it seems there's three or four markets cryptocurrencies can potentially disrupt. My personal bet is gambling and gaming, followed by DeFi and AI. There are some interesting projects being developed in each area that I would like to mention, as I believe they have the necessary competences to drive adoption.
Betprotocol, a decentralised betting protocol, has been making some very interesting waves on the gambling front. The company is building an ecosystem for developers and other gambling dApps to build upon, which will cut costs and make the deployment of transparent, auditable, and reliable dApps way more efficient. Plus, just by looking at the image above, you can see why there is a need for a decentralised gambling protocol.
On the gaming front, there's DreamTeam. With the rapid growth of the eSports industry, these guys figured out players need a hub for teams, teammates, coaches, managers, and advertisers. The ultimate goal of the DreamTeam dApp is to give players a way to easily find teammates, improve their skills with learning tools, and manage teams and sponsors, while at the same time giving users a token for ease of use. Of course, I hope the guys behind the project find a way to incentivise users by incorporating rewards and reputation systems within the working mechanics of their platform. That way, users could extract value in multiple ways.
Finally, the strongest DeFi-related project seems to be MakerDAO, although Binance's DEX may create a bigger hype when released. In the AI field, I would seriously bet on SingularityNET and its token AGI, simply because the team behind the project is the same one behind one of the most advanced human-like protocol droids ever created – Sophia the robot.
Disclaimer: The views and opinions expressed by the author should not be considered as financial advice. We do not give advice on financial products.