In a big move to say thank you to those who saw the potential in the cat-themed coin and supported it from the onset, Big Eyes Coin (BIG) has announced that it will be hosting its very first NFT drop, and investors who came in stages 1–3 will be whitelisted to mint for free.
BIG's announcement is supported by a generally optimistic prognosis for the overall cryptocurrency market, which appears to have recovered since the beginning of the week as a result of the U.S. government's action to safeguard Silicon Valley Bank depositors.
Bitcoin (BTC) is up by 10% at $24,837.30, while Ethereum (ETH) rose by 7% to $1,690.09 at the time of writing.
The overall cryptocurrency market gained more than $70 billion in 24 hours and jumped back above $1 trillion on Monday.

Big Eyes Coin To Drop First NFT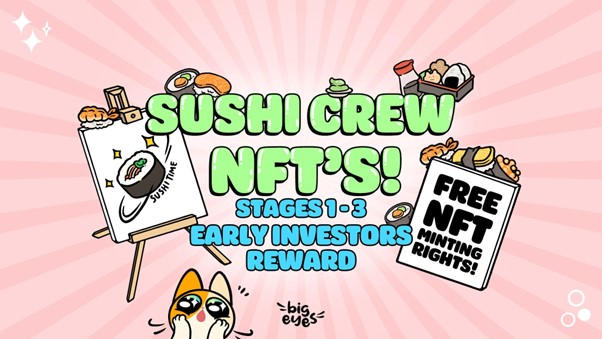 BIG is proving that loyalty pays.
The cute currency will be releasing its first NFT, #SushiCrew, and in its usual fashion, it will be rewarding early investors with minting rights. These are those who bought into the coin's vision in stages 1-3. The meme coin informed investors through its Twitter page that its early investors will be whitelisted to mint the NFTs for free.
Crypto enthusiasts can buy, sell, or trade NFTs, which are digital assets. They can grow in value in the future, thereby increasing the potential for wealth for token holders.
Big Eyes offers a lot of incentives to its community, including vault pins that enable one to massively increase their bonuses (as if a bonus isn't enough), loot boxes, and more.
Bitcoin And Ethereum See Green Again
Bitcoin (BTC) has extended its three-day winning streak as the top cryptocurrency by market value increased to a three-week high of $24,837.30. Prices have almost entirely recovered from the decline from $25,000 to $19,500 that was observed in the second half of February.
From their lows on Friday, Bitcoin and Ether, the two most popular coins, have increased by a fifth as traders gained confidence from US regulators' assurances that accounts at the bankrupt Silicon Valley and Signature banks will be safeguarded. Bitcoin increased by 6% just on Monday.
Investor confidence has increased as a result of the authorities' actions to support SVB and safeguard depositors in these institutions.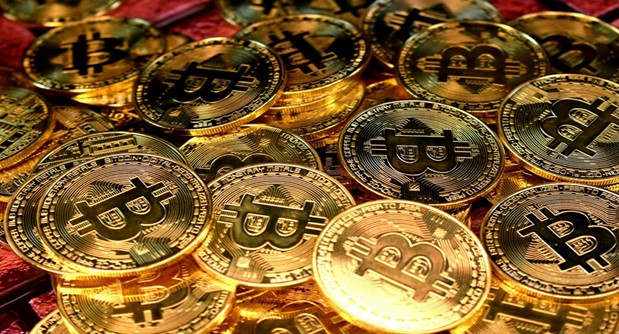 Cryptocurrency Losing Some Of Its Big Supporters
The crypto markets have been on a rollercoaster ride since Silvergate Capital, a significant lender to the cryptocurrency industry, collapsed last week.
Mid-last week, Silvergate announced that it was closing its bank and reducing staff. Then, on Friday, Silicon Valley Bank fell, marking the largest banking failure since the global financial crisis of 2008. In response to the U.S. Federal Reserve's increase in interest rates, both Silvergate and SVB invested money in U.S. Treasury bonds, which have since lost value.
In order to prevent the spread of the problem to the larger banking industry, U.S. regulators also shut down Signature Bank on Sunday. Signature Bank was a significant lender in the cryptocurrency market.
Final Thoughts
Although the crypto industry was hit by the news of some of its friendly banks collapsing, we are beginning to see the market rebound, a testament to its resilience. On the other hand, Big Eyes Coin continues to expand its offering, both to the existing community and to potential investors. The coin just crossed the $31.57 million mark in its presale, and with only three stages left, BIG is on course for a successful launch.

Find Out More About Big Eyes Coin (BIG):
Presale: https://buy.bigeyes.space/
Website: https://bigeyes.space/
Telegram: https://t.me/BIGEYESOFFICIAL
Disclaimer: The views and opinions expressed by the author should not be considered as financial advice. We do not give advice on financial products.