Despite having strict KYC procedures in place, Binance and Huobi received more illicit Bitcoin than all other exchanges in 2019.
An excerpt from the Chainalysis 2020 Crypto Crime Report points out that exchanges have been a popular off-ramp for illicit cryptocurrency over the years.
However, even with increased regulation and more robust KYC, "they've taken in a steadily growing share since the beginning of 2019".
Illicit Bitcoin can be traced to several services, including exchanges, peer-to-peer sites, mixing services, darknet markets, and ransomware addresses.
Throughout 2019, Chainalysis traced $2.8 billion worth of BTC that moved from criminal entities to exchanges. A little more than 50% went to Binance and Huobi (27.5% and 24.7% respectively).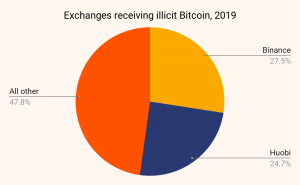 As you can see from the chart above, these top exchanges lead the pack by a significant margin. The report points out that this may come as a surprise based on two main factors.
One, these are two of the largest exchanges on the market. And two, they are both subject to KYC regulations. So how was this possible?
Majority of illicit funds from OTC (over-the-counter) brokers
Through extensive analysis of account activity at Binance and Huobi, Chainalysis found that most of the illicit Bitcoin was sent to a small segment of accounts. Just 810 accounts received more than $819 million in BTC from criminal sources. This is some 75% of the total.
It looks as if the whales driving this activity are OTC (over-the-counter) brokers. OTC brokers make it easier for people to trade if they don't want to transact on an open exchange.
Many traders use OTC brokers as they represent a critical source of liquidity in the cryptocurrency market and allow traders to liquidate large sums of cryptocurrency for an agreed-upon price. The report states:
"While it's impossible to know the exact size of the OTC market, we know that it's huge."
Cryptocurrency data provider Kaiko found that OTCs may even facilitate the majority of all cryptocurrency trading volume. Check out the diagram below to see how OTCs can disguise the source of the Bitcoin by sending it to intermediary wallets first.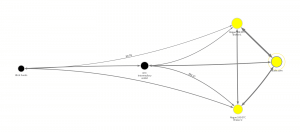 It's important to note that not all OTC services are operating illegally. In fact, Chainalysis put together a list of what it calls the "Rogue 100".  The firm found that:
"70 of the OTC brokers in the Rogue 100 are in the group of Huobi accounts receiving Bitcoin from illicit sources."
And Binance?
"Interestingly, none of those 70 Rogue 100 accounts operate on Binance, though it's possible some of them also have accounts there or on other exchanges as well."
The Rogue 100 are extremely active and have a huge impact on the cryptocurrency ecosystem, receiving more than $3bn of BTC in 2019. According to Chainalysis, many were heavily involved in the PlusToken scam.
"Overall, the funds the Rogue 100 receive can account for as much as 1% of all Bitcoin activity in a given month."
What can be done to prevent money laundering moving forward?
Currently, the KYC requirements for OTC brokers are much less stringent than the exchanges they operate on. According to the report, "Many of them take advantage of this laxity and help criminals launder and cash out funds."
Moving forward, Chainalysis states that law enforcement agencies must take greater action. This includes taking the time to learn more about the technology so as to regulate it.
When it comes to exchanges like Binance and Huobi, Chainalysis states that in order to do their part in the fight against money laundering, they will need to hold OTC services providers to the same scrutiny when it comes to KYC processes.
There's no comment from Huobi in the Chainalysis report. However, the intelligence agency did share its findings with Binance. The exchange stated:
"Binance is committed to cleaning up financial crime in crypto and improving the health of our industry. We will continue to improve on our proprietary KYC and AML technology, as well as the third-party tools and partners we work with, to further strengthen our compliance standards."
Disclaimer: The views and opinions expressed by the author should not be considered as financial advice. We do not give advice on financial products.