Bitcoin's most recent break above the $5,400 resistance level has seen an increase of around $25 million worth of margin short interest, with short interest overtaking long interest on crypto exchange Bitfinex for the first time this year.
At the time of writing, there is currently around 24,500 BTC worth of short interest on Bitfinex ($137 million) compared to the 24,000 BTC ($134 million) in margin long interest. The margin long-short interest on the exchange is seen as a measure of sentiment for Bitcoin and the crypto markets, which have seen a flurry of trading volume following the April Fools' Day rally.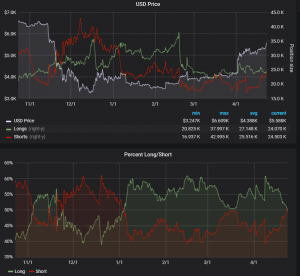 With Bitcoin's most recent move up, it looks as though the orders protecting higher prices on the Bitfinex order book are primarily traders looking to gain 'decent entries'  to add to their short positions on the trusted exchange.
This is the first time that shorts have overtaken longs since the first few weeks of the year when Bitcoin was struggling to break out above $4,200 following a reversal back towards the $3,100 lows. The increase in short interest could be seen as possible 'fuel' that is causing price to break up towards the next key level at $5,800.
The next key level: $5,800-$6,200
If the price of Bitcoin can eclipse $6,200, we will have seen a 2x move from the lows seen in December 2018. Given that this level supported Bitcoin's price on so many occasions during the 2018 bear market, a measured 100% move from the $3,100 level would signify a reversal in price and the start of a new bull market in the decentralised asset class.
In the last few days, we have seen a number of market commentators start to give their respective opinions about whether we have now seen the bottom for Bitcoin in this bear market. I personally believed there was a 50% chance we had seen the bottom when Bitcoin was under $4,200, which increased to 65% following the breakout above $5,000.
I surveyed notable influencers, analysts and traders for their probability that the bottom is in for this bear market. Here are the results:

95% @woonomic (Adaptive Capital / On-chain Analyst)
90% @jespow (Kraken founder)
90% @arjunblj (Analyst)
85% @novogratz (Galaxy Digital)

— Willy Woo (@woonomic) April 22, 2019
Following the most recent breakout from a pretty obvious rising pennant formation for Bitcoin, I would say chances are above 70% if price reaches over $6,200 and we have our confirmed reversal. It looks like a number of other analysts are with me on this (including Mike Novogratz and Tuur Demeester), but some BTC bears (like Tone Vays and Tyler Jenks) are still confident of buying the next dip all the way down at $1,800.
Altcoin vs BTC traders getting rekt
In an interesting twist compared to the rallies we have seen so far in 2019, we can see that other major cryptos like Ethereum and Litecoin have failed to make yearly highs following Bitcoin's move up. As a result, we have seen BTC's overall market dominance increase from 52% to over 53%.
Before the blow-off top for many altcoins in early 2018, we saw that on many occasions it was Bitcoin that would lead the charge up first before a select number of alt-projects followed suit.
In the last few weeks, as traders have been returning to the market, we have seen trading volume hold consistently above $10 billion a day, combined with over $2 billion in open interest on BitMEX that saw $75 million in shorts liquidated this morning.
It's not too late to buy Bitcoin.

— Ran NeuNer (@cryptomanran) April 23, 2019
The following days and months will reveal who will be awarded the next set of bragging rights, but I still have a feeling that all long-term believers in Bitcoin will be handsomely rewarded.
Disclaimer: The views and opinions expressed by the author should not be considered as financial advice. We do not give advice on financial products.