At the time of writing, Bitcoin is experiencing a mini bull run, taking its price from $3,800 to over $4,000, breaking a major resistance level.
Bitcoin reached a session high of $4,103.13 on Monday and is currently valued at around $4,000, having gained about 5% over the last couple of days.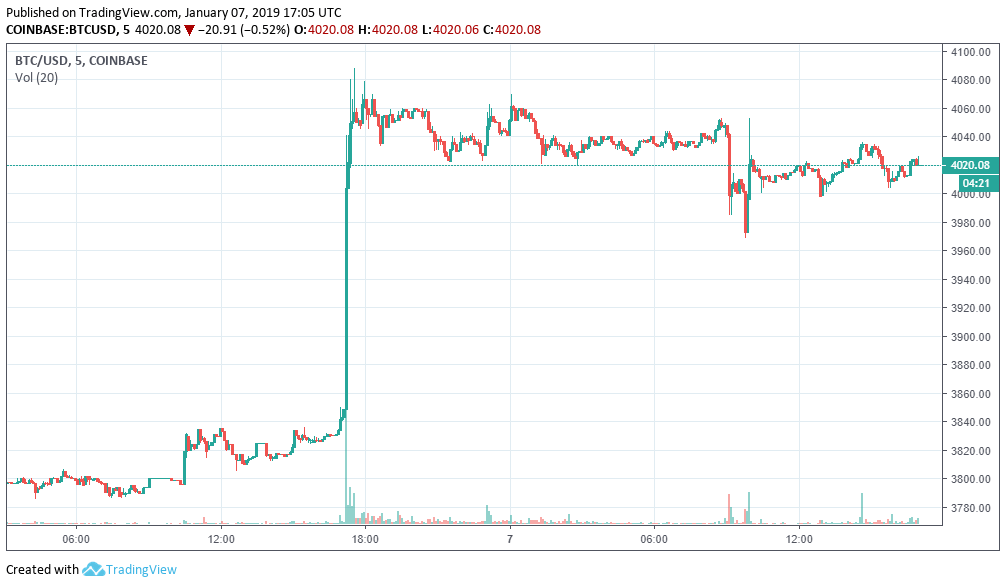 Why the sudden movement?
Usually, during weekends, Bitcoin's price has a tendency to remain steady or to drop, as fewer traders are actively trading. So, price increases are to be expected after weekend losses.
While not everyone is convinced that Bitcoin's latest move represents a major trend reversal, the market is benefiting from renewed stability and improving investor confidence. Since bottoming near $3,100 last month, Bitcoin has rebounded close to 30%.
2019 is shaping up to be a big year for digital assets as not only is the market moving beyond the ICO boom (and subsequent bust), but attention is shifting to institutional adoption, business innovation, and increased regulatory oversight. Although not everyone is on board with these developments (Bitcoin purists don't want the asset securitised), movement in this general direction appears certain now.
Another strong trend for 2019 will likely be a wider adoption of STO standards, so many organisations will have a chance to create their own digital assets and cryptocurrencies and access a pool of worldwide accredited investors.
The next major regulatory bellwether will be the SEC's decision on the VanEck / SolidX Bitcoin Trust. The US securities agency is expected to deliver a verdict next month after delaying its ruling several times in 2018. At this stage, SEC approval seems unlikely given the ongoing concern over liquidity and market manipulation. That being said, VanEck strongly believes that a crypto fund will eventually be approved as the case for Bitcoin continues to grow.
Disclaimer: The views and opinions expressed by the author should not be considered as financial advice. We do not give advice on financial products.