We have now had more than 500 blocks discovered for each of the two competing Bitcoin Cash implementations.
With the addition of a checkpointing upgrade to the ABC chain, it's now looking more and more likely that both chains will survive to battle it out for the title of the 'real' Bitcoin Cash.
The ABC chain has updated its node protocols to include a 'checkpoint' feature. This controversial upgrade will help protect the ABC chain against re-org attacks. In simple terms, this works by the ABC nodes rejecting a longer or higher proof of work chain that may be covertly mined by the SV pool.
According to Jimmy Song, the checkpointing upgrade is only "making their chain even more centralised". The arguments against checkpointing relate to the fact that it undermines a key element of Nakamoto consensus that always respects the chain with the highest block height and accumulated proof of work.
Bitcoin ABC 0.18.4 is now available!

This release contains a checkpoint to lock in the recent successful upgrade of the Bitcoin Cash network. https://t.co/CZ825whGkZ

— Bitcoin ABC (@Bitcoin_ABC) November 16, 2018
After the addition of checkpointing, we should start to see more exchanges have the confidence to open up deposits and withdrawals on the ABC and SV fork markets. At the time of writing, the fork markets were currently priced at $97 for SV and $240 for ABC. We have seen more than $45 million of volume traded in the last 24 hours on the Binance fork markets against the USDT pair.
Hash war continues
At the time of the split, we saw around 4 EH/s (exahashes per second) of hash power mining on the Bitcoin Cash blockchain (With a 70:30 split towards SV). After the split happened we quickly saw the ABC hashing rate ramp up all the way to 9 EH/s. As you can see on the graph below, the extra hash power has now gone offline, with both blockchains now matching each other for mining capacity.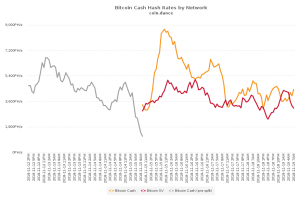 Fork markets
We currently have fork markets in operation over a number of major exchanges. At the moment this trading only relates to the BCH tokens that have been deposited at leading exchanges before the time of the fork. Huobi exchange did announce yesterday that it would open ABC deposits today.
However, they have since postponed the deposit service without providing any additional rationale for the delay.
.@BitcoinCash (BCH) deposit service, which was originally scheduled to open at 14:00 (Singapore time) on November 19, 2018 has been postponed. The new opening time will be announced in a separate update. We apologize for any inconvenience caused.https://t.co/vZZ2nFFmKn$BCH pic.twitter.com/tXlCrOkGoJ

— Huobi Global (@HuobiGlobal) November 19, 2018
According to Bitmain disclosures ahead of their proposed $14 billion IPO, they are holding over one million BCH tokens on their balance sheet.
Jihan Wu has taken to Twitter to help work out "when I can deposit my BSV tokens". You can expect Bitmain to be looking to 'dump' its SV holding as soon as exchanges start opening up for deposits on the SV chain.
Until we see major exchanges start to open up deposits and withdrawals for either chain, it looks likely that the uncertainty for both chains is set to continue.
Disclaimer: The views and opinions expressed by the author should not be considered as financial advice. We do not give advice on financial products.