Downtrends resumed pretty much across the board in crypto last week, as we feared they might. However, over the weekend, a small glimmer of light flickered at the end of the tunnel as most bounced off their September lows. The prospect of an across-the-board double bottom has come into play, and bottom fishers must be tempted.
The total market cap of crypto currencies now stands around $213bn. According to coinmarketcap the high for the sector was $828bn on Monday 8th January. So the current sell-off is about 75%.
I make the low for the sector Wednesday 12th September at around $186bn – around an 87% sell-off. Even though last week, many coins went back and tested their September lows, others displayed strength and held up above.
It's worth noting by the way that while the market cap of the sector peaked on 8th January, Bitcoin peaked three weeks earlier on Sunday 17th December. The inference is that Bitcoin leads the rest of the sector. Often "small caps" – in this case altcoins – lead, but not always, and it makes sense that Bitcoin would lead, as it is the cryptocurrency of which people are most aware, and it is the means by which most fiat money enters the sector.
If Bitcoin is going to lead this sector out of its rut, then the omens are looking okay. Here's why.
In the chart below the red dashed line defines the triangle pattern that Bitcoin has been tracing out over this last nine months of consolidation and falls. Each high is lower than the last, but every sell-off meets with buying in the $5,800 to $6,000 area.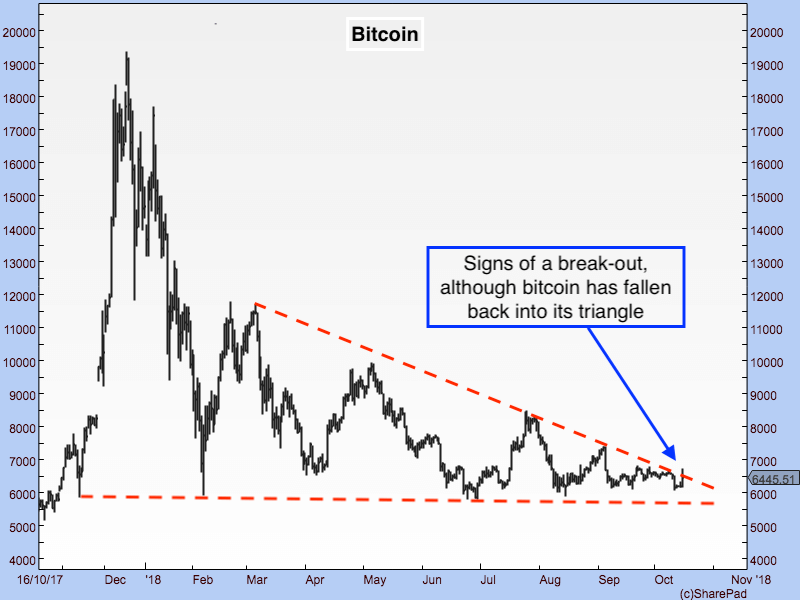 The big question has always been which way out of this triangle Bitcoin was going to break and, over the weekend, it staged a mini break-out to the upside and got above that falling dashed red line. As I write it has fallen back below it, but the signs are it wants to be above.
In the Dow of late we saw a break out to new highs followed by an extremely aggressive sell-off. This was a case of "from false moves come fast moves in the opposite direction". The risk is that the something similar happens with Bitcoin: that this is a false break and a sharp move down is just around the corner. This is a possibility I am not ruling out. It is a speculative market, so anything is possible – make sure you manage your risk accordingly. In any case, for the moment it looks okay.
Meanwhile, Ethereum is sending out mixed messages. Make no mistake that the broader trend, as defined by the 55-day moving average (55DMA) – the red line – is down. The 21DMA (blue line) is not quite as downward pointing as it has been, but it is still trending lower. This is a bear market.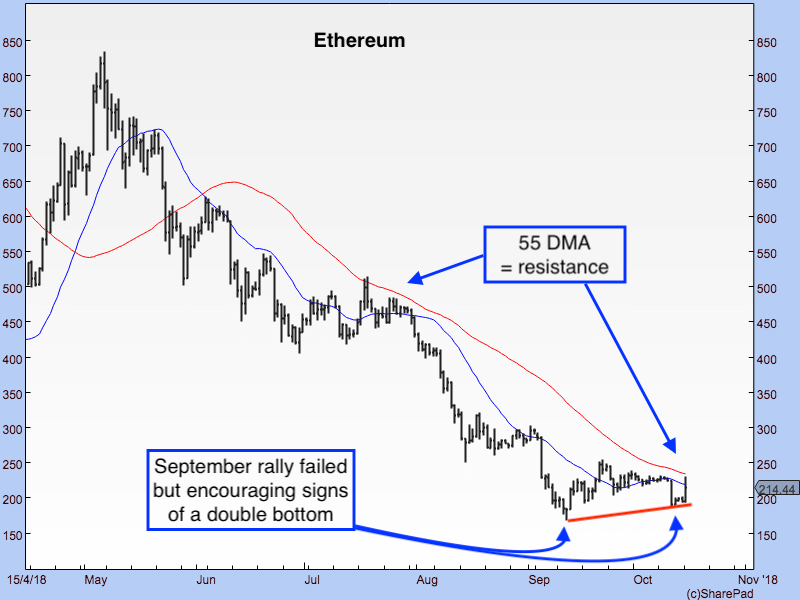 What's more the encouraging rally off the September lows also gave up the ghost last week (as we suggested it might), as Ethereum fell from $220 to $188 in a few painful hours.
However, Ethereum stabilised at $188, forming an apparent double bottom. It then rallied back to $230. There it ran into the resistance that is the 55DMA before settling around $215.
If that rising red line holds, the omens are better.
There are similar stores elsewhere. There are signs Bitcoin Cash is trying to put in a low, but it can't get above its 55DMA.
Ditto EOS, which, encouragingly has got above its 55DMA – just.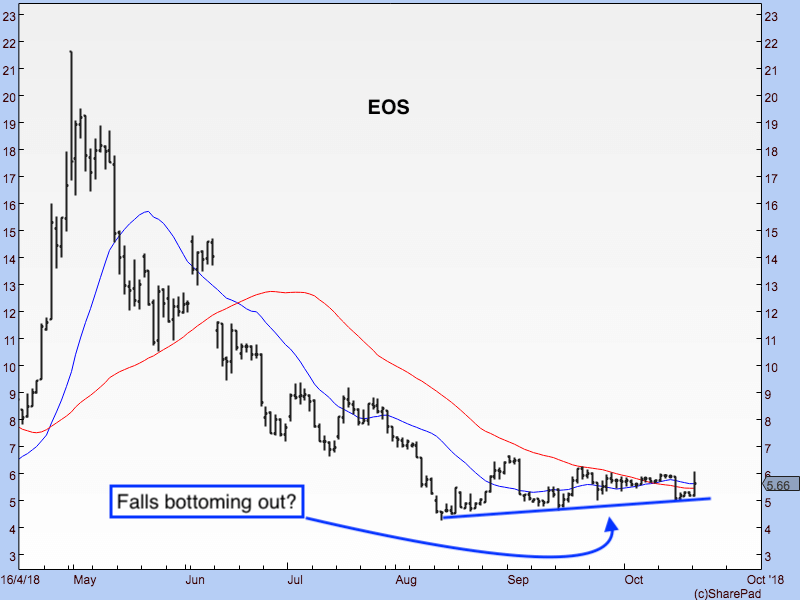 Stellar has been one of the better coins. It's a bit lost direction-wise, but each low is higher than the last, and it looks fairly safe to own while its above 19c or so.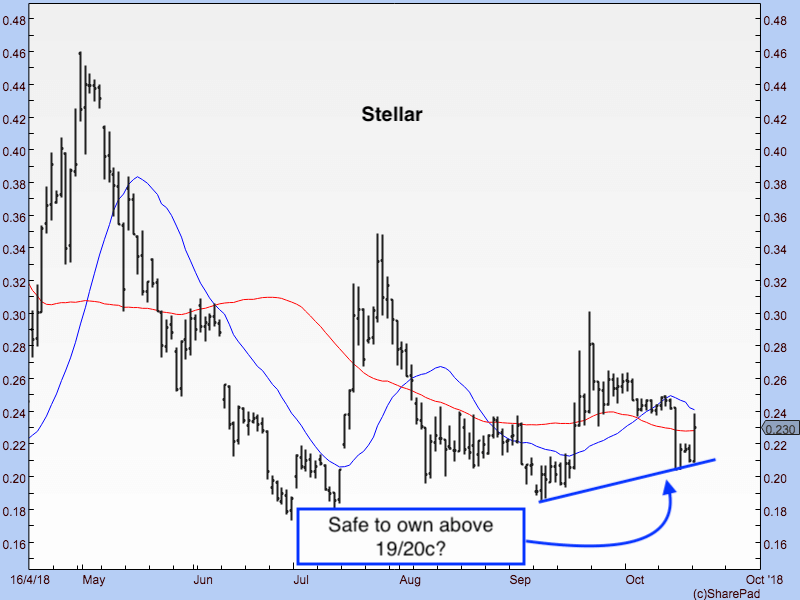 Litecoin I see as one of the more doomed of the top ten cryptocurrencies by market cap. Its role as silver to Bitcoin's gold has been superseded by Bitcoin Cash. Unless it increases its privacy, as has been mooted, I can't really see the point of it any more. The market shares a similar view, I'd say, and what was once the second biggest coin by market cap has now slid to seventh.
Nevertheless, it has also stabilised a little and as long as that blue line holds, it is safe to be long. "Own as long as it stays above 50c" might be a simple strategy to think about.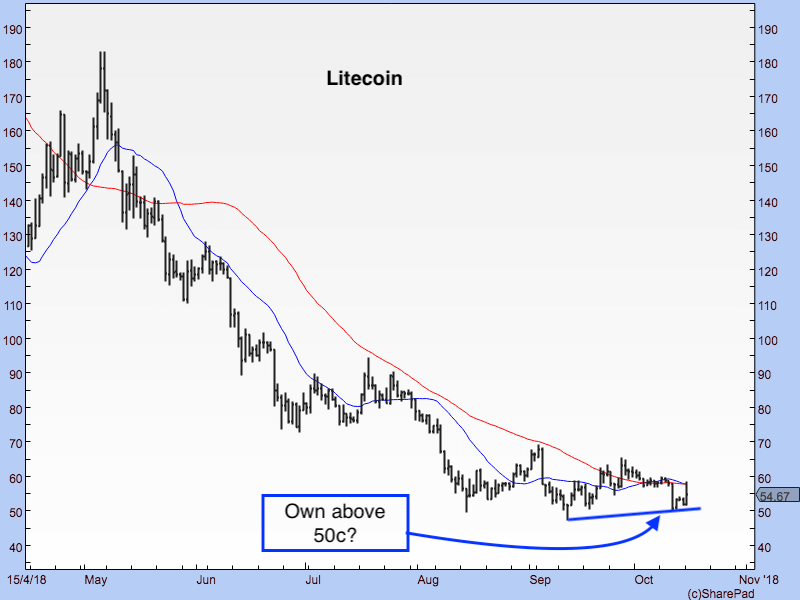 Here's Cardano telling its version of the same story. The broader trend is down. There are signs it is stabilising. As long as that straight blue line holds, it's okay. The 55DMA is currently resistance.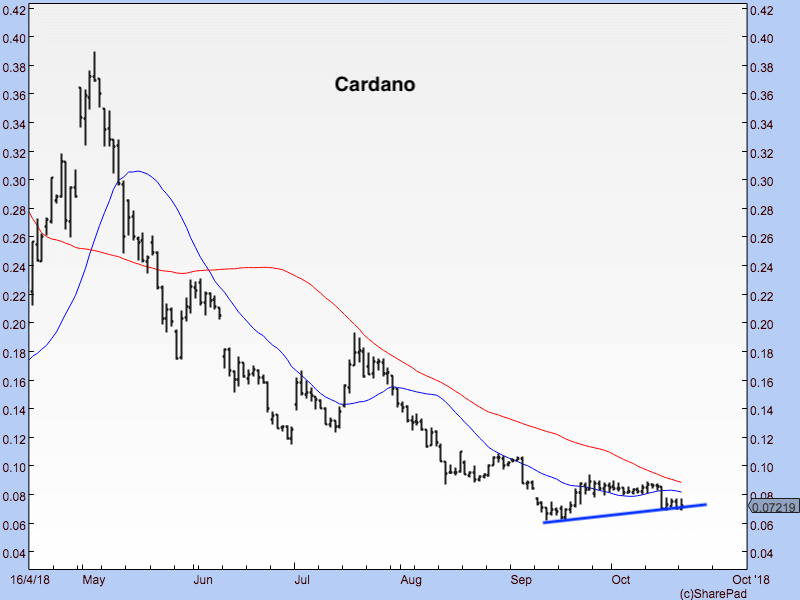 Finally, as I haven't looked at it in a while, here is a coin I can see the point of – Zcash.
Guess what? It's the same story. A long trend down that may be bottoming out, but it has the issue of its 21 and 55-DMAs to get over.
If you are of a speculative, bottom-fishing mindset, $100 seems to be the approximate line in the sand. Own it above there.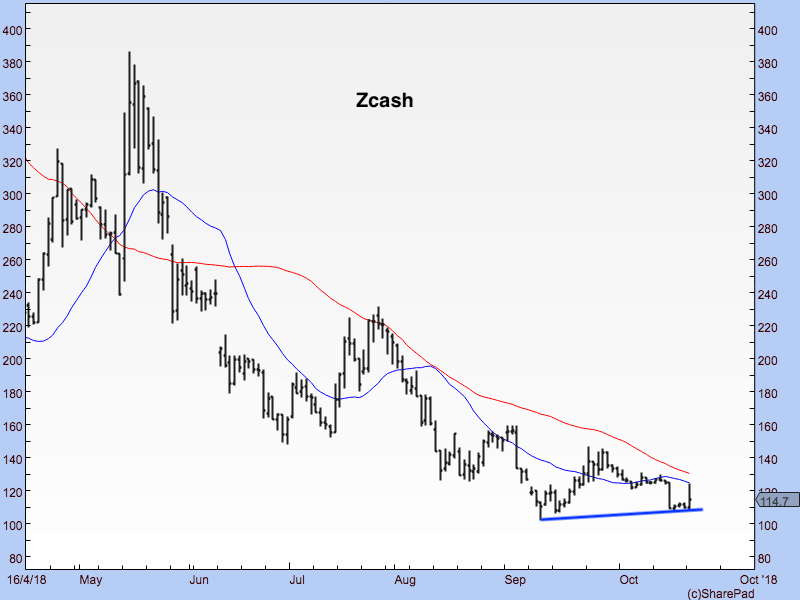 This sector is pretty much, Bitcoin aside, trading as one at the moment. There are signs of a bottom, but the risk is still very much to the downside.
If those double bottoms I have identified with horizontal blue lines do not hold, then things will no doubt start getting ugly once again. Fingers crossed they do hold.
Disclaimer: The views and opinions expressed by the author should not be considered as financial advice. We do not give advice on financial products.