Bitcoin dominance has reached 70% for the first time since March 2017 thanks to the ongoing altcoin slump.
Despite having a bullish month in June, altcoins such as Litecoin, XRP, and Ethereum have all fallen by around 40% in value.
Meanwhile, Bitcoin has been bullishly consolidating above $10,000 and even $11,000, with several analysts predicting that a new all-time high will be breached in the coming weeks and months.
The entire cryptocurrency market cap is currently at around $300 billion, with Bitcoin's market cap dominating at $210 billion.
It's certainly a far cry from 2017, when several altcoin supporters were calling for a 'flippening' that would see Ethereum overtake Bitcoin to become the largest global digital asset.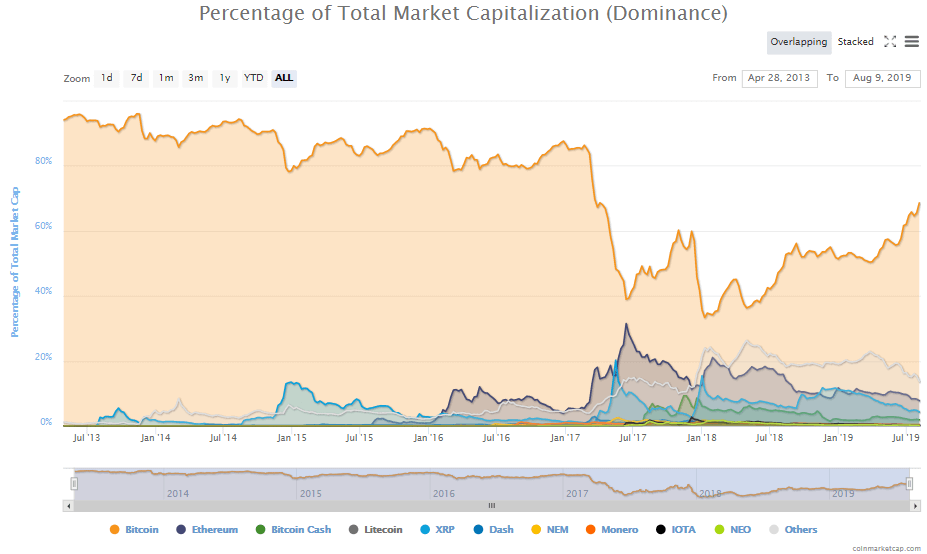 The decline in the price of altcoins could be attributed to a number of things. In 2017, the market was driven by hype-fuelled retail investors who sought the next substantial gain in an illiquid altcoin market.
As the market has matured, the majority of retail investors from 2017 have either withered away or exited the market, leaving mainly institutional buyers to drive the price action.
Bitcoin is undoubtedly the safest haven for institutional clients as OTC desks can provide liquidity. Altcoins on the other hand have incredibly illiquid order books, meaning that a client wanting to purchase $50 million worth of crypto would move the market significantly, causing needless slippage.
So how far can Bitcoin's dominance go?
Before the unforgettable 'altcoin season' in the summer of 2017, Bitcoin dominance was at around 86% after reaching a high of 92% in 2016.
With that in mind, it wouldn't be unreasonable to predict that Bitcoin could once again eclipse those levels, which will almost certainly cause altcoins to dwindle in value even more than they are today.
For more news, guides, and cryptocurrency analysis, click here.