Following a tremendous rally to the upside, Bitcoin has been rejected from the $12,350 level of resistance.
The price of Bitcoin subsequently fell to as low as $11,650 before recapturing a level of support, but the sharp drop has prompted a few warning signs.
More than $60 million worth of long positions on BitMEX were liquidated from the move to the downside, although the ball is still firmly in the bulls' court.
In order to avoid a third dreaded lower high, Bitcoin needs to break above $13,000. Currently, if price does in fact get rejected here, it will signify a bearish change in the market with downside targets coming in at just below $11,000.
The four-hour golden cross still seems to be playing out, with price still 10% higher than when the cross occurred.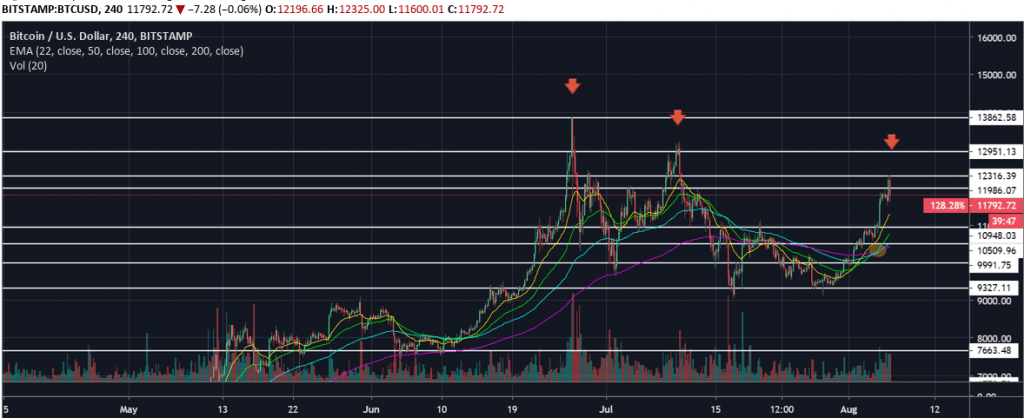 The 22 exponential moving average (EMA) is currently sitting at around $10,550, which has historically been a key level of support and resistance.
A retest of this level would actually present a bullish scenario, with consolidations in a bull market being a healthy sign of strength.
Moving forwards, bulls will be looking to avoid another lower high, while bears will attempt to drive price below the 22 EMA on the daily chart.
However, much still depends on the fundamentals surrounding the market. Notable cryptocurrency exchange Bitfinex is currently embroiled in a legal hearing with the New York Attorney General's office – a resolution to this could drive the market in either direction.
For more news, guides, and cryptocurrency analysis, click here.