Bitcoin has experienced a tremendous week of upside price action, rising from $9,150 all the way to above $12,000.
Sellers returned to the market at the $12,350 mark, forcing a sharp decline in price to $11,250 before support was established back above $11,550.
The volatile and unreliable price action has made Bitcoin difficult to trade over the past week, but this level of uncertainty could be exactly what Bitcoin needs to drive it past $14,000 to new yearly highs.
Market uncertainty typically results in a lack of order book blocks and subsequent liquidity. This means that if Bitcoin manages to surge past resistance levels at $12,350, $13,000, and $14,000, it should have no issues in making an all-time high before the end of the year.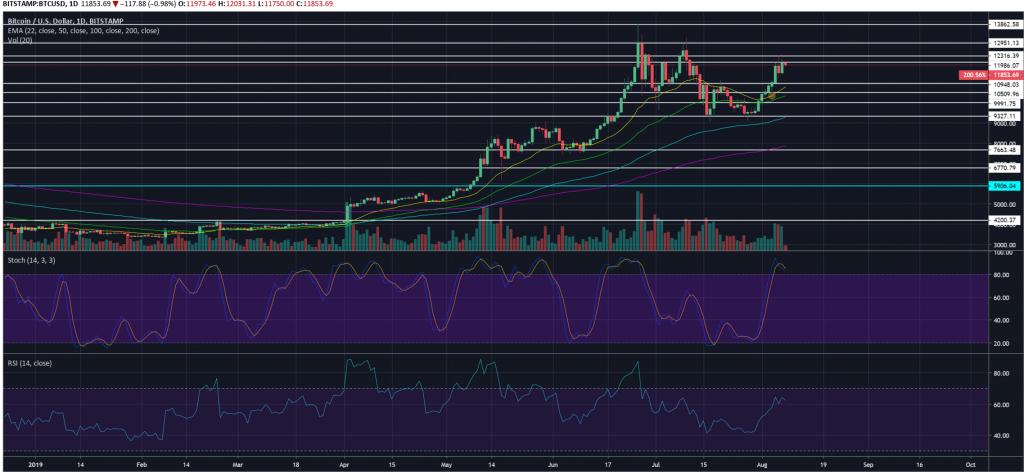 The daily relative strength index (RSI) faced a slight correction but is now firmly weighted to the upside at around 64. Both short-term and long-term exponential moving averages are also all pointing to the upside, suggesting that momentum across all time frames is almost certainly up.
One of few bearish signals is the fact that the daily stochastics have crossed to the downside after hitting the same point as the correction on June 24. However, it is conceivable to see them cross back to the upside in the coming days if price can be sustained at around $11,800.
The $11,800 level has been a historical hurdle for Bitcoin. In November 2017, a daily doji candle signalled an incoming reversal having spiked to that level, although Bitcoin bucked the trend by spiking to $20,000 within a month.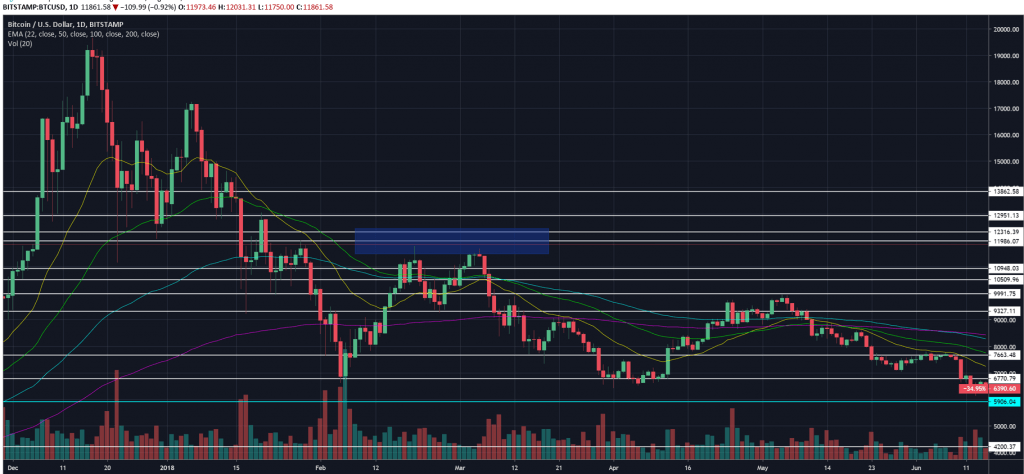 On the way back down in 2018, the $11,800 level was a critical level of resistance on multiple occasions, culminating in a double-top in February and March that eventually saw the price of Bitcoin fall by 43% in the following month.
However, if this level can be broken with conviction and support can be gained above it, it could act as the ideal spring platform to catapult Bitcoin to new all-time highs.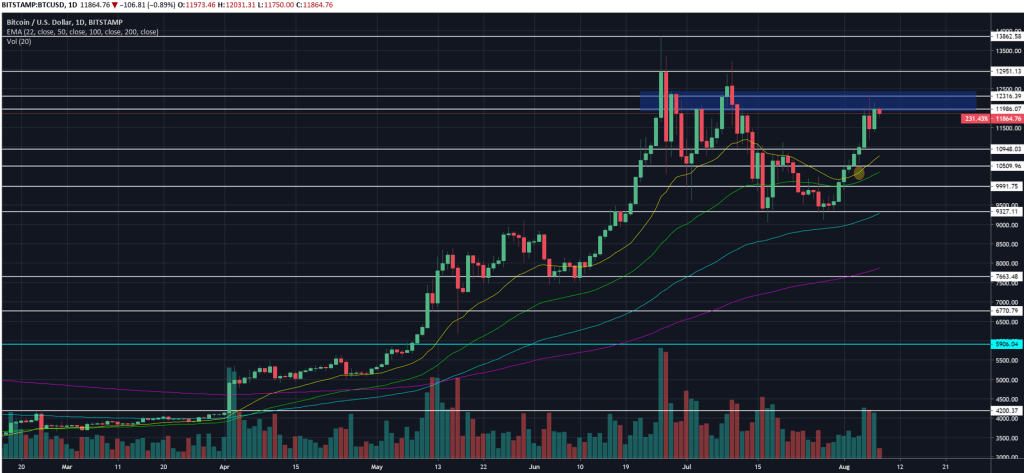 Currently, the latest rejection from $12,350 signifies yet another lower high having failed at $14,000 and $13,000 previously. In order to buck the trend, Bitcoin needs to close a daily candle above $13,000 to enter an undeniably bullish phase.
If Bitcoin fails again at this level, downside levels of support remain at $11,550, $10,950, $10,550, and just below $10,000.
Some analysts have been predicting that an all-time high could be on its way before the year is out.
For more news, guides, and cryptocurrency analysis, click here.