Bitcoin's hash rate has undertaken an outstanding recovery from the Chinese government's crypto mining ban – which saw a mass exodus of more than 65% of active Bitcoin mining rigs three months ago.
The hash rate is, effectively, a measure of how many miners are actively searching for a hash on the SHA256 Bitcoin (BTC) network.
A glimpse at the chart shows the plummeting hash rate in June as Chinese miners disconnected from the SHA256 network and scrambled to move overseas to re-establish data centres.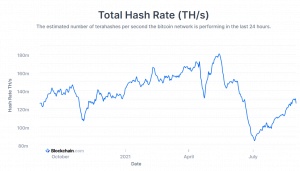 The Chinese mining exodus saw the SHA256 hash rate drop below 100 TH/s for the first time since May 2020.
While the migrating miners were offline for the best part of June and July, western miners still operating seized upon the opportunity to rake in bigger profits due to the lower difficulty.
This led to a suspicion in some corners of the crypto community that the recent break in resistance at $50k could be attributed to the supply of freshly-minted BTC decreasing amid increased competition.
Operations appear to have now largely resumed, with an intrepid 30% rise in the Hash Rate on the network which, at the time of writing, sat at 126 TH/s (Terra Hashes per second).
This comes as the BTC mining difficulty rate has pulled a near full recovery to its previous level ahead of the next halving event.
The hash rate recovery has been interpreted by some investors as a bullish signal, with the amount of miners on the network at similar levels to November 2020 before the impressive Spring bull run.
This has fuelled speculation about the potential for a super cycle.
However, empirical evidence paints a different picture with a Russian study of BTC price and hash rates revealing that price impacts on hash rate more than vice versa.
More crypto news and information
If you want to find out more information about Bitcoin or cryptocurrencies in general, then use the search box at the top of this page. Here's an article to get you started.
As with any investment, it pays to do some homework before you part with your money. The prices of cryptocurrencies are volatile and go up and down quickly. This page is not recommending a particular currency or whether you should invest or not.
Disclaimer: The views and opinions expressed by the author should not be considered as financial advice. We do not give advice on financial products.