According to data from outputs.today, last week saw the number of confirmed Bitcoin transactions hit an all-time high of 1,115,136 outputs per day.
Just a few weeks ago, this metric breached 1 million for the first time in the decentralised currency's existence. Looking at the historical chart, the last major high of 900,000 came at the end of November 2017, just prior to Bitcoin's surge to $20,000.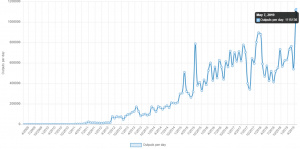 According to the outputs.today website, which specifically tracks outputs for the layer-one Bitcoin protocol, "outputs per day is a better indicator of overall economic activity on the Bitcoin blockchain than transactions per day. Since one transaction can include multiple outputs, the number of total outputs is more important than the number of transactions themselves."
The site also goes on to mention that large players in the Bitcoin space use batching. This is the process of including multiple outputs in a single transaction to reduce overall transaction fees. Therefore, they think that "looking at only transactions misses an important part of the picture".
New highs for outputs and even transactions per block
Other highs reached recently include the number of outputs per block (currently at 7,021) and even the number of transactions per block, which has seen another significant increase to nearly 2,800 following the recent shift of data-intensive transactions moving to other smart-contracting layers on the BTC blockchain.
In its most recent newsletter, Diar has also mentioned that "the number of transactions on-chain is also just shy of the all-time high of December 2017". It goes on to state that "since hitting a low in February of last year, month-on-month growth for the number of transactions has been clearly evident".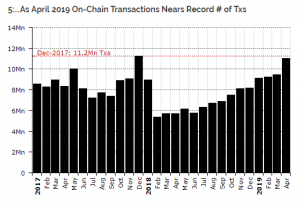 Given that monthly transactions are trending towards breaking the old highs of 11.2 million a month (last seen in December 2017), the network fundamentals and on-chain activity on the Bitcoin blockchain seem to all be pointing to increased usage and adoption.