Bitcoin has rallied 6% this morning to retest the crucial $12,000 level of resistance.
A series of multi-million dollar market buys on BitMEX sparked the rally, with significant buy support also appearing on Bitfinex and Bitstamp.
This marks the third test of the $12,000 level in the past two weeks. A potential break-out could trigger further upside targets of $12,400, $13,000, and $14,000.
The daily stochastic indicator has crossed to the upside once again, which as discussed last week could trigger another substantial surge in price.
⬆️ [08:55:25 UTC] BitMEX XBTUSD 10,000,000 contracts market bought at 11,433.3 with 9.8 slippage

— Bitmex Whale (@BitmexWhale) July 8, 2019
The risk-reward setup at $12,000 favours a short position, with a stop-loss above $12,050. However, if volume can be sustained, that level could quite easily be taken out.
It seems as though traders are attempting to prop the price up above $11,800 as a series of large buy orders have been appearing on Bitfinex, with traders 'spoofing' 1,500 BTC ($18 million) orders in an attempt to spur further price action to the upside.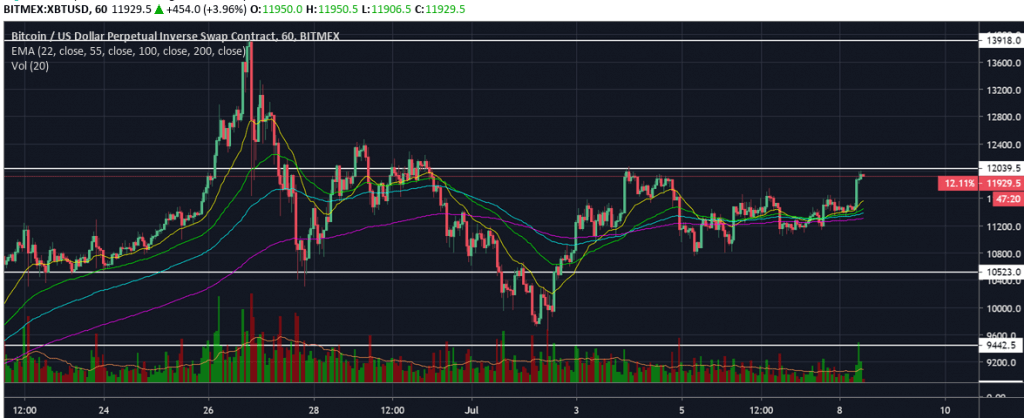 A breakdown from $12,000 would be the first signal of a further correction, potentially up to 40%. Downside targets remain at $10,700, $9,700, $9,250, and $8,750.
It remains to be seen whether Bitcoin has the fuel needed to ignite a further rally, but this morning's sharp spike to $12,000 has come from legitimate volume, hinting that further upside movement is to come.
Keep up to date with Coin Rivet's technical analysis here.
Disclaimer: The views and opinions expressed by the author should not be considered as financial advice. We do not give advice on financial products.