While many of us were buying last-minute Christmas presents of socks and aftershave, in Argentina, it looks as if the focus was on Bitcoin.
According to incredible stats compiled by CoinDance, Bitcoin trading in Argentina skyrocketed to an all-time high in the run-up to Christmas.
Peer-to-peer Bitcoin trading in Argentina
CoinDance measures the volume of transactions over time on peer-to-peer (P2P) platforms. It found that Bitcoin trading in Argentina in the week of December 21 reached a staggering $32.6 million Argentine pesos (approximately $544,905 US dollars).
That's 34% more than the volume registered in previous weeks and marks a historical record in P2P trading on LocalBitcoins – a platform popular in the Latin American country.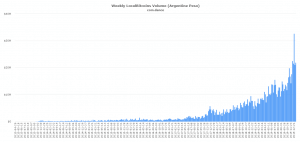 While Bitcoin trading in Argentina has cooled off again since reaching its peak, the increased trading volume in December demonstrates Argentina's growing interest in Bitcoin.
At 55.44% at the end of 2019, inflation in Argentina is among the highest in the world. This makes it impossible for Argentines to save in their national currency. But why was there such a spike in peer-to-peer Bitcoin trading in Argentina the week of December 21?
A historic distrust of its national currency
Argentines historically distrust their national currency – and with good reason. It's let them down many times before with wide-scale devaluations and banking crises.
This has fostered an obsession with dollars in the country. Many Argentines wishing to save or carry out transactions on high-ticket items instinctively convert their pesos to dollars.
Since President Macri's sweeping defeat in October, in an attempt to prevent capital flight, the Argentine central bank restricted the purchase of foreign currency to just $200 per month per citizen.
On Tuesday December 17, the new Argentine government led by Alberto Fernández announced a new series of measures to further hamper access to dollars and foster a new "love of the peso".
The first of which is abolishing a tax on saving in pesos. "We need to recover savings in our currency," said the new Minister of Economy, Martín Guzmán, as he announced that the tax on savings in pesos was being written off.
"We also need to discourage savings in a currency that we do not produce, which are dollars," he added.
Therefore, in addition to the $200 monthly limit, Argentines will pay a 30% tax for the purchase of dollars and for any expenses abroad. These include tourism (making it harder for Argentines to travel) and even services such as Netflix, Airbnb, and Spotify.
The tax will not affect expenses related to health, medications, books, and research projects.
These measures are part of the so-called "Law of Solidarity and Productive Reactivation" that the government plans to push through parliament. According to Guzmán, it is "the first step to resolve the economic and social crisis that Argentina is going through".
70% of funds collected with the "dollar tax" will go to the social security system, while the remaining 30% will finance infrastructure and housing works in the country.
Solidarity law pushing Argentines to Bitcoin
The reasons behind the Law of Solidarity and Productive Reactivation may be well-intended. However, it's hard to change a mindset built up over the years and encourage trust in the peso again.
It's certainly no coincidence that the spike in Bitcoin trading in Argentina resulted shortly after the new measures were announced.
Argentina is not the only country in Latin America to have a tendency towards P2P BTC trading. Venezuela also reached an all-time high that same week, representing a 15.6% increase from the week before.
Argentina's ravaged neighbours to the north, in fact, are still showing more and more interest in Bitcoin trading, registering another all-time high the week of January 4.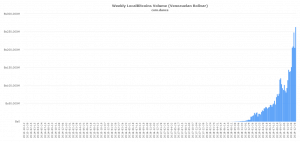 Bitcoin – a new Latin American alternative?
Argentina and Venezuela are in the throes of complicated economic and financial crises. The situation in Venezuela is far worse, with annual inflation of over 10 million percent.
However, the Argentine peso is also being weakened on an almost daily basis. Both countries are also struggling to attract investment and have restricted access to international credit.
The devaluation of local currencies is one of the main reasons specialised investors and a young tech-savvy population have turned to Bitcoin – as an alternative to escape monetary depreciation and shield their wealth.
However, the enormous obstacles and restrictions on access to foreign exchange have further boosted P2P Bitcoin trading in Argentina and Venezuela.
These activities are not yet regulated by current legislation and have allowed investors to quickly exchange their local currency for units or fractions of cryptocurrencies that are traded internationally.
Bitcoin may have been born from the ashes of the last global economic meltdown, but the majority of its users are treating it as a store of value.
For countries like Argentina and Venezuela, Bitcoin is truly proving to be a viable way of escaping erroneous economic policies and weak local fiat currencies.
Disclaimer: The views and opinions expressed by the author should not be considered as financial advice. We do not give advice on financial products.