Bitcoin looked fragile on Sunday evening as the battle between the bulls and bears raged on in the wake of the dreaded death cross.
Last week, Coin Rivet reported how the infamous death cross – in which the 50 EMA (exponential moving average) crosses the 200 EMA to the downside – had come to pass on the four-hour chart for Bitcoin.
At the time, roughly $18 billion was annihilated from the digital asset's market cap as the bulls quickly realised they had an uphill battle ahead.
Toward the end of Sunday, and with the weekly close looming, Bitcoin bore witness to a staggering drop as its price plummeted from around $9,500 to the $9,150 level.
This didn't look promising for Bitcoin. Following the death cross, Coin Rivet had reported that the next notable level of support – if price was to drop – would be $9,150.
If that level broke, the next logical stop would find Bitcoin's price somewhere in the $8,000 region, possibly between $8,800 and $8,350.
Bitcoin needs to bounce at $9,150 or we're heading to the mid $8k's. Death cross playing out beautifully as predicted. $BTCUSD

— Oliver Knight (@KnightCoinRivet) July 28, 2019
However, the bulls managed to rally themselves and counter the drop in price, and within minutes Bitcoin found itself sitting back around the $9,500 level ahead of the weekly close.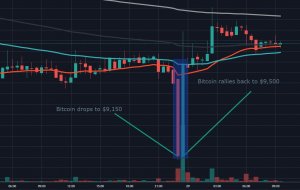 Bitcoin's price dump and subsequent pump occurred so quickly that it could not be fully viewed on the four-hour chart, but can be seen much more clearly on the 30-minute chart.
Interestingly, the jump back to the $9,500 level came with significantly more volume than was seen with the drop to $9,150 – signalling pressure from the bulls to keep it from collapsing below $9,000.
Though once Bitcoin had recovered, volume trailed off once more as the market continues to trade sideways.
With the weekly close saved, the bulls might look to continue pushing as Bitcoin faces another critical week following the gruelling death cross.
Interested in reading more Bitcoin analysis? Discover more about Bitcoin losing $18 billion from its market cap as the dreaded death cross transpired.
Disclaimer: The views and opinions expressed by the author should not be considered as financial advice. We do not give advice on financial products.