Blockstream has announced the upcoming release of a new tokenised securities platform that can be used by businesses issuing security tokens directly on top of the firm's custom-built Liquid Network.
In a press release shared with Coin Rivet, the team said: "The Liquid Securities platform marks the first Liquid-based product to be launched by Blockstream, and is a major step in commercialising the fast-growing inter-exchange settlement network."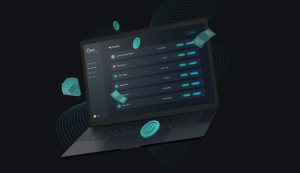 Blockstream went on to outline how "issuers can use the Liquid Securities platform to handle issuance and token management" for their potential clients.
The team detailed how the Liquid Securities platform can provide a simple interface for businesses to issue, manage, and monitor the usage of their security tokens, saying: "Rules for token ownership, such as regional restrictions and investor accreditation, are established through a web interface and companion API."
Due to this unique architecture, Blockstream thinks that token rules do not have to be written at the smart contract level, as they "can be easily adjusted via the Liquid Securities control panel to allow issuers to adapt to fast-evolving digital asset regulations".
An emerging trend to tokenise securities
Samson Mow, CSO of Blockstream, said: "Businesses around the world are racing to take advantage of the tokenisation of securities.
"Unfortunately, blockchain platforms like Ethereum are failing them due to issues with scaling, privacy, and reliability. Liquid was built to address these issues. Now, with the launch of Liquid Securities, businesses can quickly issue Liquid-based security tokens with the click of a button, and establish sophisticated rulesets to conform with their regulatory requirements with no engineering experience required."
The Liquid Securities platform is initially launching with a limited set of partners, including BnkToTheFuture, TokenSoft, Zenus Bank,​ and the Samson Mow-led game studio Pixelmatic.
Tokenised equity
Plans for the initial launch include "issuing tokenised equity in the largest companies in crypto" and even an ICO-style plan "to issue tokenised equity via Liquid Securities as part of a private offering".
Commenting on the release, Simon Dixon, CEO of BnkToTheFuture, said: "This is a completely new field, so building security token applications should be engineering-intensive work.
"Liquid Securities instead provides us with everything we need to get going out-of-the-box, helping us to get our token issuances to market faster. The fact that Liquid is built by one of the most accomplished teams in the Bitcoin industry gives us even more confidence in the service's future."
For more news, guides, and cryptocurrency analysis, click here.
Disclaimer: The views and opinions expressed by the author should not be considered as financial advice. We do not give advice on financial products.