Bomb Crypto is a play-to-earn game launched by Vietnamese game development company Senspark in the third quarter. According to Footprint Analytics, Bomb Crypto has overtaken MBOX as number one on GameFi – the highest incoming amount of funds out of on the BSC – and moved up to third in the overall GameFi sector from December 18 to January 17.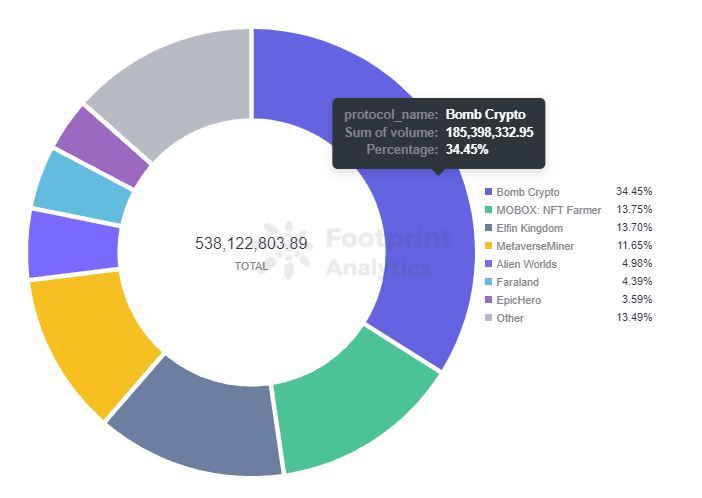 Footprint Analytics – BSC GameFi Volume (30D)
 Footprint Analytics – GameFi Volume (30D)
What is Bomb Crypto?
Bomb Crypto is a game where you search for token BCOIN and fight monsters by using NFT Bomb Heroes. The official website has published 12 pixelated NFT heroes with random attributes. Heroes with good performance can enhance a player's ability to search for BCOIN.
There are three game modes: Treasure Hunt, Adventure and Battle. At present, only the treasure hunt mode is available, others are still under development.

Treasure Hunt
After the player places the hero in the mining area, the hero will automatically place bombs to destroy the blocks to harvest BCION.
Each hero has different energy, placing bombs will consume energy. When the energy is run out, the hero will enter the rest state to recover energy, while the user can buy a house to improve the charging speed.
Adventure
Players choose a hero for the adventure and destroy all the monsters in the level to win. Players can earn BCION by destroying blocks or killing monsters, and the game's Boss battles may earn many interesting NFT rewards. 
Battle
This mode allows players to play against other players. In addition to having plenty of energy, it takes a certain number of tokens to begin, which will be given as a reward to the winner.
About NFT Bomb Heroes
Three ways to obtain NFT heroes.
Buy in the shop. Players can buy heroes directly from the shop. A hero costs 10 BCION.

Rescue hero. In some maps of Treasure Hunt mode, there will be a rare chance to encounter locked heroes. Players can get a hero with energy pending recovery after rescue.

Auction in the marketplace (under development). Players can trade heroes on the p2p marketplace provided by Bomb Crypto, which allows players to gain revenue and improve asset liquidity.
Different heroes, with different attributes and rarities, affect the explosion effect and thus the amount of BCOIN obtained. As of January 17, 12 million heroes have been sold.
Why is Bomb Crypto growing so fast?
The simulation calculator allows players to calculate the approximate daily earnings. For example, if a user takes three common heroes with random attributes, the daily average profit will be about 0.95 BCOIN. After 32 days, the 30 BCOIN cost of the heroes will be recovered.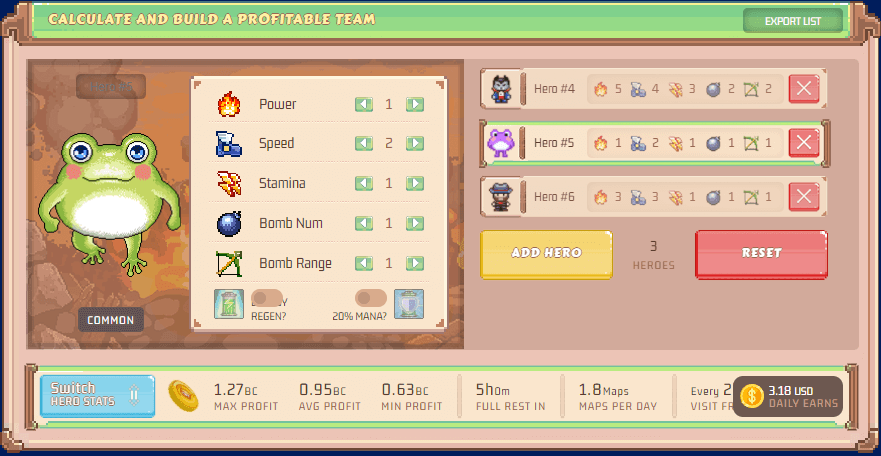 Compared to DeFi's mining, Bomb Crypto creates more fun by randomly drawing heroes. The money spent on heroes should be considered as a cost, not as principal. Since Bomb Crypto is currently paying back quickly, the earnings will become net profit after 32 days, which attracts many players to rush to it.
Data performance
Bomb Crypto is the most traded GameFi project on BSC due to its high revenue and easy to play.  Its user growth has been on a relatively steady upward trend since its release, with better user stickiness than other GameFi projects on BSC.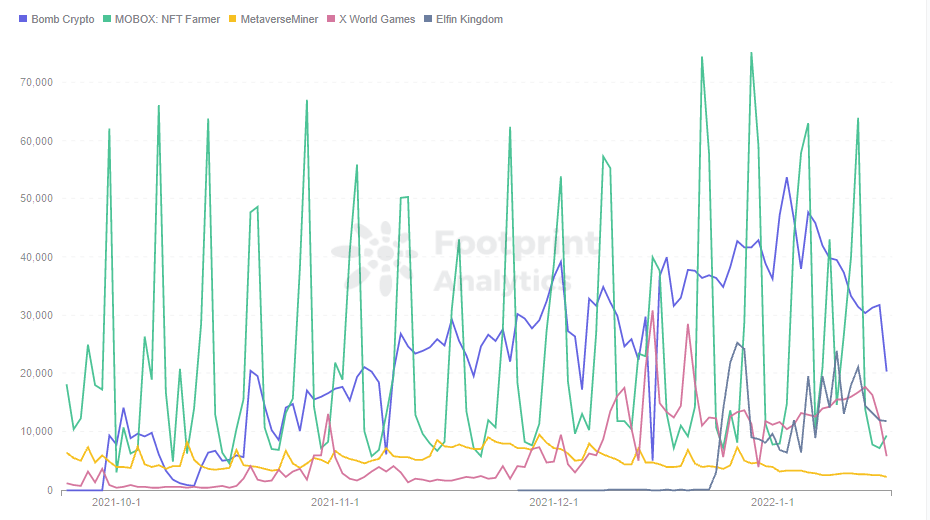 Footprint Analytics – BSC Top 5 GameFi Projects – Users Growing Trend 
Bomb Crypto also has a more steady weekly trading amount compared to other top GameFi programs on BSC.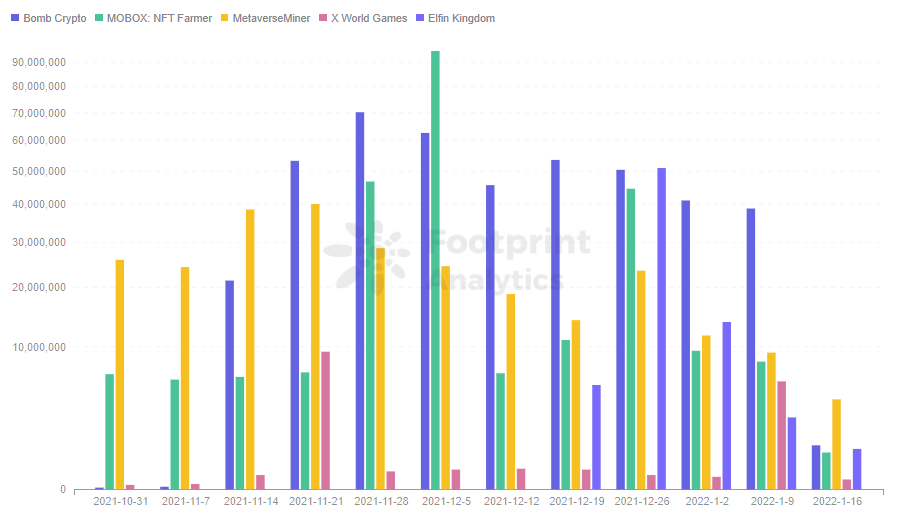 Footprint Analytics – BSC Top 5 GameFi Projects – Weekly Trading Volume 
BCOIN, the primary token of Bomb Crypto, can be earned through trading in DEX or bombing blocks in treasure hunts, tournaments, and also seasonal rewards. BCOIN can be used to purchase heroes, items and upgrades heroes, and to participate in community building in the future.
The price peaked at $8 on November 28 then dropped, recovering slightly back to $3.19 as of January 17, according to Footprint Analytics .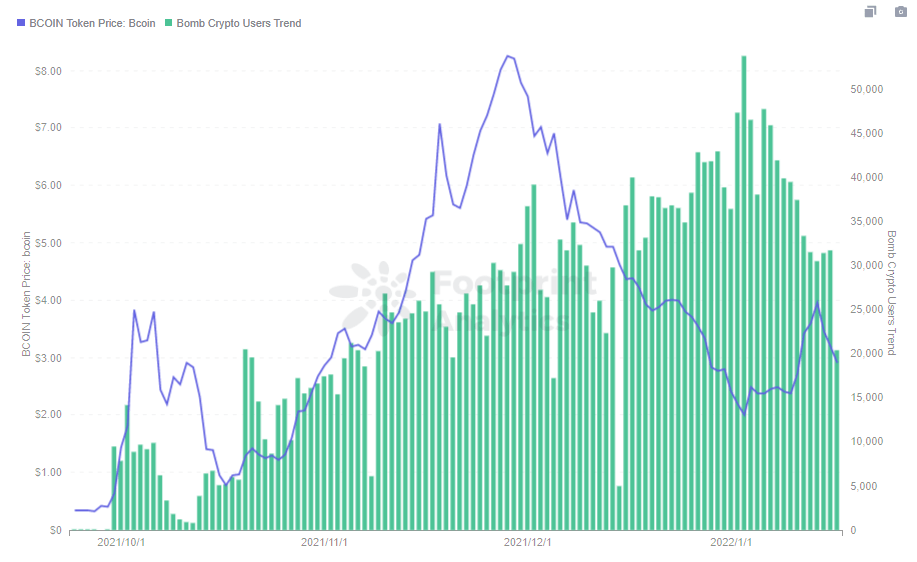 Footprint Analytics – BCOIN Token Price & Users Trend
Notably, the growth of the BCOIN token price was positively correlated with the growth trend of the number of users before December while the trend reversed after.
These turning points indicate that Bomb Crypto has entered into a speculation market . Users enter the market to mine low, then sell it for profit once the price rises.
Summary
Bomb Crypto currently has very little gameplay and falls behind its roadmap. Only the basic features such as buying heroes, houses and treasure hunting mode are open to users. The marketplace, story mode and skins are not yet online as expected.
At the same time, Bomb Crypto also has some drawbacks. Such as hero picking by luck, BCOIN mining only while online, and energy  restoring under manual operation.
The community is looking forward to more playability in the future with the development of house decoration, story mode and PVP maps.
What is Footprint Analytics?
Footprint Analytics is an all-in-one analysis platform to visualise blockchain data and discover insights. It cleans and integrates on-chain data so users of any experience level can quickly start researching tokens, projects and protocols. With over a thousand dashboard templates plus a drag-and-drop interface, anyone can build their own customized charts in minutes. Uncover blockchain data and invest smarter with Footprint.  
Footprint Website:  https://www.footprint.network
Discord: https://discord.gg/3HYaR6USM7
Twitter: https://twitter.com/Footprint_DeFi
Telegram: https://t.me/joinchat/4-ocuURAr2thODFh
Youtube: https://www.youtube.com/channel/UCKwZbKyuhWveetGhZcNtSTg
Disclaimer: The views and opinions expressed by the author should not be considered as financial advice. We do not give advice on financial products.