Bitcoin has broken above $4,000 on Bitfinex, with BitMEX perps contracts close behind at $3,900.
Before the market broke (at $3,940) we could see over 1,500 BTC on the sell side up to $4,000, with another 1,500 coins up to $4,100.
Following the break up from what now looks like mild support at $3,000, how far can Bitcoin push its falling wedge breakout?
Rally at yesterday's close
Bitcoin rallied at the close of yesterday's daily candle to trade above $3,800 on Bitfinex, marking four green daily closes in a row. Since yesterday's move, we have again seen the bullish momentum continue today with the $3,900 level of support broken soon after.
Since the initial price breakout, we can see that trading volumes are slightly increasing with each move up. However, it's too close to call a change in momentum yet, but there is no clear divergence in price or relative strength indicators to make conclusions from.
Tether premium
We have seen some wild fluctuations in price over this week between many Tether and non-Tether exchanges. During Monday's breakout, the premium went up to 8% (or over $200) between the BitMEX and Bitfinex platforms.
It wasn't that long ago that the premium was over $1,000 between the exchanges. This was during the Tether panic in mid-October, where its price collapsed to $0.92. The price did soon return to $0.97, but the premium for Tether remained and increased to settle above the 5% risk level to trade with the USDT token.
Bull flags
During the bull run in late 2017, we constantly saw the Bitcoin price chart make and then break out of bull flag formations. It didn't just do this once, but multiple times in a row, as we witnessed an almost unstoppable appreciation in the asset – from $5,000 to $20,000.
The key attributes to this chart pattern are a measured move up (the flagpole) followed by a sideways consolidation in price to retest lower support levels. After this parallel channel is formed (the flag), we normally see price break out upwards with increased trading volume, signifying an increase in the bullish momentum.
At this moment, the price action will then form a clear higher low, and a place on the chart to draw future trend lines up against.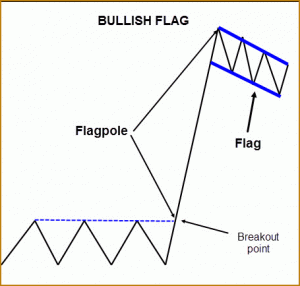 Support turned resistance
Just like when climbing a ladder, you may want to tap your foot one extra time on the previous rung to ease your mind and confirm support before deciding to move on higher. In much the same way, Bitcoin also retested the resistance turned support last night after it broke out of its second bull flag formation.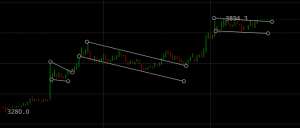 It will be interesting to see if we get a third mini bull flag in a row. The weekly momentum looks to be with the bulls after a strong close above resistance at $3,800 on Bitifnex yesterday.
If we carry on up over the next few days, analysts will be quickly pulling out old support and resistance levels to find targets for Sunday's Christmas weekly close.
Disclaimer: The views and opinions expressed by the author should not be considered as financial advice. We do not give advice on financial products.