Mar. 2022, Vincy, Data Source: Footprint Analytics – BSC GameFi Overview
Initially focused on DeFi, BSC has since become a playground for GameFi dApps. between August and December 6, 2021, play-to-earn games drove significant growth in the number of users on the chain.
However, BSC plummeted to 180,000 users after peaking at 480,000 users on Dec.  7. As of March 23, the average daily number of BSC users remained between 120,000 and 200,000.
As we shall see, this has a lot to do with the quality of games on the chain. 
BSC as a Gaming Chain
BSC has low gas fees and a throughput 5 times higher than Ethereum (BSC processes about 100 transactions per second). This has led to 436 game projects launching on the protocol.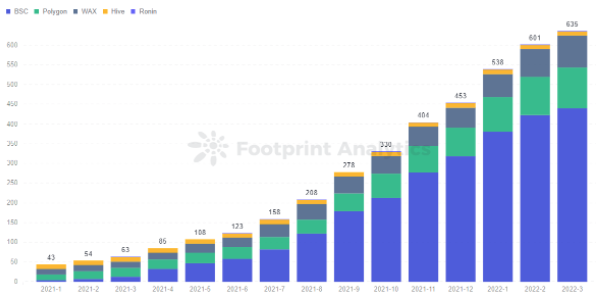 Footprint Analytics – Monthly Number of Games
Additionally, Binance has actively sought to attract developers, with initiatives that include: 
The Most Valuable Builder Program, 'MVB II', to stimulate the NFT ecosystem with $10,000 seed grants.
A $200 million gaming project investment program in partnership with Animoca Brands to accelerate and incubate early-stage crypto gaming startups.
According to Footprint Analytics data, users began flocking to BSC in July 2021, with an influx continuing to September 2021. However, the total number of users plummeted to 180,000 after peaking at 480,000 on Dec. 7. 

Footprint Analytics – BSC Daily Gamers Trend
3 BSC Gaming Projects
While there are many GameFi projects on the BSC chain, only four have more than 500,000 total users:
Bomb Crypto
, Mobox: NFT Farmer, X World Games and Par War Online.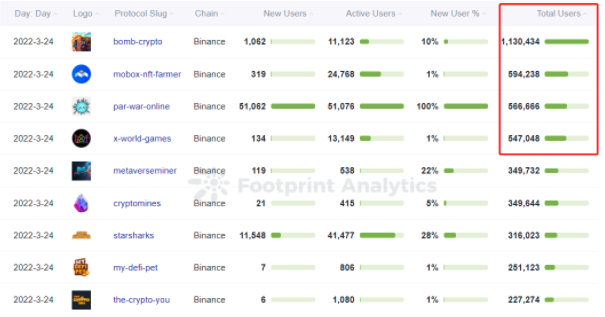 Footprint Analytics – Ranking of Daily Gamers
Bomb Crypto is the project with the largest total number of users on the BSC chain. Second, Starsharks is the project with the most user growth on the BSC chain in the past 3 months.
And Cryptomines is the project that caused the BSC chain to lose the most users. 
  1. Bomb Crypto: The #1 BSC Game by Users
In Bomb Crypto, players manage a group of robot bomb heroes that battle monsters in order to earn BCOIN.
The game is inspired by Axie Infinity and has developed rapidly since its launch last September.
Bomb Crypto is known for its fast return on investment, with many players able to regain the principal spent on their NFT heroes in 1 month. 
According to Footprint Analytics data, the number of daily users increased roughly 30% month by month until the end of January then declined.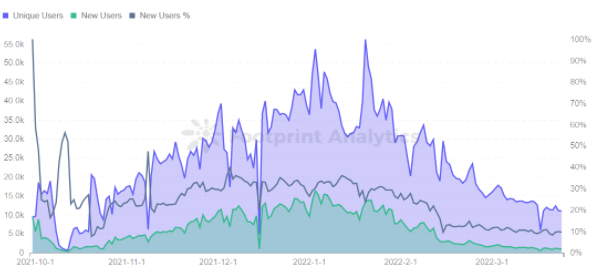 Footprint Analytics – Bomb Crypto Daily Gamers Trend
Another key indicator of the game is the retention rate. An analysis of user retention rates shows that Bomb Crypto's monthly retention rate is gradually decreasing. The main reason for this decline is that Bomb Crypto's gameplay is behind schedule. Only basic features such as buying heroes, houses and treasure hunting are currently open, while the trading market, plot mode and skins are not yet available as scheduled.

Footprint Analytics – Bomb Crypto Monthly Retention Analysis
Therefore, in order to retain users, they need to continuously improve their functions and provide more ways to play to attract users in order to further expand the player base.
   2. Cryptomines: BSC's Biggest Gaming Collapse
Cryptomines is an NFT sci-fi game where players collect workers and spaceships to travel the universe in search of $ETERNAL (game token) and mineralite NFT rewards for profit.
According to Footprint Analytics data, the number of users of Cryptomines crashed on Dec. 2, and then plummeted on Dec. 7. The average daily number of users dropped from about 200,000 to more than 1,000, or even dozens of users. This directly led to the reduction of the average daily users of BSC by as much as half.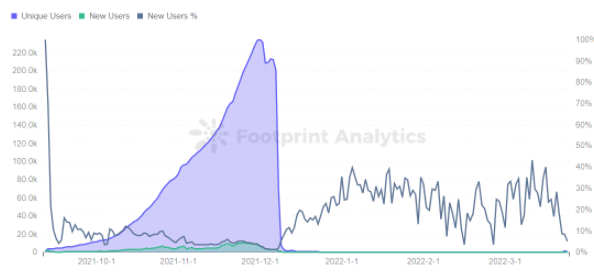 Footprint Analytics – Cryptomines Daily Gamers Trend
The main reason for the plunge is the flawed business model of the Cryptomines game.
It is designed to tie the total amount of rewards to the price of $ETERNAL. It relies on play-to-earn to generate traffic, which drives up the price of the coin and keeps attracting newcomers. If the price of the coin plummets, the entire economic system of the game risks collapse. 
Although the Cryptomines team is still working to save the game project, the future looks grim.
Cryptomines' monthly retention rate has been below 5% since December 2021, and judging by the trend, user numbers will continue to be low if the team doesn't improve the overall economic model of the game to regain user trust.

Footprint Analytics – Cryptomines Monthly Retention Analysis
  3. Starsharks: Largest Increase in Users
Starsharks has only been live for 4 months but has already attracted many players. Therefore, the project also contributed to a small upward trend in the number of users on the BSC chain.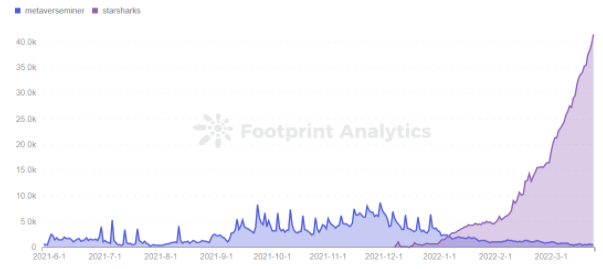 Footprint Analytics – Metaverseminer and Starsharks Daily Gamers Trend
Starsharks leverages the new and innovative rent-to-play concept, where players can purchase or rent NFTs through the platform's local rental feature to promote the full utilization and liquidity of NFT assets.
Summary
BSC has seen tons of new play-to-earn games launched in the last bull run thanks to its low gas fees and fast transactions. However, when you look at the data, not everything looks so positive. Many well-known BSC gaming projects fail to retain users, including its largest. 
Disclaimer: The views and opinions expressed by the author should not be considered as financial advice. We do not give advice on financial products.