Cryptocurrency's second-largest coin in terms of market cap – Ethereum – looks like it may topple yearly highs despite falling 6% overnight.
Following an extended rally from $140 at the start of April, Ethereum tested the daily 200 exponential moving average (EMA) before consolidating between the $160 level of support and the $181 level of resistance.
In spite of the recent drop to $165, Ethereum looks to be coiling up for a fairly dramatic move to the upside.
Bitcoin produced an Easter Sunday rally to lift itself above $5,350 before stalling just short of $5,700, but much like in 2017, numerous altcoins fell against their BTC trading pair.
Similarities to 2017 bull market
At the height of the 2017 bull market, Bitcoin acted as the market leader, spurring moves to the upside and leading the charge as Ethereum and other altcoins stagnated.
Bitcoin dominance continued to rise, with many suggesting that the hype around ICOs, and subsequently the value of altcoins, would fall to new lows.
However, what we saw after Bitcoin's all-time high was a fall in market dominance from 64% to 32%, with several altcoins rallying to astonishing new highs.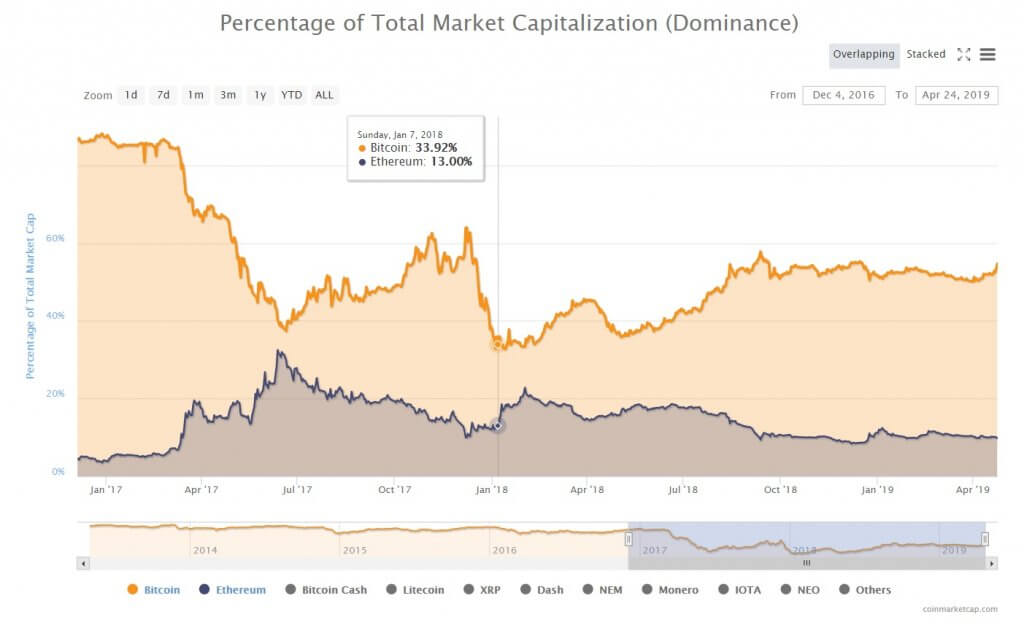 This week, Bitcoin's market dominance has risen from 50% to 54%, with the rise expected to continue if Bitcoin can break through the seemingly impenetrable resistance level of $5,900.
If Bitcoin breaks through that level and consolidates in the $6,200 to $6,800 range, altcoins could see an influx of investment as traders take profits from their Bitcoin trades to make speculative bets on lower market-cap projects.
When this phase comes into fruition, Ethereum is a likely contender to rally and test new highs, with the $200 level being a target to the upside having been used as support for two months in Q4 of 2018.
In September 2017, Ethereum experienced a flash crash from $400 to $200 before bouncing powerfully on heavy volume.
Within the space of three months, it then rallied an astonishing 600% to $1,400 before the bull market transitioned into the bear.
This is why the $200 level will be so crucial moving forwards. If price breaks above $200, there will be little stopping before $220 and $260, and if momentum takes price through those levels, Ethereum will re-enter a price discovery phase wherein $360 will likely be tested before further inflation.
Short-term momentum fades but bullish sentiment remains
From a short-term perspective, Ethereum's Relative Strength Index (RSI) on the daily chart has fallen from 77 to 51 over the past fortnight, suggesting that traders are taking profits on the back of a significant rally in Q1 of this year.
The daily stochastics are also pointing to the downside, which could mean a retest of $160 will come into play before Ethereum rallies on to make new highs.
The weekly stochastics, as highlighted in the image below, have also crossed over to the downside for the first time since the $1,400 top in January 2018.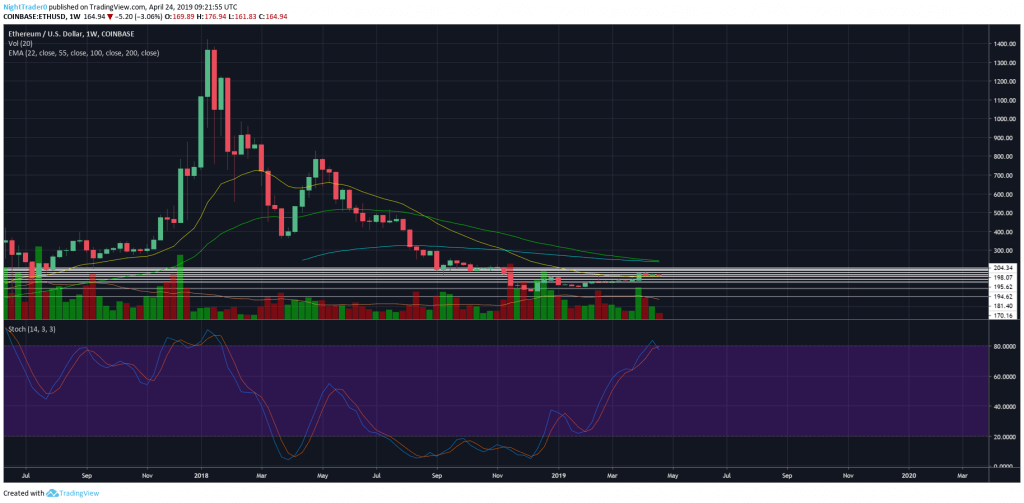 If this trend continues and the stochastics fall to as low as 5.2, Ethereum's price could fall by more than 72% if we use January 2018 as an example.
However, the cryptocurrency ecosystem is a radically different place to 15 months ago. Most of the speculative hype that drove the bull market has withered away and now we are finally witnessing projects rally based on fundamentals – take Binance's BNB for example.
In spite of the ongoing bear market, BNB reached its all-time high last week amid the launch of the Binance DEX and Binance Chain.
Upside targets
While a bearish scenario and a drop to $160 remains a viable possibility, Ethereum could be set to rally above $200 if volume can be sustained.
It ultimately depends on whether Bitcoin can leap above the $5,900 level of resistance. If it can manage to make its way into the $6,000 region, it would be the first signal that the bear market is finally over.
When Bitcoin hits $6,300, it will mark a 100% rise from December's bottom. It could also trigger the first wave of a parabolic advance, with some suggesting that Bitcoin may double its all-time high within the next 12 months.
This will also cause coins like Ethereum, Litecoin, and Bitcoin Cash to also rally exponentially. In Ethereum's case, Vitalik Buterin's wish of moving towards a Proof-of-Stake protocol could be critical from a fundamental standpoint.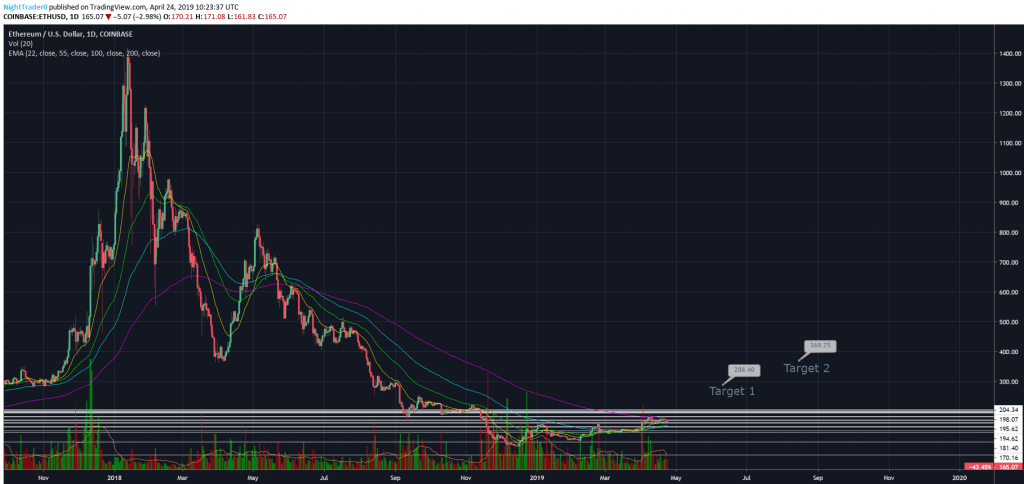 The 25-year-old whizz-kid proposed increasing the staking reward this week, which could be a sign of things to come.
The ultimate test will come in terms of altcoins decoupling from Bitcoin. If the likes of Ethereum can follow BNB's trend and rally against Bitcoin based on fundamentals, we could see the cryptocurrency ecosystem enter a more mature phase, wherein coins not only do well through hype and marketing, but also the merit the projects deserve.
For more news, guides, and analysis, click here.