The most popular P2E game of the year has been StepN, which expanded GameFi into the physical world with its app and upgradeable NFTs that generate returns for running, jogging or walking. 
However, StepN is far from the first GameFi project to innovate some aspect of the blockchain, only to suddenly collapse as soon as its token price sinks. This fairly common pattern in GameFi—where token prices, P2E incentives, liquidity, and NFT prices all quickly fall, dragging each other down irretrievably—is sometimes called the death spiral. 
In this article, we use data from Footprint Analytics to analyze and assess StepN's fundamentals for sustainablity. 
Performance
StepN was first launched on Solana, and data from Footprint Analytics shows that, on Solana, overall SOL deposits and withdrawals have been mostly stable despite volatility in the rest of the crypto market, a good sign of project health.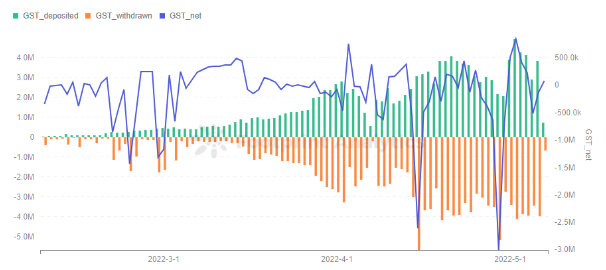 Footprint Analytics – GST deposited & withdrawn on Solana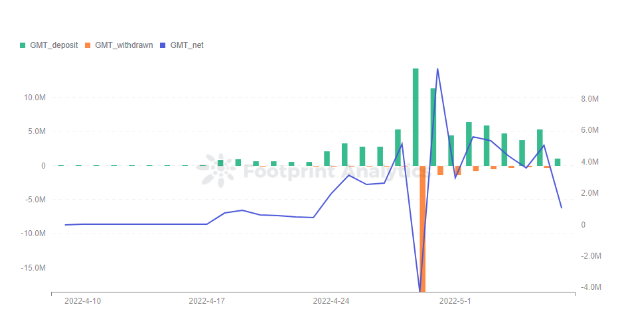 Footprint Analytics – GMT deposited & withdrawn on Solana
Also, in terms of token prices, GMT and GST prices were generally on an upward trend, but were also affected by the big drop in US stocks and BTC in early May.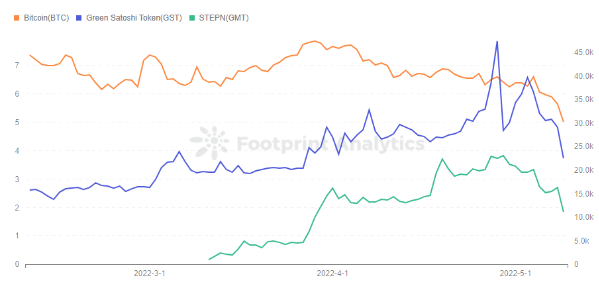 Footprint Analytics – StepN Token Price
After StepN went live on BSC in April, the price of GST on BSC was significantly different from that on Solana due to the low number of shoes and the high cost of minting. StepN claimed that it would not interfere with the price on BSC, but the price of GST was even 10 times different on the two chains. In the end, StepN indirectly controlled the overpricing of GST on BSC by modifying the burn rate. As seen on Footprint Analytics on May 10, GST was priced at around $3.80 on Solana and around $20 on BSC.
StepN has received a lot of attention since its launch on BSC, and token holders are on the rise, with more than a thousand new holders added daily.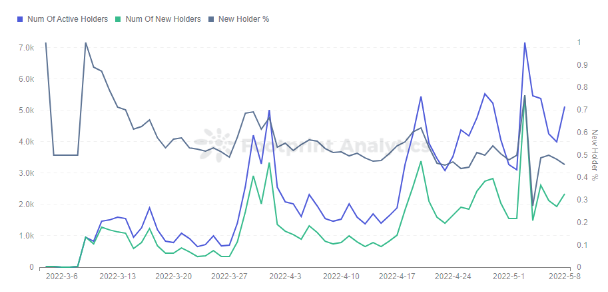 Footprint Analytics – GMT Token Holders Trend in BSC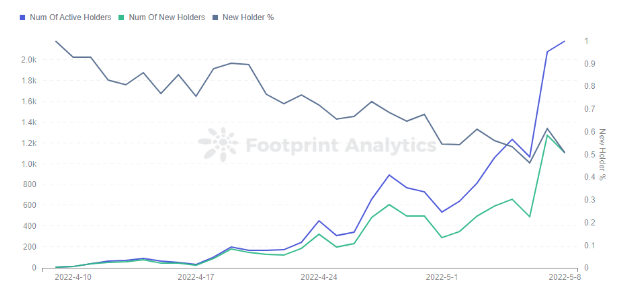 Footprint Analytics – GST Token Holders Trend in BSC
The transactions are also very active, all in the tens of thousands of transactions or more.

Footprint Analytics – GMT Total Txn in BSC

Footprint Analytics – GST Total Txn in BSC
StepN has pushed GameFi beyond Play-to-Earn and showed it's possible to incentivize other activities besides gaming. But, is its success duplicable?
Key Factors in StepN's Success
StepN's team and advisors include backgrounds in blockchain, gaming, and sports. The project was one of the winners of the Solana IGNITION Hackathon last October and received $5 million in January 2021, co-led by Sequoia and Folius Ventures. At the same time, the vice president of Adidas also promoted StepN on social media. Unlike many GameFi projects, StepN was not a case of a team working in anonymity. 
Before StepN, came along, Play-to-Earn model was in a fairly stagnant state, with too many projects carbon-copying each other and hoping for a quick pump. With its refined app and innovative gameplay that revolves around exercise, StepN immediately jumped out as a unique first mover towards a different direction. 
Right app at the right time
People around the world are increasingly becoming aware of the importance of staying fit, and running is the easiest, most accessible form of exercise. 
Furthermore, StepN's positioning is in line with the drive to reduce carbon emissions (the game's incentive token is even called the Green Satoshi). StepN claims to be promoting low carbon living, is partnering with Nori to use a portion of its profits to purchase Carbon Removal Credit on the blockchain to combat climate change.
One of the biggest problems with GameFi is that nobody would play the titles is it weren't for the money. Hence, when tokem price declines, they enter a death spiral. And what if popular, AAA-titles integrate GameFi? There is also an argument that the incentivization of gaming would fundamentally change it, making it less fun.  
It's not as simple as incentivizing a gamer to continue playing games. Rather, GameFi projects have to provide enough fun so that gamers decide to switch over from the games they love to something new. 
StepN gives runners extra cash for doing something they already do, and could push some people to pick up a healthy habit through positive reinforcement. Whereas a gamer has to sacrifice hours of enjoyment playing a GameFi title he would otherwise not play if it weren't for the money, a runner sacrifices nothing by incorporating StepN into his daily run. 
Hence, even if the price of GST and GMT decline, StepN has the potential to remain stable. 
Strengthening anti-cheating and rejecting guilds
StepN's strict anti-cheating mechanism, three mechanics (GPS tracking, motion sensor and health data, machine learning) and cheater's account punished allow a fairer experience in the game. Furthermore, guilds tend to make games unstable by turning NFTs into a market to squeeze. While they can bring in a significant number of users, they can also create unfair competition for retail users. 
Can StepN outrun the death spiral?
StepN's success is a combination of many factors, and it is already half successful in terms of user positioning. Although there are inevitably speculative users looking for profit, it also attracts many users looking to build up a good exercise habit. This is not a minor point. A large number of profit-seeking users will only accelerate the death of the project when prices and incentives retract—the only way to make the game is to offer something beyond just cash.
This piece is contributed by Footprint Analytics community.
The Footprint Community is a place where data and crypto enthusiasts worldwide help each other understand and gain insights about Web3, the metaverse, DeFi, GameFi, or any other area of the fledgling world of blockchain. Here you'll find active, diverse voices supporting each other and driving the community forward.
Data Source: Footprint Analytics StepN Dashboard
Disclaimer: The views and opinions expressed by the author should not be considered as financial advice. We do not give advice on financial products.