Twitter CEO Jack Dorsey has become the pin-up boy for Bitcoin with his interest in the Lightning Network as well as the news that he has been spending $10,000 a month purchasing Bitcoin. He is one of many celebrities that have had either a strong or passing interest in cryptocurrencies. Here is a list of some others, be they scammers or genuinely interested!
Floyd Mayweather
Ah, the glory days of the 2017 ICO boom when everything was green and right in the world. A company called Centra jumped on this hype train and offered a Visa credit card that allowed you to spend your cryptocurrencies as if they were dollars. The company managed to raise $3.2 million from the ICO, but sadly it was soon found out to be a fraud. The SEC ended up filing a complaint and Centra was never heard from again. Floyd Mayweather wasn't the only celebrity endorsement of Centra either, with DJ Khaled also promoting them.
Spending bitcoins ethereum and other types of cryptocurrency in Beverly Hill https://t.co/q9VZ3MzpK8 pic.twitter.com/BYyOFUnm8W

— Floyd Mayweather (@FloydMayweather) September 15, 2017
Katy Perry
Katy Perry didn't end up in hot water with law enforcement due to endorsing an ICO, but she didn't pick the best timing to jump on the cryptocurrency train either. In January 2018, just as the cryptocurrency bubble was about to pop, the celebrity showed off her brand new nails – or crypto claws as she called them. On her nails we can see some big hitters including Bitcoin, Litecoin, and Ethereum. Sadly, if this convinced any of her fans to buy some cryptocurrencies, they will now be left holding heavy bags.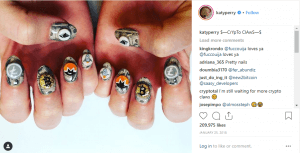 Paris Hilton
Famed socialite Paris Hilton said she was looking forward to participating in the Lydian ICO with a disclaimer that this wasn't even an advert. News on Lydian has been scarce since 2018 – according to its website, the last piece of press was from April 2018. Whether it is functioning or not is questionable. There is no data on CoinMarketCap either. Who would have thought though that Paris Hilton was interested in the strange world of cryptocurrencies?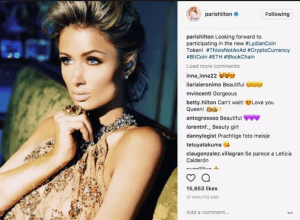 The Game
West Coast rapper The Game helped with the launch of the Paragon ICO, a cannabis coin that could trace the drug from seed to spliff. The ICO raised $50 million but has since been accused of fraud. Supposedly, the company has been buying real estate rather than investing in the business. But at least it is still on CoinMarketCap, which is better than most ICOs endorsed by celebrities.
Preparing a cannabis revolution with blockchain. @JessVerSteeg and I will tell you more about our upcoming ICO on August 15th @paragoncoin pic.twitter.com/xjGS9qAEF2

— Black Jesus (@thegame) August 10, 2017
Disclaimer: The views and opinions expressed by the author should not be considered as financial advice. We do not give advice on financial products.