Beijing has abandoned plans to effectively ban cryptocurrency mining.
In April, China's central state planner released a list of industrial activities it wants to eliminate. The list included Bitcoin mining because it "harms the environment".
But now, the National Development and Reform Commission has published a revised list – and crypto mining has disappeared.
China is a huge mining hub – despite Bitcoin being banned in the country – thanks to its vast supply of cheap power.
The economic powerhouse is investing heavily in blockchain after President Xi Jinping told top officials that the tech is vital to the future of the country.
China has also announced it is testing a national cryptocurrency and will release it soon.
According to the state-funded Xinhua news agency, Xi stressed that it is "necessary to strengthen basic research, enhance innovation, and strive to let China take the leading position in the emerging field of blockchain, occupy the commanding heights of innovation, and gain new industrial advantages."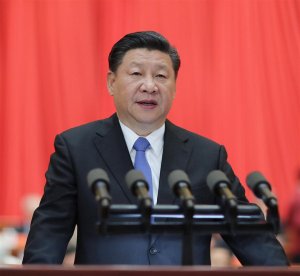 Earlier this month, Coin Rivet reported how cryptocurrency miners are set to flock to the Chinese province of Sichuan thanks to its plentiful supply of cheap hydroelectric energy.
Local officials are investigating how they can leverage their power production.
Jiang Yang, a former vice-chairman of the China Securities Regulatory Commission, told a meeting set up to promote the development of Sichuan that cheap hydropower could tap into the country's hunger for blockchain dominance, reports the Sichuan Daily.
He said: "Sichuan should study further about how the province's cheap hydropower resources can attract digital currency-related businesses."
Disclaimer: The views and opinions expressed by the author should not be considered as financial advice. We do not give advice on financial products.