As fans around the world clung to the edge of their seats watching the third rematch between heavyweight titans Deontay Wilder and Tyson Fury in Las Vegas, the excitement didn't miss the crypto industry.
While the epic battle unfolded in the ring, cryptocurrency bets and exclusive boxing NFTs became big business over the weekend.
The showdown was a cataclysmic clash of blows between two of the biggest names in the sport, with Fury delivering a stunning end to the fight in the eleventh round.
While many expected a slugging match, the combatants entered the ring with vigour and controlled ferocity. Things initially looked promising for the Bronze Bomber with the fighter able to establish an educated jab to set up powerful cascading hooks.
But Fury was quick to assert himself with a hammering straight right, sending Wilder tumbling back into old habits that would eventually be his undoing. Both men would go on to hit the canvas.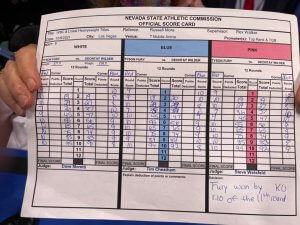 Ultimately, a relentless volley of jabs and straights from Fury saw Wilder suffer a fight-stopping KO.
But with the battle over, the war had begun: who would make more money?
Inflation Hedging Coin (IHC) sponsor Deontay
Deontay Wilder has emerged as a weekend poster boy for the crypto world partnering with Inflation Hedging Coin (IHC) – known as 'the rebel coin'. The IHC logo was displayed on Wilder's shorts.
IHC is a project created by a small team of Mongolian developers with the goal of creating an effecting store-0f-value against inflation.
As with most store of value concepts, the coin burns itself from its total market capitalisation annually at the US inflation rate to store value — and will continue to do so until its total market capitalisation is equal to the number of tokens the total number of token holders hold.
So far, IHC has become one of the fastest-selling altcoins in history, the first tranche of 100bn coins were bought up in seconds.
This is due to the huge demand for effective inflation hedges as the turbulence of the global economy bites.
Speaking on the partnership Ider-Od Bat-Erdene – one of the Co-Founders at IHC – explained why they chose to sponsor the Deontay Wilder in his last shot at heavyweight glory.
"For us, Wilder exemplifies everything a champion should be – rebellious, resilient, and disciplined," he explained.
"We believe in the same principles. Launching this cryptocurrency is something we have trained all our lives for, something we believe in and will fight for."
Everlast launch Wilder NFTs
In a first for the massive boxing brand Everlast, fight day saw the launch of the brand's first NFT collection on blockparty.
41 NFTs were minted in honour of the 41 KOs of Deontay Wilder's impressive professional heavyweight career.
The digital and physical world of sports memorabilia collide with this 1/41 Deontay Wilder Custom Fight Glove NFT by Everlast. ⁠⁠ ⁠⁠https://t.co/3hX1kJnlu9 pic.twitter.com/ZZw0IXFOc6

— Everlast (@Everlast_) October 8, 2021
Everlast chose a vintage collectors card style for the boxing glove cards featuring 156 frames for each animation.
Deontay Wilder was quick to let his fans know about the non-fungible tokens ahead of the Fury bout.
"This NFT felt like another way to help give them something to take away from the fight and to hold onto as a part of Team Everlast," said Deontay Wilder.
"I'm excited to see it come to life and help get my fans in the spirit after a long wait. It's going to be a fight to remember!"
Crypto Sports Betting
The Fury-Wilder bout also drove an explosion in the use of cryptocurrencies for sports betting, facilitating seamless instant bets between boxing fans worldwide.
Just placed my bets on Tyson Fury to beat Deontay wilder using crypto on sportsbet

you can also place your sports bets in crypto and also get paid in crypto on Sportsbet. Use the link below.👇https://t.co/HmQhEyyQQA pic.twitter.com/Ic1yimftR5

— Crypto Coach 🐧📊📈💰 (@WisdomMatic) October 9, 2021
A big part of the increase in crypto sports bets can be attributed to TrustDice which ran a promotion offering risk-free crypto bets on the Fury-Wilder 3 fight. The promotion saw them cover losses to the amount of 0.0015 BTC for new users. But can also be linked to wider adoptions of cryptocurrencies on sports betting websites.
Disclaimer: The views and opinions expressed by the author should not be considered as financial advice. We do not give advice on financial products.