Life is sometimes tough being a long-term crypto hodler. Since the $6000 level of support broke for Bitcoin, we have seen on average a 50% correction downwards for most crypto projects.
Whilst this may look like volatility that only the cryptocurrency market can provide, value shifts of this size can also be seen in other markets. According to recent figures from CIES Football Observatory, the transfer value of England and Dortmund winger Jadon Sancho has risen around 800% to over $100 million in the last three months.
His current value of close to $100 million would place him in the top 40 projects on CoinMarketCap.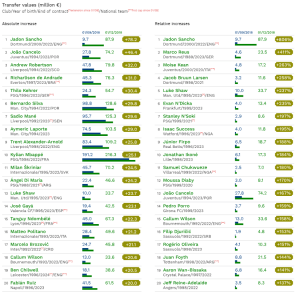 This meteoric rise in appreciation for the 18-year-old can be attributed to his stunning on-field performances since the start of the season. In his 14 appearances so far this year, he has racked up five goals and six assists. But it's not just his on-field performances that have been impressive; he's also shown great maturity to move from his hometown in England to the German town of Dortmund at a time when many English players choose to stay in England.
Jordan has also boosted his credentials by representing his country as part of the England national side.
In the same three-month period, most crypto investors (and bag holders) have seen less relative volatility by holding assets of a similar market capitalisation.
Crypto asset price rises in the last 12 months have been driven up and down through different public indicators. Things like users, adoption of products, and even public partnerships and roadmaps between different projects (including exchange listings) are reasons for asset volatility.
Unlike footballers and other traditional asset classes, crypto is highly auditable, transparent, and tradable at a number of places that provide liquidity for investors to get in and out of their stakes. The market is, of course, moving away from just speculation in new ventures, with blockchain being seen as a platform to host traditional asset classes in a coming wave of STOs.
I wonder if a day will come when equity stakes in young and upcoming footballers arrive at a blockchain near you – watch this space!
Disclaimer: The views and opinions expressed by the author should not be considered as financial advice. We do not give advice on financial products.