Hello and welcome to another one of my crypto round-ups, in which I analyse the price action of the crypto markets and tell you exactly what is going to happen in the future, to the last dollar.
We start, as always, with Bitcoin, which now stands at $3,677, which gives it a market cap of $64bn. If, in January 2017, I'd told you that would be the price in January 2019, you'd have bit my hand off. If I'd said the same thing in January 2018, you'd have pushed me off a cliff.
Bitcoin is down by about $300, or 10% on the week. Showing greater wisdom than perhaps even Solomon, last week I advised caution at the 55-day simple moving average and, lo and behold, Bitcoin jumped back from it like Tom (the cat) when he suddenly runs into Butch (the dog).
Longer term, the bear market/period of consolidation – whatever you want to call it – continues.
Ripple, for reasons which escape the understanding of this author, continues to occupy the number two spot in the crypto market cap stakes. Its price is $0.33 and its market cap is $13.5bn. It's about 20% of the size of Bitcoin.
Of all the major coins, its price action has been the most impressive since the summer (it was woeful before). And it is the only coin I can think of – including Bitcoin – that has held up above its summer low.
However, I urge caution. Despite holding up over the autumn, each high has been lower than the last. You want to see higher highs. The 55-day simple moving average is sloping down once again, and the price is below. The downtrend looks to me like it has resumed.
You can give it the benefit of the doubt as long as it holds above $0.25. But if it doesn't, oof.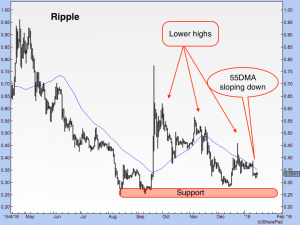 Turning next to cryptocurrency number three in the market cap stakes, we have Ethereum. $127 is the price, $13.3bn is the market cap. It is down around 15% on the week.
The one positive to draw from this chart is Ethereum has got above its 55 DMA (the blue line) and the 55 DMA itself is starting to level off. If Ethereum can hold here for a while, I might actually start to feel positive about its potential. But 55 DMA aside, this is what a downtrend looks like.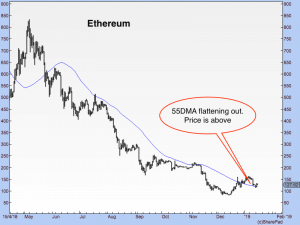 Its close rival EOS – number five in the crypto market cap stakes with a price of $2.55 and market cap of $2.4bn – is little better.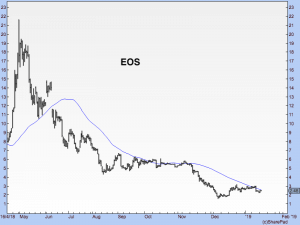 Bitcoin Cash sits at number four in the stakes, priced at $131 with a $2.4bn market cap. Together with Bitcoin SV (number ten in the crypto market cap stakes with a price of $80 and a $1.3bn market cap), it would look a bit better, but I'm afraid internal war has got in the way of that one. One of the original purposes of decentralised, automated money was to remove the negative impact of human emotions and decision-making. That's something future coders need to think about. How prone is your currency to the whims of its founders?
On which note, I was very excited to go to a meetup of Grin last week, the new open-source privacy currency being designed on the Mimblewimble protocol. It is still at a very early stage, but the creators seem to have their hearts and minds very much in the right place. It is still early doors, but great technology phoenixes often rise from the ashes of bear markets. They get their mistakes out of the way when nobody is interested. I shall be watching. It could be well placed to be a winner in terms of increased usage when the next cycle comes around. There is a big bull market coming in privacy tech.
On which note, it is interesting to see that kidnappers are now demanding ransoms not in Bitcoin, but in Monero. Are they concerned about the traceability of Bitcoin?
This development has not affected the Monero price, however, which remains rooted in a bear market downtrend. Its price is $46. With a market cap of $766m, it is the 14th largest coin by market cap.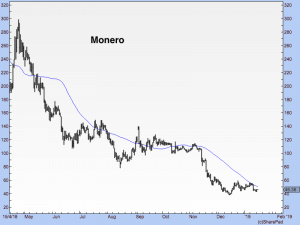 The other privacy coins, Dash and Zcash, have similar charts – trending down, priced below their 55 DMAs.
There is no safety in privacy it seems. Not yet, anyway.
I'll be back with another round-up next week. I must say I look forward to the day when I can be more positive in my outlook, but a bear market is a bear market. I can only say what I see.
At some point, we are going to get a monster bear market rally. Bitcoin will triple in price or something. The crypto world will get exciting again. I'll get asked on telly and some sweaty no-coiner economist will shake his fist angrily at me. The rally will be fun – but that's when we will have to be doubly cautious not to get caught up in the hype.
Listen to me. Mr Glum. Never mind. Soon I'll be Mr Grin.
Dominic Frisby is author of the first (and best, obviously) book on Bitcoin from a recognised publisher, Bitcoin: the Future of Money?, available from all good bookshops, and a couple of rubbish ones too. Dominic is director of Cypherpunk Holdings (CSE:HODL), a company set up to invest in privacy-related technologies. Follow Dominic – @dominicfrisby
Disclaimer: The views and opinions expressed by the author should not be considered as financial advice. We do not give advice on financial products.