Bitcoin's explosion over the past year has driven an 880% growth in adoption as tender, amid a monumental 2,300% wave of cryptocurrency adoption since 2019.
Chainalysis – a leading blockchain analysis provider – released the staggering figures in its annual Global Crypto Adoption Index which covers the year back to July 2020.
The independent data review of global cryptocurrency growth uses three key metrics to determine a national crypto adoption score.
The main factor is on-chain value received, which is then weighted by purchasing power parity (PPP) per capita. This works as an attempt to determine the total crypto activity volume in a country.
It also produces figures that are directly comparable to its neighbours.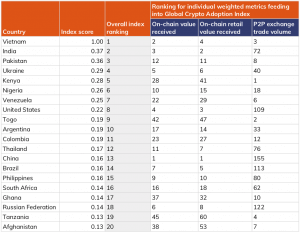 Source: Chainalysis 
The results show that the top three countries pushing forward crypto adoption are Vietnam, India, and Pakistan.
Other major players are Ukraine, United States, and Venezuela. Toga and Tanzania also appear to have received the most On-chain value.
Crypto succeeding in developing world
One thing that is abundantly clear from the report is that the developing world is adopting cryptocurrencies rapidly, with the digital payment systems serving a valuable function in remittance payments from migrant workforces.
For citizens in economically unstable countries – especially with large rural bankless populations – excluded from traditional central finance products, such as in Vietnam, Kenya, Nigeria,and Venezuela, it is becoming clear that digital currencies such as Bitcoin are an attractive alternative.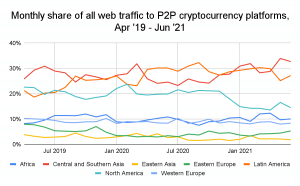 Source: Chainalysis
Central and Southern Asia, Latin America, and Africa send more web traffic to P2P platforms than regions whose countries tend to have larger economies, such as Western Europe and Eastern Asia, largely for tax-free remittance payments.
Retail markets still on-chain king
It is notable that China and the USA have both dropped in the rankings. Both countries have chosen very different but similarly-minded approaches to cryptocurrency.
Both nations have also presented plans for CBDCs.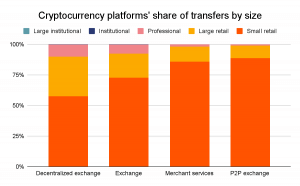 Source: Chainalysis
The global on-chain data also highlighted just how much market price action remains in the hands of the retail market, this is despite an increasing narrative about institutional financial adoption driving price volatility.
More crypto news and information
If you want to find out more information about the environmental impact of cryptocurrency and other cryptocurrency news, then use the search box at the top of this page. Here's an article to get you started.
As with any investment, it pays to do some homework before you part with your money. The prices of cryptocurrencies are volatile and go up and down quickly. This page is not recommending a particular currency or whether you should invest or not.
Disclaimer: The views and opinions expressed by the author should not be considered as financial advice. We do not give advice on financial products.