The unexpected cryptocurrency market rally over the past few days has spurred the highest amount of trade volume in the entire history of the asset class, with the 24-hour volume standing at $87 billion.
As a point of comparison, the previous all-time high in terms of volume came at the top of the last bull market on January 4, 2018, with $71 billion being recorded.
Last week, the cryptocurrency market averaged around $31 billion in terms of daily trade volume, eventually being dwarfed by the recent market rally.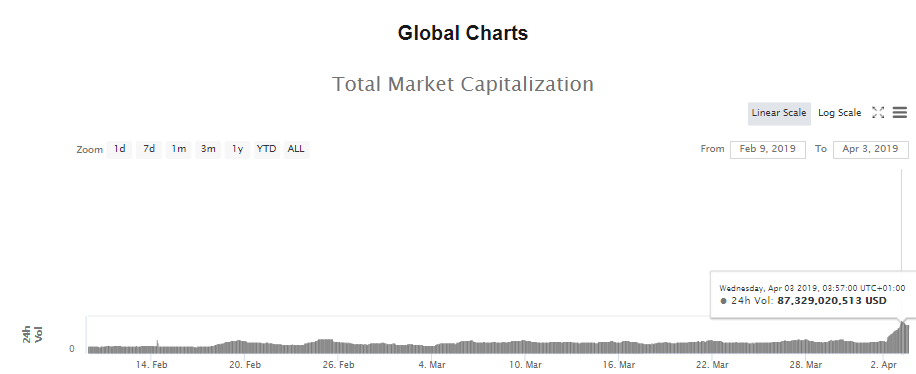 Leading cryptocurrency exchange Binance has seen its largest day in terms of trade volume since its inception, recording more than $443 million worth of Bitcoin spot trades.
Coin Rivet reported on Tuesday that cryptocurrency derivatives exchange BitMEX facilitated $500 million in short position liquidations, with some suggesting that this acted as a catalyst for the 25% rally.
What does a rise in volume suggest?
In simple terms, it means that more participants are actively trading the asset class. It also demonstrates a switch in sentiment moving towards a bullish scenario, with funds seemingly waiting on the sidelines until yesterday's rally to the upside.
The fact that volume has eclipsed levels of the 2017 bull run is significant as it means that in spite of the dwindling price of cryptocurrencies, open interest is high.
The rapid move to the upside, coupled with the rising volume, will eventually grab the attention of institutional investors like hedge funds, especially if signs of another bull market are on the cards.
It will be crucial to see if volume and upside price action can be sustained, although a small correction to test the breakout level may be needed to avoid buyer exhaustion.
Is the bull market back?
As discussed in yesterday's technical analysis article, this week's rally is truly significant. Bitcoin closed the daily candle above the 200 exponential moving average, which was expected to act as a tough level of resistance.
However, there are still numerous hurdles that Bitcoin and cryptocurrency need to surpass before entering another bull market. The $5,150 level, which acted as support in October 2017 before the run to Bitcoin's all-time high, will be difficult to cross.
One more tweet since I just realized yesterday the crypto market had its highest volume day in history. Yes — higher than any day in Dec 2017 or Jan 2018. And you're still waiting for the 6k confirmation? Not sure why…my bags appreciate though.

— The Don (@DonnyCrypto) April 3, 2019
The next step after that will be $5,900. This level held for almost a year before eventually succumbing to downside pressure in November. As it was such a staunch level of support, it will now act as resistance. Once this level gets taken out, the bear market may officially be over.
For more news, guides, and cryptocurrency analysis, click here.