As the weekend quickly approaches, the cryptocurrency market seems to be facing more downwards momentum.
At the time of writing, the total market capitalisation has fallen about 15%, from around $140 billion on January 9th to close to $120 billion today. Since December 16th, when the crypto market hit its lowest levels of the year at around $100 billion, the cryptosphere has recovered more than 20%.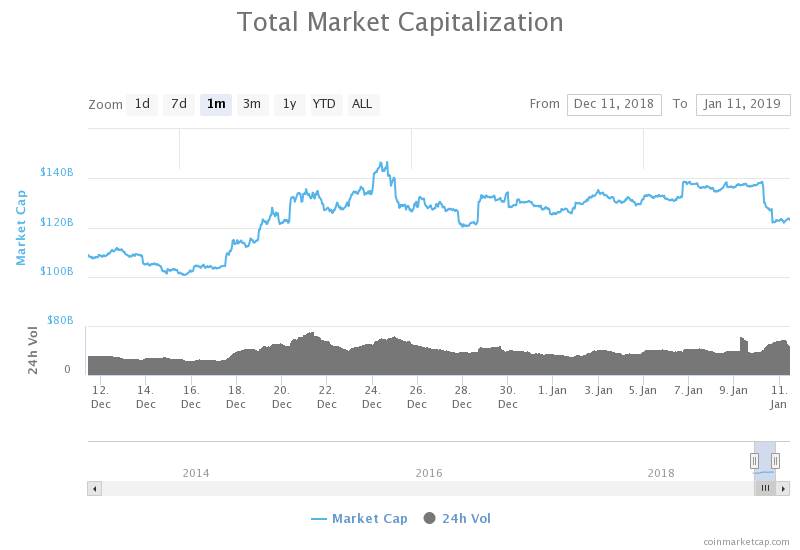 If I had to guess, I would bet on the total market capitalisation touching the $120 billion support level during the weekend, before hopefully pumping back up on Monday – as has happened so many times before.
Daily volume has been swinging from around $15 billion to close to $30 billion.
An important reminder is that with low liquidity, steeper price swings are more likely to happen, as one needs to spend less fiat to make an impact on the total price.
Fundamentals keep improving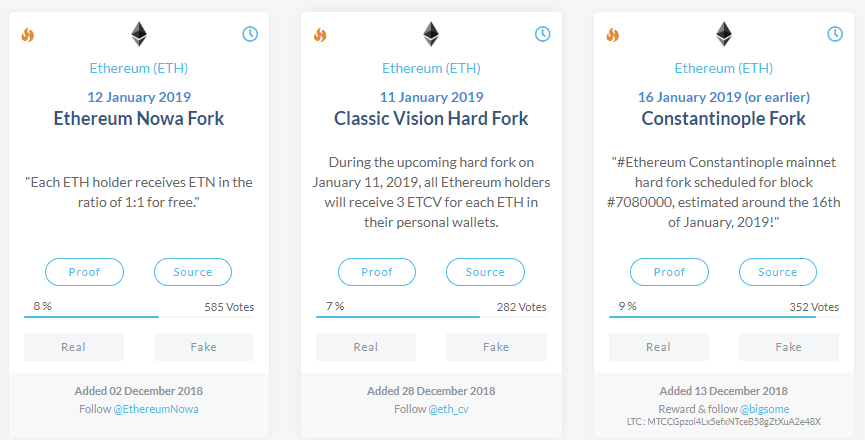 As reported by Coin Rivet last week, there are two events happening in Q1 2019 which give me confidence on the cryptocurrency development side of things.
The first one relates to Ethereum, currently the third largest cryptocurrency according to CoinMarketCap. Ethereum will be performing an upgrade (or hard fork) to implement some necessary changes which will help the protocol move away from PoW and into PoS, as well as reducing the block reward from three ETH to two ETH, putting even more positive pressure on short-term price action.
With the Constantinople fork happening, improvements are expected to happen both at the network and infrastructure levels.
The second is NEO's developer conference in Seattle, Washington, which aims to raise awareness about NEO and address a range of technical topics.
I believe these sort of events are especially important to raise awareness about the cryptocurrency space, as there are many companies who send key employees to learn about blockchain technology, and NEO will have a chance to promote their latest developments with the entire community.
The first NEO DevCon, which was held in San Francisco last year, attracted over 600 attendees and more than 40 speakers.
Increased regulation on the horizon
There are also two events you should follow closely on the regulation side of things, as I believe they could kick-start another monster round of user adoption.
Firstly, as you might expect, we have the SEC's decision on a Bitcoin ETF (or Exchange Traded Fund), which was postponed to February 27th 2019. Although I'm a little bit against crypto ETFs, as users wouldn't actually hold their private keys, I understand for price action it would be a giant step for cryptocurrencies, especially Bitcoin.
Secondly, during the week, an important document was released by the ESMA (European Securities and Markets Authority) stating some key crypto regulation guidelines and creating concerns for cryptocurrency investors, businesses, and enthusiasts. One I would like to highlight is the following:
"Where crypto-assets do not qualify as financial instruments (…) ESMA believes that the absence of applicable financial rules leaves consumers exposed to substantial risks. ESMA believes that EU policymakers should consider possible ways to address the risks in a proportionate manner. Also, ESMA believes that all crypto-assets and related activities should be subject to AML provisions…"
Although the document is still inconclusive in many aspects of regulation, it starts to address some of the issues with tokenising digital assets, as these types of tokens should be subject to the same laws and rulings as traditional assets.
Increased regulation could definitely help businesses out, as there would be less fear of experiencing problems with regulatory agencies. However, I'm also of the opinion the EU shouldn't attempt to regulate what doesn't rightfully fall under their jurisdiction, such as the topic of decentralised money.
If people choose to deal in Bitcoins, I hardly see a way for an agency to ever control user access past an initial point.
With increased privacy protections on the Bitcoin protocol layer, such as the possible addition of zero-knowledge proofs, increased randomness on each communication layer, or any other privacy improvement possible, we empower people globally in a way regulation could never achieve: by letting people fail, learn, repeat, and improve. 
After all, regulation is only useful when it can be enforced and when people agree it should be enforced.