Dogecoin has always been one of the more fun cryptocurrencies. Ever since it evolved from a meme into a cryptocurrency, it has never taken itself too seriously. Yesterday, Dogecoin and Elon Musk formed a short-lived partnership when the PayPal co-founder and Tesla CEO announced that Dogecoin was his favourite cryptocurrency – tongue perhaps in cheek.
Elon Musk then went on to change his Twitter bio to read Dogecoin CEO, then ex-CEO of Dogecoin. Just another day in the world of cryptocurrencies. Dogecoin being a bit of a meme and Elon Musk being quite the fan of memes has probably enhanced the relationship.
???? pic.twitter.com/2b8bqCCO74

— Q (@AltsQ) April 2, 2019
With his millions of followers, Musk has given quite a healthy bit of publicity to Dogecoin. Despite being a well-known cryptocurrency, not much has been happening with the Doge in recent years. Before, it was known as a charitable community – Dogecoin even managed to sponsor a NASCAR race car in the early days before most people had even heard of Bitcoin.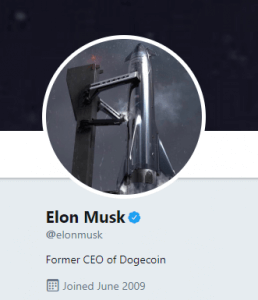 Elon Musk's sudden attraction to Dogecoin came seemingly out of the blue. He has flirted with cryptocurrencies in the past though. With the recent price spike in Bitcoin, one might have thought that a tweet by Musk would have quite a significant impact on Dogecoin.
Whilst it did increase in price and is one of the better performers of the last couple of days, a 31% increase is quite small in comparison to previous Dogecoin pumps, and many other cryptocurrencies for that matter. Bitcoin Cash has seen more of an increase in the past day. Had this been five years ago, the gains that could have been made off the back of such a tweet could have been astronomical.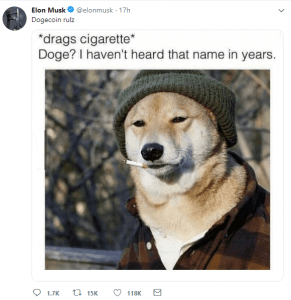 Whilst it is enjoyable seeing Dogecoin back in the spotlight, the legendary cryptocurrency will most likely fade into irrelevancy once more. But that little Doge will keep on trucking in the background.
Such wow. Such cryptocurrency.