Don't you just love it when a plan comes together?
For around three weeks we've been saying this market looks like it's good to go. Now we have lift-off.
Bitcoin has burst through the $4,000 area which has been providing resistance these last few months. At one stage it even went above $5,000. The move happened in barely an hour earlier this morning.
There is a little bit of resistance in the mid-$5,000s, but this market looks to me like it wants to go all the way back to the $6,000 area. $5,800 is actually the first line of resistance.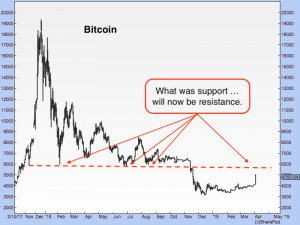 We can probably expect the market to pull back a little from this spike, perhaps to re-test the breakout point at $4,000-$4,200. We then want to see that hold.
But this is Bitcoin, so it never really does what it's supposed to.
It's difficult to know what triggered the spike. I had some texts with rumours about SEC approval of the Bitcoin ETF, but I rather suspect they may have been April Fools' Day pranks.
But what is interesting is that Bitcoin is very much leading the way. While Bitcoin is up 15%, Ethereum is only up 8%, Ripple is up 6%, EOS and Bitcoin Cash are up 10%, and Litecoin – one of the strongest coins this year – is up 12%.
The same pattern applies almost all the way down the market cap food chain.
Almost all coins, whether large cap or tiny cap, are down against Bitcoin.
What can we read into that?
In the later stages of a runaway bull market, you tend to see small caps outperforming large caps. I say "tend", but this is almost always the case. It almost doesn't matter what sector – tech, natural resources, pharma – the small caps lead towards the end of the cycle.
We saw it in Bitcoin in 2017. The tiny coins were doubling and tripling on an almost daily basis while Bitcoin was "only" going up 10 or 15%.
In a bear market, the reverse happens. The large caps outperform the small caps, even when both are falling. Let's say you have a crash in gold mining – the large gold mining companies that have institutional backing dramatically outperform the tiny explorers, which often disappear altogether.
In the case of Bitcoin, we see the following cycle in action.
In January 2017 – the beginning of the year of mania – Bitcoin dominated 86% of the crypto market. At the peak of the mania in January 2018, Bitcoin's market share had fallen to 33%.
But since the bear market began, that 33% share has grown to over 50% today – even with the plethora of coins that have been issued over the past 24 months and even though Bitcoin's price fell from $20,000 to $3,200, it still outperformed the rest of the market and its market share grew.
The recent spike has seen Bitcoin – the large cap – outperform everything again.
That action could be seen as concomitant with bear market action – the large cap outperforming the small caps. That makes me want to stick with my theory of last week that this is a bear market rally. It will take us to the $6,000 area (by tomorrow at this rate, but more likely by early summer) before we see another re-test of the lows at $3,200 probably some time in the autumn.
I'll of course adapt that theory as events unfold. We may go to $6,000 and carry on rallying. We may never even get to $6,000. But my theory describes what would be a typical bear market given the mania that preceded it.
However, at the beginning of a new bull market, it is also not unusual to see some outperformance by large caps. Money rolls into large caps when it is still scared. As prices go up, fear subsides and greed takes over, so money rolls down into small caps. By the end of the bull market, money has lost all sense of risk – and that's why the small caps so dramatically outperform.
So there are two possible ways of looking at this price action from a big picture perspective: the start of a new bull market or a typical bear market rally.
In either case, the trend is now up. Bitcoin is sitting above its short- and medium-term moving averages and they are both sloping up. It is heading towards its one-year moving average. The short-term action is good. The long term starts with the short term.
I'm pleased to be calling this action well. I don't always. You go through good patches and bad patches. But for now my reading of the bear and bull market actions has been good. Fingers crossed it continues. Happy investing, happy speculating.
And, however you play Bitcoin – make sure you manage your risk.
Dominic Frisby is author of the first (and best, obviously) book on Bitcoin from a recognised publisher, Bitcoin: the Future of Money?, available from all good bookshops, and a couple of rubbish ones too. Dominic is director of Cypherpunk Holdings (CSE:HODL), a company set up to invest in privacy-related technologies. Follow Dominic – @dominicfrisby
Disclaimer: The views and opinions expressed by the author should not be considered as financial advice. We do not give advice on financial products.