The Enjin Coin project has seen its valuation skyrocket over 100% on the back of partnership rumours with the Korean mobile giant Samsung.
Enjin Coin is currently the 63rd largest cryptocurrency in the global market as the price rallied from below $0.05 to nearly $0.10 per token in the last 24 hours.
Samsung Mobile Business Development Summit : They are serious about blockchain. Also features @enjin logo as a partner, confirming rumors in my video https://t.co/n1OpOP1fEF. Exciting times! pic.twitter.com/5t7TRWg0pc

— Boxmining (@boxmining) February 25, 2019
The Samsung partnership rumours seemed to have been started after the host of the popular crypto YouTube channel Boxmining sent out a short video from Samsung's mobile development summit. While there, he said that Samsung is "serious about blockchain", and the fact that the Enjin project's logo was visible in the presentation confirmed rumours of the partnership between the teams.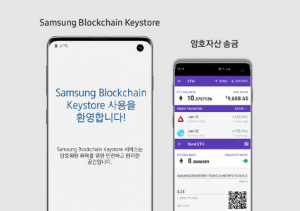 Boxmining also provided another screenshot showing images of the "Samsung Blockchain Keystore" and mobile wallet showing Ethereum, Basic Attention Token (BAT), and Enjin Coin (ENJ) tokens in the on-screen wallet balance.
Wallet of choice for Samsung
It appears that Enjin is the wallet of choice for Samsung. The mobile operator appears to have partnered with Enjin to assist with their own native blockchain wallet that will be able to store cryptocurrencies using a secure on-device private key management system.
The Enjin project today offers the "world's most secure mobile cryptocurrency wallet made for Bitcoin, Ethereum, Litecoin, and ERC-20, ERC-721, and ERC-1155 tokens". Considering that, there is a high potential that Samsung will add ERC-20 tokens, Litecoin, and possibly even non-fungible tokens (for things like CryptoKitties) into their mobile wallet.
In-app token swap capability coming to Samsung?
Just last month, Coin Rivet brought you the story that the Enjin team were creating the world's first native multi-swap wallet integration in partnership with the Kyber liquidity protocol.
The feature, which is now live, allows users to easily swap between more than 60 different ERC-20 tokens directly from the Enjin Wallet application. This removes the need to first move tokens to third-party exchanges or services to make any trades.
It will be interesting to see if such integration will be on the roadmap for Samsung's native wallet app.
For more news, guides, and cryptocurrency analysis, click here.
Disclaimer: The views and opinions expressed by the author should not be considered as financial advice. We do not give advice on financial products.