After numerous rumours, media outlets in South Korea and China have reported that the partnership between Enjin and Samsung has now been confirmed.
The project's native wallet looks to feature heavily on Samsung's upcoming flagship smartphone the Galaxy S10.
News of the now confirmed partnership has sent the price of Enjin Coin (ENJ) souring over 70% in the last 24 hours. After the token found support at around $0.02 during the latter stages of 2018, the price of the token has since exploded 10x to briefly trade over $0.20.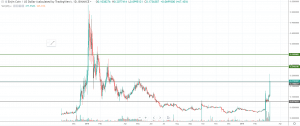 After the coin initially broke out from below descending yearly resistance, the ENJ token initially found bid support at $0.07. If the coin continues its upwards trajectory above its current level, upside price targets based on its prior bull run are close to $0.24 and then $0.30.
Interestingly, the move upwards looks to have been accompanied by a substantial amount of trading volume of over $200 million a day amongst major spot exchanges.
20 million users
The Enjin project has created a blockchain game development platform with a network of 20 million users, building a framework of "software development kits (SDKs), wallets, game plugins, virtual item management apps, and a blockchain scaling solution to allow gaming companies to create, integrate, and manage tokenised gaming assets".
Last week, Coin Rivet reported on rumours of an upcoming partnership with Samsung after the host of the popular crypto YouTube channel Boxmining sent out a short video from Samsung's mobile development summit in South Korea. While there, he said that Samsung is "serious about blockchain", and the fact that the Enjin project's logo was visible in the presentation confirmed rumours of a partnership between the teams.
Wallet of choice for Samsung
This news now confirms that Enjin is the wallet of choice for Samsung. The partnership looks to have Enjin assisting with Samsung's own native blockchain wallet, which will be able to store cryptocurrencies using a secure on-device private key management system.
Today, the Enjin project offers the "world's most secure mobile cryptocurrency wallet made for Bitcoin, Ethereum, Litecoin, and ERC-20, ERC-721, and ERC-1155 tokens". Considering this, there is a good chance that Samsung will add ERC-20 tokens, Litecoin, and possibly even non-fungible tokens (for things like CryptoKitties) into their mobile wallet.
In-app token swap capability coming to Samsung?
Just last month, Coin Rivet brought you the story that the Enjin team was creating the world's first native multi-swap wallet integration in partnership with the Kyber liquidity protocol.
The feature, which is now live, allows users to easily swap between more than 60 different ERC-20 tokens directly from the Enjin Wallet application. This removes the need to first move tokens to third-party exchanges or services to make any trades.
With the confirmation of this partnership, attention will now most likely turn towards other manufacturers in this space to see whether they will follow suit, as the barrier to entering the cryptosphere and becoming self-sovereign is getting lower each day for potentially hundreds of millions of smartphone users across the world.
For more news, guides, and cryptocurrency analysis, click here.
Disclaimer: The views and opinions expressed by the author should not be considered as financial advice. We do not give advice on financial products.