Bitcoin remains effectively unmoved after a choppy week of resistance and ranging price action.
At the time of writing, the price of Bitcoin (BTC) sits at $61,526.92, representing a stubborn seven-day increase of 3.78 per cent.
All eyes are closely monitoring the precarious ranging pattern, but markets have been reassured as the price action has held within expected localised volatility ranges.
This is indicative of a consolidation period. However, a clean breakout is demanded for the continuation of this bull run, as localised resistance remains steadfast at $53,500.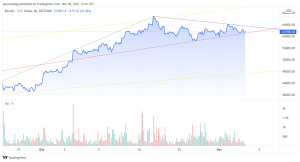 A look at the trendlines reveal a bullish outlook, and suggests there is reasonable potential for movement – but a break downwards here would mark a loss of trend support and the formation of a bearish head and shoulders pattern.
BTC volatility squeeze incoming on the 1D.

"Time to pay attention" pic.twitter.com/LAhf2ODyBT

— Will Clemente (@WClementeIII) November 5, 2021
Aggregate open interests are still high, although markets witnessed a slight decrease (-1.22 percent in 24 hours), and liquidations have turned from the bears ($14.3m liquidated yesterday) to the bulls ($19.3m liquidated yesterday). October 19 was the last significant liquidation event.
Bitcoin-Dollar (BTC/USD): A look at the technicals
Markets are ending a week of consolidation from an impressive October which saw the new all-time high of $67,139 and the first ever monthly close above $60,000.
The consolidation period is so far expected and reflective of past all-time highs in the February-to-April 2021 trend, but markets nevertheless are still greedy, and the sentiment indicators are still reflective of this.
Moving averages suggest quite supportive signals.The MA200 remains ironclad in support for the current trend at $51,262, and continues to grow. The MA20 continues to underpin the current trend, following an 11% retest bounce in the final week of October.
There is short-term bearish divergence in the moving averages on the hourly chart, but long-term signals and indicators remain largely bullish.
The RSI 14 is sat consolidatory at 57.43 – a neutral signal. Further illumination from the NUPL shows very little additional profit has been taken off the table – remaining at 0.62-0.63 for the entire past week.
Some speculate this could be due to stockpiling instead of selling among Bitcoin miners aiming to induce supply shock and drive a rally. But this could be due to Bitcoin's institutionalisation. BTC is now acceptable collateral for fiat financing – enabling miners to cash in now, without losing profits later.
Disclaimer: The views and opinions expressed by the author should not be considered as financial advice. We do not give advice on financial products.