Bitcoin (BTC) markets today suffered a near 5% drop from $61,443 to $58,387 – a two-week low – driving substantial liquidations of more than $194m positions as bulls lose their grip on the price trend.
While the technical advantage is still bullish, the bears have scored a near-term victory driving the price below the psychologically significant $60,000 level. The 200 day moving average remains strong floor support for the price action sitting down at $54,255.
The sudden price action will have many American traders waking up to renewed fears of a stalling bull trend after an unconvincing break to a short-lived $67,000 all-time high.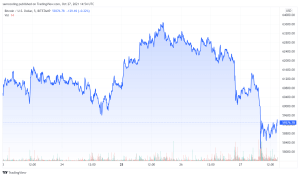 Source: Trading View
But with the market in a key state of flux, due to the depth charge movement below MA 5, 10, 30, and 50 – bulls are facing a critical moment in the battle to preserve their rally trend – a breakout here could be sensational but with leverage through the roof – a down-turn could be catastrophic.
$63,300 has been identified as a vital point of resistance based on the local retracement volume profiles – bulls would expect to see a strong break above this mark if the run is to continue.
Some on twitter lamented mainstream coverage of today's price action – with big headlines globally about a Bitcoin flash crash.
HUMONGOUS CRASH TODAY pic.twitter.com/8xIfCLcbBi

— DonAlt (@CryptoDonAlt) October 27, 2021
Beware BTC leverage
Open Interests sit at whopping $18.8bn – with leverage hitting the highest levels in 6 months – mostly longs – and approaching the highest point BTC leverage has ever hit on April 14.
This could paint an interesting target as many bears claim bulls are seprendiciously over leveraged.
Speculation by some analysts that the market had undertaken a successful 11% re-test of the MA 20 have been wrong as supply starts to outstrip demand.
The market seems bold in its greed, with sentiment minimally moved considering the price action despite the woes of traders on crypto twitter. It is likely greed could hold court for a while – fear was the prime emotion on the index for 80 days during the summer.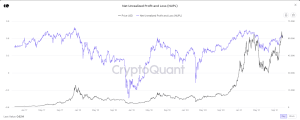 Source: CryptoQuant
And this greed holds strong on the net unrealised profit / loss (NUPL – a measure of the total amount of profits or losses from the circulating supply of a coin) – which sits steadfast around 0.63 – indicating that there is a lot of unrealised profits still held in the market – major moves down could indicate profits being taken off the table.
Watch closely – things are getting choppy.
For more news, guides and cryptocurrency analysis, click here.
Bitcoin pricing
Current live BTC pricing information and interactive charts are available on our site 24 hours a day. The ticker bar at the bottom of every page on our site has the latest Bitcoin price. Pricing is also available in a range of different currency equivalents:
US Dollar – BTCtoUSD
British Pound Sterling – BTCtoGBP
Japanese Yen – BTCtoJPY
Euro – BTCtoEUR
Australian Dollar – BTCtoAUD
Russian Rouble – BTCtoRUB
About Bitcoin
In August 2008, the domain name bitcoin.org was registered. On 31st October 2008, a paper was published called "Bitcoin: A Peer-to-Peer Electronic Cash System". This was authored by Satoshi Nakamoto, the inventor of Bitcoin. To date, no one knows who this person, or people, are.
The paper outlined a method of using a P2P network for electronic transactions without "relying on trust". On January 3 2009, the Bitcoin network came into existence. Nakamoto mined block number "0" (or the "genesis block"), which had a reward of 50 Bitcoins.
More BTC news and information
If you want to find out more information about Bitcoin or cryptocurrencies in general, then use the search box at the top of this page. Here's an article to get you started.
As with any investment, it pays to do some homework before you part with your money. The prices of cryptocurrencies are volatile and go up and down quickly. This page is not recommending a particular currency or whether you should invest or not.
Disclaimer: The views and opinions expressed by the author should not be considered as financial advice. We do not give advice on financial products.