Bitcoin is triumphantly surging towards a record high above $65,000 this week as investors anticipate a flurry of Bitcoin ETF approvals by the SEC.
At the time of writing BTC was trading at $62,350 after a ferocious bounce from $59,000 on Sunday evening.
The world's largest cryptocurrency clearly has the wind in its sails, rallying by 52% since September 29.
From a technical perspective, several indicators including the RSI, MACD and moving averages all appear to be in a bullish posture, although it's worth noting that trade volume remains significantly lower than the original push above $60,000 earlier this year.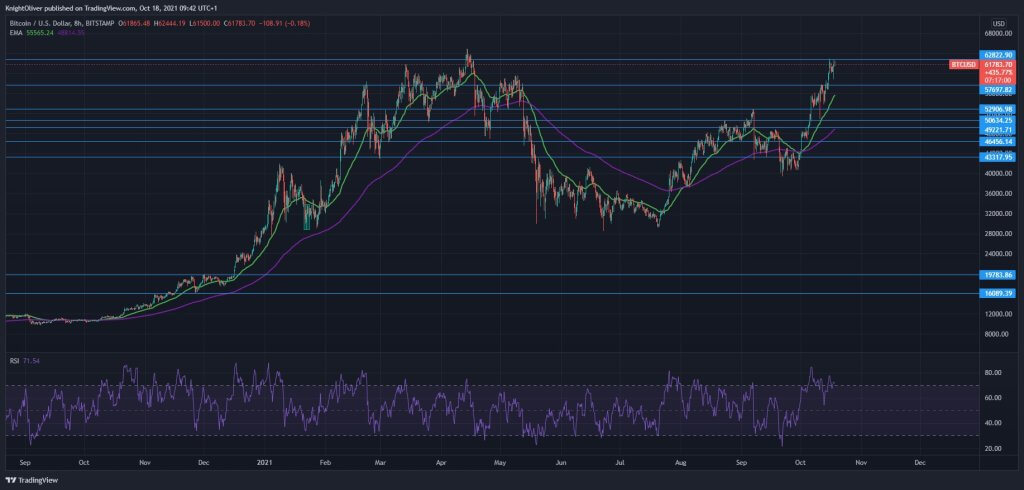 The dwindling volume is reinforced by a lack of retail participation in the market, which ties in to the narrative that it is driven by institutional investment in light of the SEC news.
Google searches for 'Bitcoin' and 'Buy Bitcoin' are both 63% lower than in May of this year. This is potentially a worrying factor in the market, as when funds and institutional traders decide to switch from being long to short, there won't be enough buyers to sustainably prop the price.
In this short term Bitcoin looks almost certain to test its all-time high of $65,000 this week, however, the future going into 2022 continues to be shrouded in mystery as sentiment across all traditional markets remains frothy.
If the S&P500 eventually tops out of its current uptrend, Bitcoin is expected to return to its 2021 lows of $27,000 with a high probability of it re-testing the 2017 all-time high at $20,000.
For more news, guides and cryptocurrency analysis, click here.
Bitcoin pricing
Current live BTC pricing information and interactive charts are available on our site 24 hours a day. The ticker bar at the bottom of every page on our site has the latest Bitcoin price. Pricing is also available in a range of different currency equivalents:
US Dollar – BTCtoUSD
British Pound Sterling – BTCtoGBP
Japanese Yen – BTCtoJPY
Euro – BTCtoEUR
Australian Dollar – BTCtoAUD
Russian Rouble – BTCtoRUB
About Bitcoin
In August 2008, the domain name bitcoin.org was registered. On 31st October 2008, a paper was published called "Bitcoin: A Peer-to-Peer Electronic Cash System". This was authored by Satoshi Nakamoto, the inventor of Bitcoin. To date, no one knows who this person, or people, are.
The paper outlined a method of using a P2P network for electronic transactions without "relying on trust". On January 3 2009, the Bitcoin network came into existence. Nakamoto mined block number "0" (or the "genesis block"), which had a reward of 50 Bitcoins.
More BTC news and information
If you want to find out more information about Bitcoin or cryptocurrencies in general, then use the search box at the top of this page. Here's an article to get you started.
As with any investment, it pays to do some homework before you part with your money. The prices of cryptocurrencies are volatile and go up and down quickly. This page is not recommending a particular currency or whether you should invest or not.
Disclaimer: The views and opinions expressed by the author should not be considered as financial advice. We do not give advice on financial products.