Bitcoin is currently trading back below the psychological level of resistance at $50,000 following a painful overnight rejection at the $52,000 mark.
The world's largest cryptocurrency has now formed a pivotal lower high following last week's flash-crash to $42,000.
It has also rejected the diagonal supportive trendline that dates back to July, with it now becoming a stern point of resistance.
From a technical perspective, Bitcoin needs to begin closing daily candles back above $52,000 to prevent continuation of the downtrend.
A sell-off to below $47,300 will trigger another cascade of liquidations, which could well provide enough firepower for it to drop to below $40,000 before the end of the year.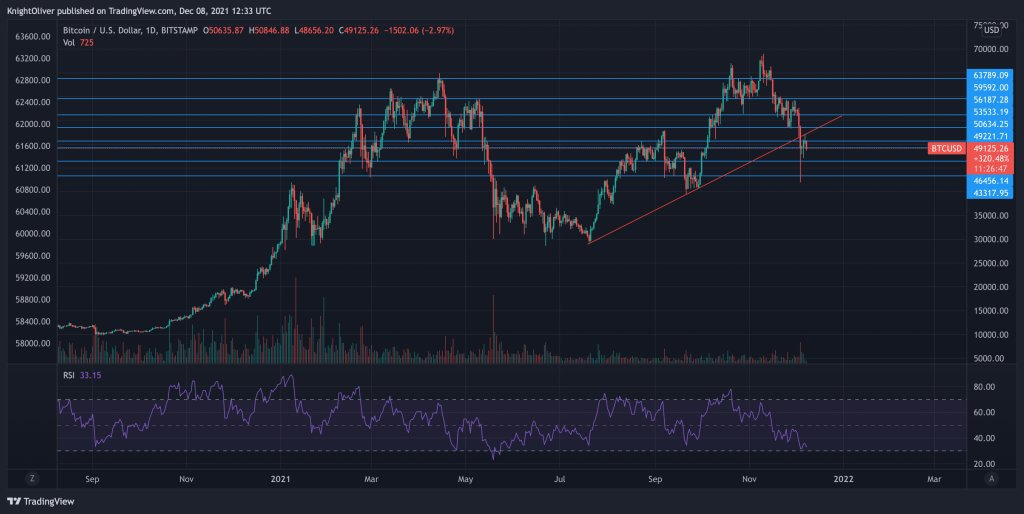 While the recent high of $69,000 may have taken many by surprise, Bitcoin's inevitable plunge to the downside has shaken the market as there has been no clear news catalyst.
Stock market indices have struggled, but not to the extent of Bitcoin, which is now 29.34% lower than its high just two weeks ago.
Over the coming months, Bitcoin may finally experience a period of prolonged consolidation – often labelled as a 'micro bear market', with price targets emerging as low as $16,000 and $24,000.
However, Bitcoin has a habit of bucking the trend when investors least expect it. In July it seemed certain to sweep the previous all-time high lows at $20,000, but instead went on a barnstorming rally back to $60,000.
It's worth noting that, although a lot of leverage was flushed out during Saturday's move, $13.5 billion of open interest still remains. It went to as low as $9.5 billion during the June sell-off.
For more news, guides and cryptocurrency analysis, click here.
Bitcoin pricing
Current live BTC pricing information and interactive charts are available on our site 24 hours a day. The ticker bar at the bottom of every page on our site has the latest Bitcoin price. Pricing is also available in a range of different currency equivalents:
US Dollar – BTCtoUSD
British Pound Sterling – BTCtoGBP
Japanese Yen – BTCtoJPY
Euro – BTCtoEUR
Australian Dollar – BTCtoAUD
Russian Rouble – BTCtoRUB
About Bitcoin
In August 2008, the domain name bitcoin.org was registered. On 31st October 2008, a paper was published called "Bitcoin: A Peer-to-Peer Electronic Cash System". This was authored by Satoshi Nakamoto, the inventor of Bitcoin. To date, no one knows who this person, or people, are.
The paper outlined a method of using a P2P network for electronic transactions without "relying on trust". On January 3 2009, the Bitcoin network came into existence. Nakamoto mined block number "0" (or the "genesis block"), which had a reward of 50 Bitcoins.
More BTC news and information
If you want to find out more information about Bitcoin or cryptocurrencies in general, then use the search box at the top of this page. Here's an article to get you started.
As with any investment, it pays to do some homework before you part with your money. The prices of cryptocurrencies are volatile and go up and down quickly. This page is not recommending a particular currency or whether you should invest or not.
Disclaimer: The views and opinions expressed by the author should not be considered as financial advice. We do not give advice on financial products.