Cardano is currently trading at $2.24 following a magnificent 17.63% bounce from its weekly low of $1.91.
The polarising cryptocurrency, which is the third largest in terms of market cap, recently launched its highly-anticipated smart contracts platform that will pave the way for DeFi development.
However, the positive sentiment surrounding the upgrade rapidly subsided as traders capitalised on the "buy the rumour, sell the news" thesis, with price subsequently plunging by more than 30%.
This typically happens with most major news events as hype builds into the event before deleveraging punishes those that bought at the top. A good example of this was when Coinbase went live on Nasdaq the day of Bitcoin's all-time high at $65,000.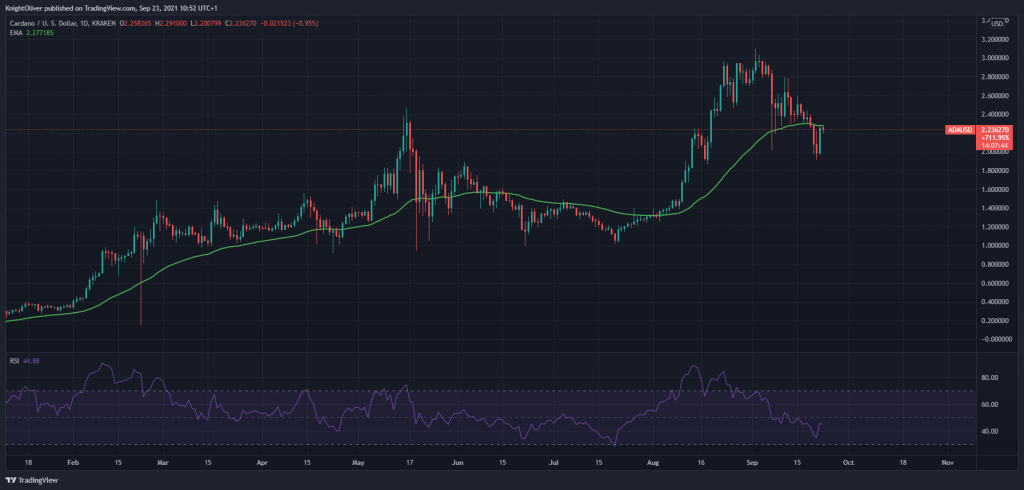 In Cardano's case, whilst this week's recovery has shown signs of strength, it remains stuck at a number of road blocks from a technical perspective.
The daily 50 exponential moving average became a key point of support since it surged above it on August 1. The most recent sell-off saw Cardano slump below that key moving average, with it now beginning to act as a bitter level of support.
If ADA can close a daily candle above the 50EMA at $2.28, it will likely float back to the top of the range at around $2.65.
A rejection from this level would signal a clear downtrend with downside price targets beginning to emerge as low as $1.55 and $1.39.
Cardano pricing
Current live ADA pricing information and interactive charts are available on our site 24 hours a day. The ticker bar at the bottom of every page on our site has the latest Cardano price. Pricing is also available in a range of different currency equivalents:
US Dollar – ADAtoUSD
British Pound Sterling – ADAtoGBP
Japanese Yen – ADAtoJPY
Euro – ADAtoEUR
Australian Dollar – ADAtoAUD
Russian Rouble – ADAtoRUB
Bitcoin – ADAtoBTC
About Cardano
Cardano claims to have tried to change the way cryptocurrencies are designed and developed, balancing the best of the functionality of several cryptocurrencies into one coin. The project began in 2015, the work of a global team of scientists and academics. ADA was released in September 2017.
Cardano is one of the largest cryptocurrencies and is one of The Top 10 Cryptocurrencies by market capitalisation.
More Cardano news & information
If you want to find out more information about Cardano or cryptocurrencies in general, then use the search box at the top of this page. Here's the latest Cardano article to get you started:
As with any investment, it pays to do some homework before you part with your money. The prices of cryptocurrencies are volatile and go up and down quickly. This page is not recommending a particular currency or whether you should invest or not.
Disclaimer: The views and opinions expressed by the author should not be considered as financial advice. We do not give advice on financial products.