Ethereum has continued its barnstorming rally of late, surging to a mightily impressive all-time high of $4,642 before consolidating at $4,500.
The world's second largest cryptocurrency by market cap has remained in a sturdy uptrend since September 22, when it dropped to a low of $2,650 – making a 71% rise in less than six weeks.
Momentum appears to have finally shifted from Bitcoin to larger altcoins like Ethereum, Polkadot and Solana in what many are dubbing as a new 'alt season'.
While the altcoin market firmly has the bit between its teeth, it's worth noting that if Bitcoin is to fall from its perch above $60,000, the entire market could crumble due to increasing amounts of leveraged long positions.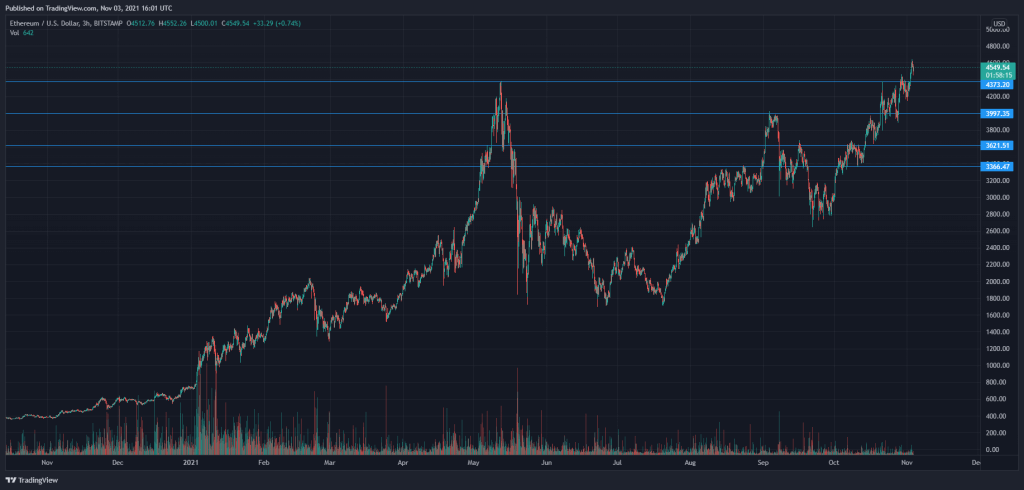 Open interest for Bitcoin is currently at $20 billion. Open interest has been this high on two occasions over the past few months, and on both occasions it preceded a dramatic slump to the downside as over-leveraged long positions got squeezed.
From a technical perspective, it's very difficult to find a bearish case for Ethereum when it has just broken its former record high on convincing volume. It is now expected to re-test the previous high before continuing its move to the upside, with potential targets emerging well above $5,000.
If the market decides to take a surprising turn, there are multiple levels of support for Ethereum in the $4,000 region as well as at $3,650 and $3,385.
For more news, guides and cryptocurrency analysis, click here.
About Ethereum
Ethereum was launched by Vitalik Buterin on July 30 2015. He was a researcher and programmer working on Bitcoin Magazine and he initially wrote a whitepaper in 2013 describing Ethereum.
Buterin had proposed that Bitcoin needed a scripting language. He decided to develop a new platform with a more general scripting language when he couldn't get buy-in to his proposal.
More Ethereum news and information
If you want to find out more information about Ethereum or cryptocurrencies in general, then use the search box at the top of this page. Please check the below article:
As with any investment, it pays to do some homework before you part with your money. The prices of cryptocurrencies are volatile and go up and down quickly. This page is not recommending a particular currency or whether you should invest or not.
You may be interested in our range of cryptocurrency guides along with the latest cryptocurrency news.
Disclaimer: The views and opinions expressed by the author should not be considered as financial advice. We do not give advice on financial products.