Ethereum experienced a slight relief bounce overnight, rising to $3,120 after dropping below $3,000 for the first time since September.
The world's second largest cryptocurrency is now 36.2% lower than its peak of $4,885 as the entire cryptocurrency market begins to buckle under the pressure of a bear market.
In order to regain a bullish market structure, Ethereum needs to trade back above $3,350 before making a series of higher lows that would signal a reversal.
For the time being, however, Ethereum remains in a deeply troubling downtrend with a move to $2,650 and $2,260 on the cards over the coming weeks.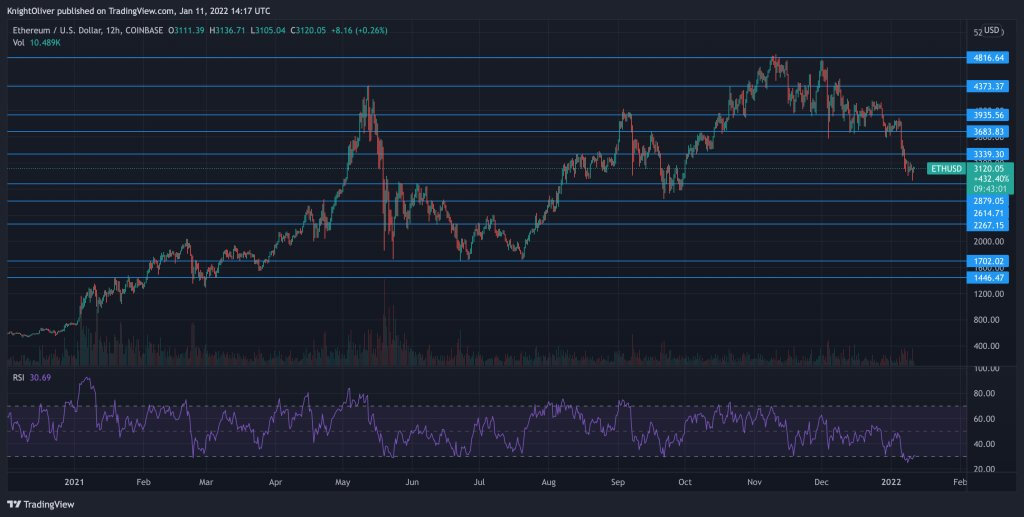 The market is in an eerily similar state to that in 2018, which saw assets like Ethereum eventually lose more than 80% of their value in a matter of months.
While the short-term outlook remains dreary, it's worth noting that the cryptocurrency market has a habit of bucking the trend when investors least expect it. If Ethereum can begin to gather some bullish momentum, there are a lot of short positions beneath $4,000 that would be ripe for a squeeze.
For more news, guides and cryptocurrency analysis, click here.
About Ethereum
Ethereum was launched by Vitalik Buterin on July 30 2015. He was a researcher and programmer working on Bitcoin Magazine and he initially wrote a whitepaper in 2013 describing Ethereum.
Buterin had proposed that Bitcoin needed a scripting language. He decided to develop a new platform with a more general scripting language when he couldn't get buy-in to his proposal.
More Ethereum news and information
If you want to find out more information about Ethereum or cryptocurrencies in general, then use the search box at the top of this page. Please check the below article:
As with any investment, it pays to do some homework before you part with your money. The prices of cryptocurrencies are volatile and go up and down quickly. This page is not recommending a particular currency or whether you should invest or not.
You may be interested in our range of cryptocurrency guides along with the latest cryptocurrency news.
Disclaimer: The views and opinions expressed by the author should not be considered as financial advice. We do not give advice on financial products.