Litecoin has acted resiliently to a market-wide sell-off this week as it keeps its head afloat above the $100 level of support.
It is now the 21st largest cryptocurrency by market cap with a valuation of $7.5 billion.
Despite a notable bounce from $105, trade volume has subsided over the past 24-hours with just $723 million being traded across all exchanges.
The direction of Litecoin as it approaches the weekend will also depend on whether Bitcoin can rally back to the $38,500 mark or whether it succumbs to bearish pressure with a move below $35,000.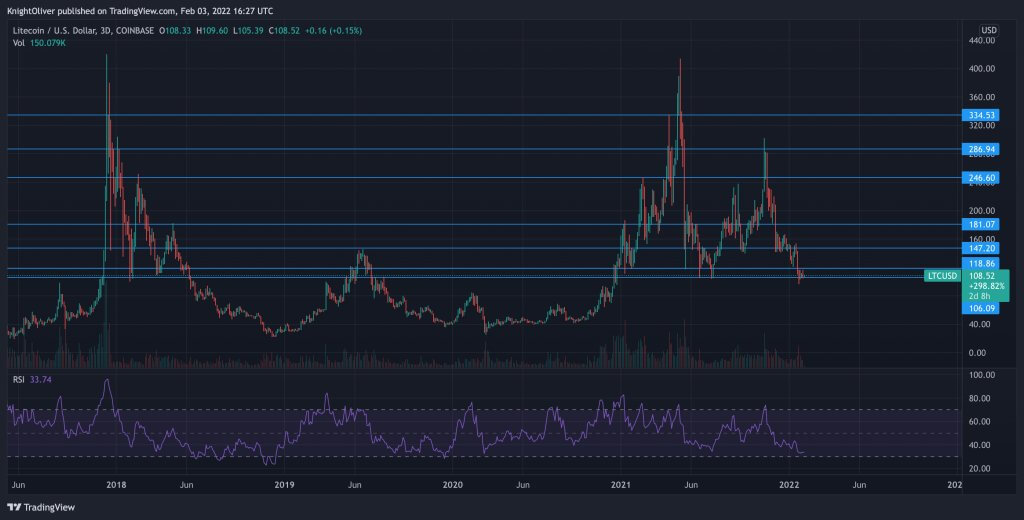 A break of a key support for Bitcoin will see Litecoin almost certainly begin to trade back below the $100 mark for the first time since December 2020.
Below that is rather unchartered waters. The $88 level is a historical point of support but, failing that, a swift move to as low as $64 may be on the cards as the potential of a multi-year bear market looms.
If the cryptocurrency market can rally back to the yearly open, Litecoin will be given a reprieve in the short-term as it's expected to climb back to around $146 before fighting against a bitter level of resistance.
For more news, guides and cryptocurrency analysis, click here.
About Litecoin
Litecoin was released in October 2011 by Charlie Lee, a former Google employee. It is a fork of Bitcoin, with the main difference being a smaller block generation time. The protocol also increased the maximum number of coins and implemented a different script-based algorithm.
Litecoin is one of the leading cryptocurrencies and is one of the top 10 cryptocurrencies by market capitalisation.
More LTC news and information
If you want to find out more information about LTC or cryptocurrencies in general, then use the search box at the top of this page. Here's an article to get you started:
As with any investment, it pays to do some homework before you part with your money. The prices of cryptocurrencies are volatile and go up and down quickly. This page is not recommending a particular currency or whether you should invest or not.
You may be interested in our range of cryptocurrency guides along with the latest cryptocurrency news.
Disclaimer: The views and opinions expressed by the author should not be considered as financial advice. We do not give advice on financial products.