Despite the crash in token prices caused by macro conditions and the collapse of FTX, the NFT market continued to decline steadily rather than experience any significant jolt in November. 
While overall activity and trading decreased, the number of investment rounds increased and blue chip collections saw increased trading. 
Overall Market 
Financing & Investment
Marketplaces & Chains
Collections Overview
NFT Market Overview
In November, the amount of volume in the NFT sector decreased along with transactions and market cap. However, the data indicates that the market cap holds steadily between the $500B and $600B band despite the fluctuations.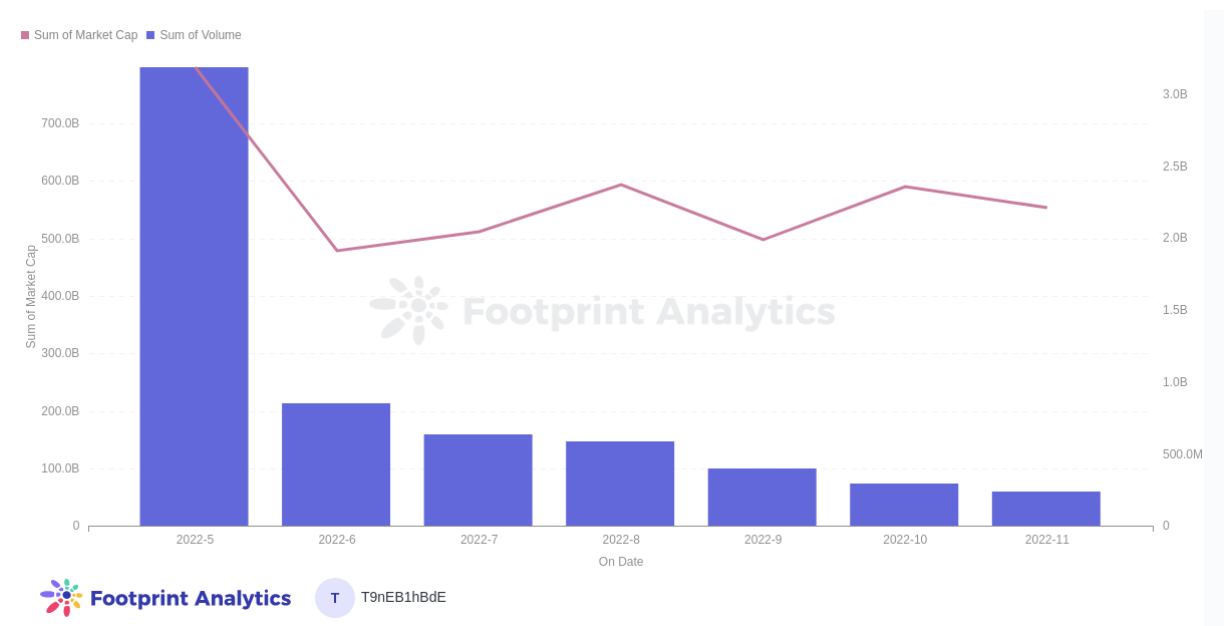 NFT Market Cap & Volume (Nov. Report)
The ratio of buyers to sellers is used to gauge the supply and demand in the NFT market, which influences the price. In November, it has rebalanced to a steady level in the high 0.80s. In summer, the ratio severely favored buyers, driving down the prices of NFTs, but this began to re-balance in September and continued up in October.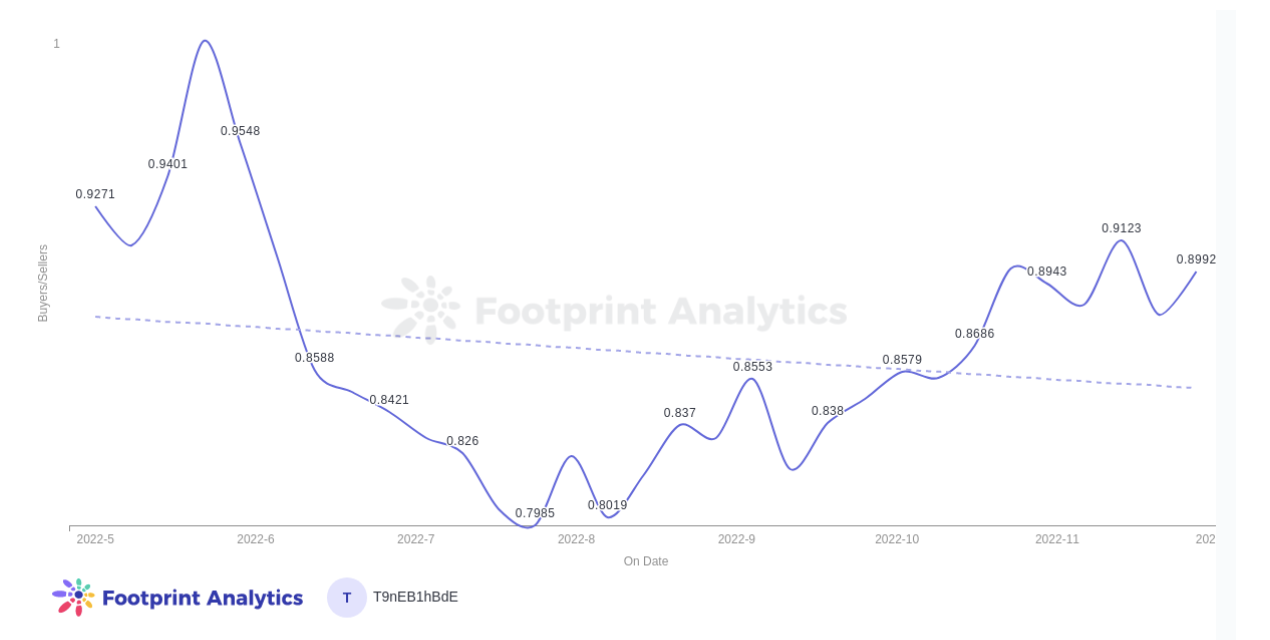 Buyers/Sellers Ratio November Report
Investment & Fundraising
While the number of fundraising rounds in the blockchain industry decreased, the NFT sector had more in November than October, with 11 small (sub-$10M), mostly seed-stage rounds.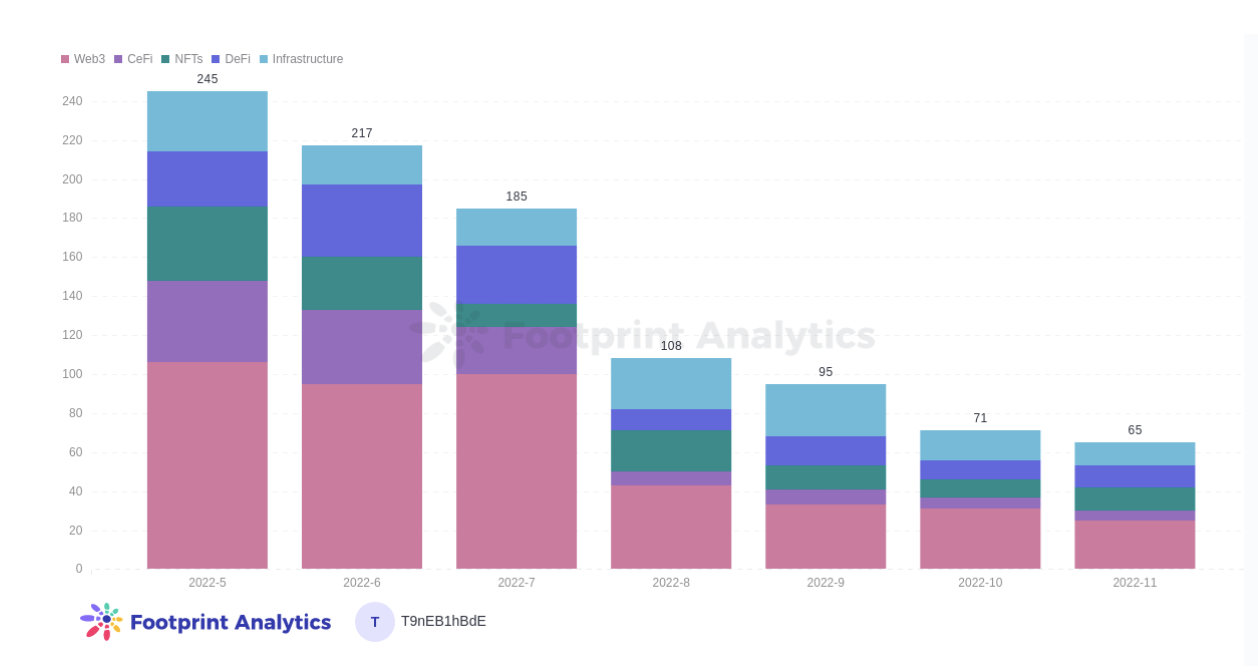 Investment by Category (Nov. NFT Report)
In light of the seemingly grim conditions, it's useful to compare these figures to the broader market, where investment rounds also plunged YoY according to research from S&P Global, but to a lesser decree. The crypto market was clearly hit earlier and harder by macro conditions. While the above research might use different tools to track investment rounds than Footprint Analytics, it is also interesting to see that blockchain had roughly 5% of total global VC funding rounds (which the report put at 1,289) when we compare the data side-by-side. 
Marketplaces & Chains
Wash trading is a form of fraudulent activity where trades are made in order to artificially inflate the amount of activity in a collection or marketplace, or for the trader to reapo the trading reward incentives in a market. 
However, with decreased profitability in the whole crypto space, the prominence of wash trading in the NFT industry has decreased. In other words, tokens like $LOOKS simply don't hold their value like they used to and there aren't enough real buyers to justify the effort of wash trading. Although, wash trading might still occupy 30-40% of the total market volume. 
The three top chains for NFT transactions are Ethereum, Solana and Polygon, in that order.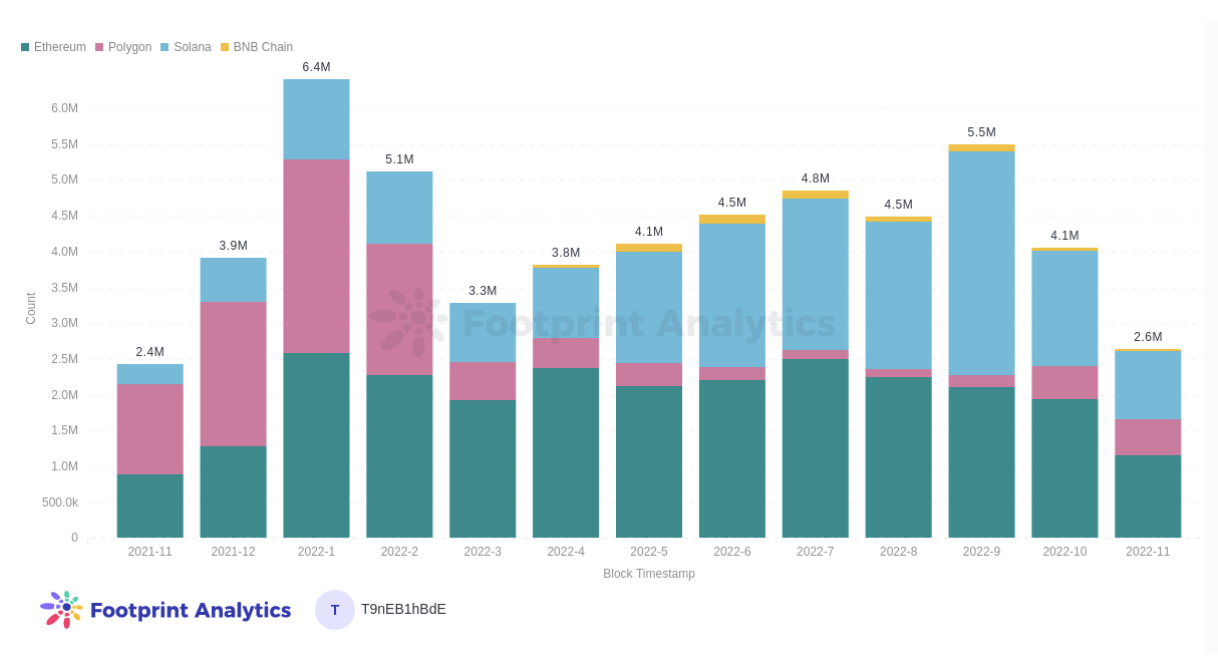 Collections
The top 3 collections by volume in November were MineablePunks, Dreadfulz, and Bored Ape Yacht Club. In the past, Dreadfulz has seen a lot of wash trading, while data is unclear about MineablePunks.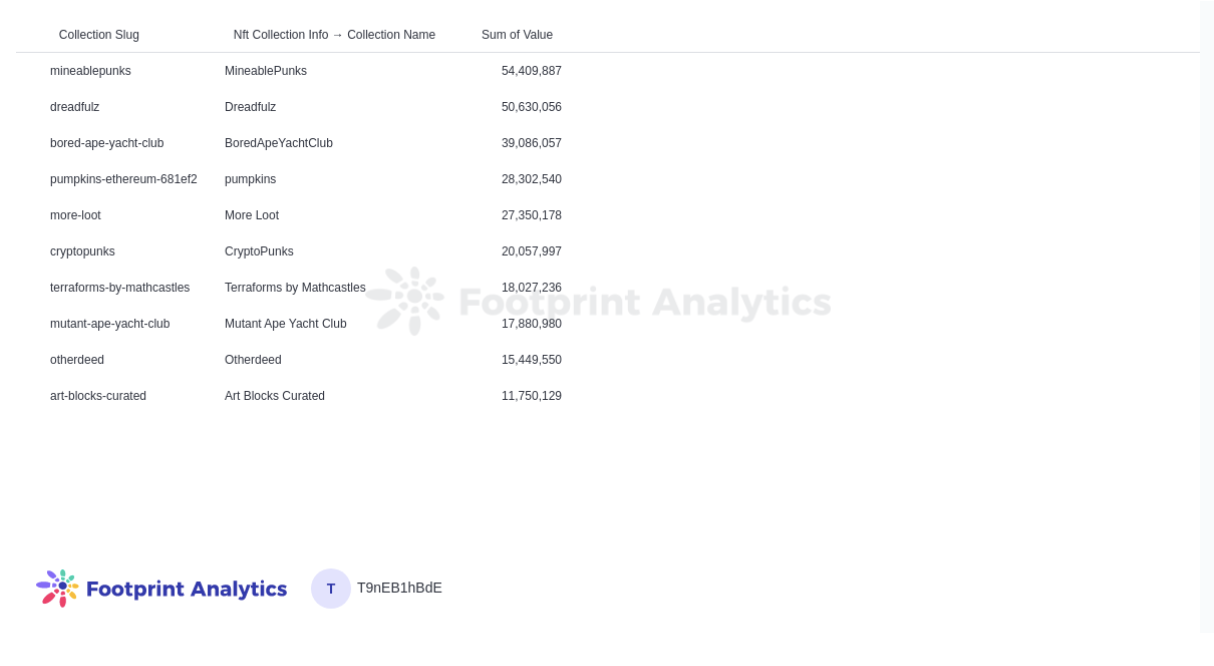 Top 10 Collections by Volume (November Report)
The activity of blue chip collections was a slight anomaly in November, jumping significantly. This was especially true of BAYC, trading of which almost doubled.
BAYC: NFT Transactions (Nov. Report)
Several publications have noticed, and AmberCrypto even published an article on Dec. 5 entitled, BAYC overcomes 'dooms-month' November but can APE decline to follow, which began: 
"BAYC recorded a massive surge in its November performance, disregarding the crypto market crash."
However, these kinds of articles disregard the fact that activity includes both buying and selling. A huge uptick in activity during turbulent times can indicate a selloff just as well as a surge in demand. 
This piece is contributed by Footprint Analytics community.
The Footprint Community is a place where data and crypto enthusiasts worldwide help each other understand and gain insights about Web3, the metaverse, DeFi, GameFi, or any other area of the fledgling world of blockchain. Here you'll find active, diverse voices supporting each other and driving the community forward.
Footprint Website:  https://www.footprint.network
Discord: https://discord.gg/3HYaR6USM7
Twitter: https://twitter.com/Footprint_Data
Data Source: November 2022 NFT Report (ENG)
Disclaimer: The views and opinions expressed by the author should not be considered as financial advice. We do not give advice on financial products.