Since last week, just after Christmas, Ethereum has been steadily gaining momentum, as reported through the week by Coin Rivet.
Ether has now jumped 12% in price to over $150, its highest since Christmas Eve. In doing so, Ether pushed out of a narrow trading range that had capped price action below $140 for the duration of the holiday period. More importantly, it allowed the so-called developer's cryptocurrency to overtake XRP to regain second spot in the market cap rankings. Ethereum currently has a total market value of $16 billion, according to CoinMarketCap.
Several factors have contributed to XRP's relative strength over the past three months. The protocol has not only managed to weather the crypto downturn better than its peers, but an apparent existential crisis for Ethereum only widened the divergence. Ethereum has faced threats of  growing competition in the smart-contract space and suffered from the apparent fallout from the ICO craze of 2017. Because so many projects kept overselling Ether in order to pay the bills, a great downwards pressure was felt.
Plus, projects like EOS and Tron made sure to crash Ether's price as much as possible. Competition over cooperation seems to be the way forward for these projects.
Positive news on the horizon?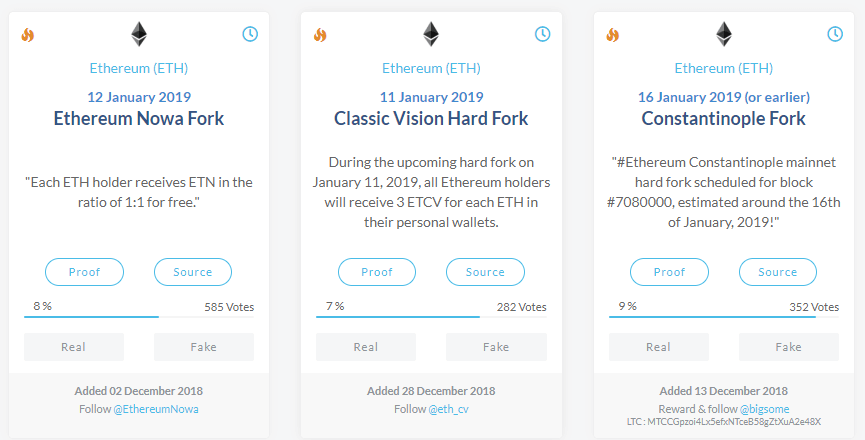 Due to the upcoming hard forks for both the Ethereum project and some side-chain applications, users have been buying heavily expecting short-term profits. With these upgrades, improvements are expected to happen both at the network and infrastructure levels. The Classic Vision and Nowa airdrops could also be contributing to the recent rise in price.
The Constantinople update, which will take place on January 16th 2019, is bound to bring Ethereum closer to Proof-of-Stake, Sharding, Plasma, and a way to achieve faster and more scalable transactions. It will also reduce the block reward from 3 ETH to 2 ETH, putting even more positive pressure on price action.
What's the expected short-term price action?
Ethereum has gained a whopping 80% over the past month, pushed higher by a number of technical and fundamental forces. ETH benefited from the broad recovery that began on December 17th, the one-year anniversary of Bitcoin's $20,000 bull run. Like its peers, Ether rallied on oversold conditions after prices crashed to 18-month lows.
A quick evaluation of past forks of the Ethereum network shows they've had a similar impact on prices. As cryptocurrency trader Alex Kruger notes, the Homestead fork triggered a price rally of more than 1000% in the two months prior to the event. Afterwards, the market began a major pullback, just one day after Homestead was activated. This means there's a good chance Ether will experience a broad pullback later in the month after Constantinople goes live.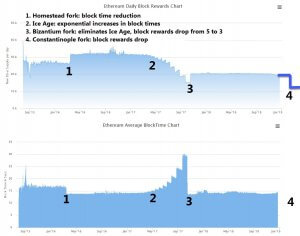 For the time being, Ether is enjoying a steady upturn in trading volumes.
Let's hope this positive trend can last, at least until the end of next week.
Disclaimer: The views and opinions expressed by the author should not be considered as financial advice. We do not give advice on financial products.