Ethereum has regained its status as the cryptocurrency with the second largest market cap, overtaking Ripple after six weeks of being in third.
After a 12% rally, Ethereum's market cap now stands at $15.8 billion. Ripple, despite a 3% move to the upside on Wednesday, has a current market cap of just $14.9 billion.
Ripple (XRP) overtook Ethereum in mid-November, an event that was celebrated by the XRP community, many of whom believed it would soon rival Bitcoin for top spot.
Ethereum's rally is due to the anticipation of a series of upcoming hard forks. Ethereum Classic Vision will be airdropped to Ethereum holders at a ratio of 3:1 on January 11th. The Ethereum Nowa fork, meanwhile, is planned on January 12th.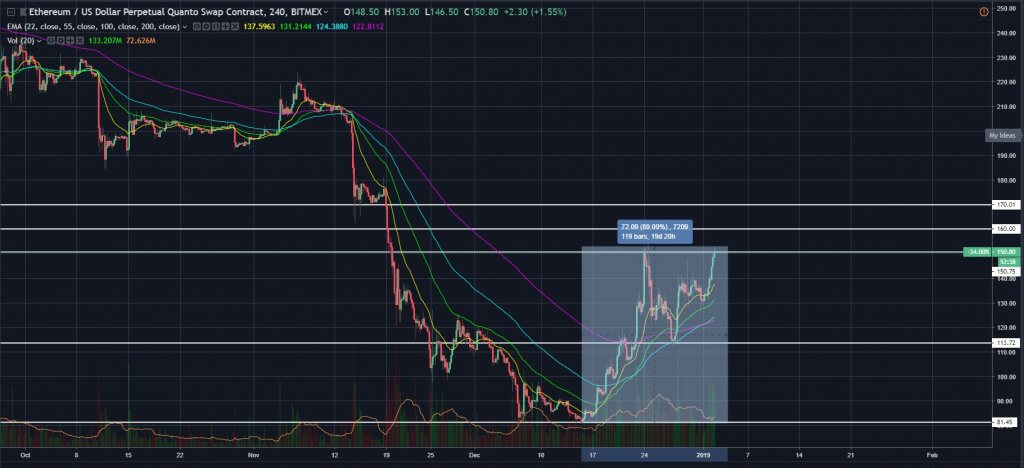 Both events are leading to Ethereum's Constantinople update on January 16th, which according to developers will "usher in a new wave of distributed ledger technologies."
The Constantinople update will make Ethereum faster and less expensive. The ultimate goal is to follow Vitalik Buterin's vision and move from a Proof-of-Work to a Proof-of-Stake protocol.
After forming a bottom in December, when Ethereum's price hit a yearly low of $83, the cryptocurrency has rallied over 70%, making it one of the best performing digital assets in the space over the last month.
For more crypto analysis, news, and guides, click here.
Disclaimer: The views and opinions expressed by the author should not be considered as financial advice. We do not give advice on financial products.