One of the most prominent Ethereum developers working within the Ethereum Foundation, Vlad Zamfir, has recently tweeted he is negotiating a new contract with Casper Labs to work on the development of his Casper proof-of-stake (PoS) solution.
Casper Labs will be an indirect competitor to Ethereum as it endeavours to deliver the much-anticipated Casper protocol upgrade – a proof-of-stake solution the Ethereum community has been hearing rumours about since the project's inception in 2015.
The blockchain start-up Casper Labs is set to officially launch next month, and has so far received verbal commitments of $20 million in its ongoing Series A funding round, backed by top funds like Galaxy and BlockTower. In addition, C-level executives have committed personal funds, including its chairman Scott Walker, who is also the president of DNA, a major cryptocurrency investment firm.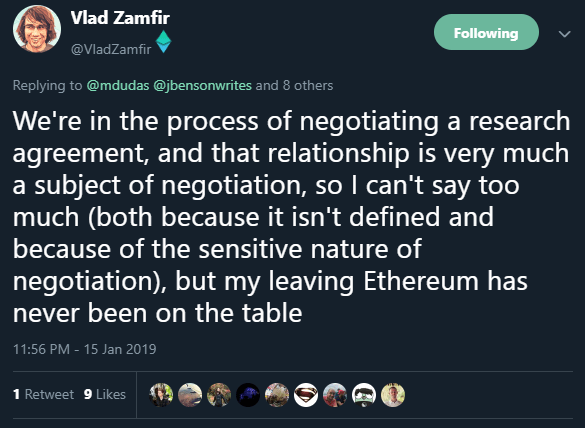 Casper proof-of-stake
As Vlad wrote in a blog post in December 2016, the goal of Casper's PoS solution is to increase security by reducing the attacker's incentive to make a malicious move:
"Since the early morning of September 12th, 2014, I have firmly advocated (to everyone who would listen) blockchains move to PoS because it would be more secure. Amir Taaki was unimpressed by my enthusiasm for proof-of-stake. At least Ethan and I were having the best time.

"The use of security deposits always significantly leveraged slasher's effectiveness. Instead of forgoing some profit X, a provably faulty node would lose a security deposit (imagined to be on the order of size X/r) on which the block reward X was to be paid as interest (at rate r).

"You place a deposit to play, and if you play nice you make a small return on your deposit, but if you play mean you lose your deposit. It feels economically ideal, and it's so programmable.

"Adding deposits to slasher meant that the nothing at stake problem was officially solved."
After years of research and coding solutions, Vitalik came out during a Twitter storm in August 2018 stating the current version of Casper (FFG) would be scrapped due to incompatibilities with ewasm and sharded Casper, two key components of Ethereum's future. Vitalik introduced the idea of a Casper beacon chain that would allow for sharding integration – a much better and cleaner solution according to the lead Ethereum developer.
Will Ethereum hold?
While some folk might think this competition is bad for business, I for one truly believe Vlad's focus will most likely increase as he could be working directly on a solution he envisioned to build – one which was in jeopardy of being scrapped by the Ethereum Foundation.
If Vlad does join Casper Labs, I foresee one more solution for the scalability problem.
While the Ethereum Foundation will be focused on developing a solid version of Casper that integrates with the full vision of the community, Casper Labs will be developing an earlier version of the Casper PoS protocol so that the Ethereum community can start to understand what problems might arise from the implementation of this novel consensus mechanic.
If we look back at early 2017 projects like Raiden or Status, we can clearly see that developers leaving to focus on one aspect of the protocol, like a payment channel, sidechain, or alternative consensus algorithm, could potentially be beneficial for the entire ecosystem.
Whatever the future holds for Vlad and his vision of PoS, we can expect Casper Labs to be an interesting player in the upcoming years!
Disclaimer: The views and opinions expressed by the author should not be considered as financial advice. We do not give advice on financial products.